Instagram Is Raving About Trader Joes' New Pumpkin Gnocchi
The changing of the seasons is a magical time, particularly for Trader Joe's shoppers. Even though it still feels like summer outside, the store's shelves are full of returning seasonal fall favorites, as well as new products making their TJ's debut. Customers loyal to the grocery chain are already lining up to fill their carts with autumn necessities.
Earlier this month, Trader Joe's announced the comeback of an exciting fall item, bringing back its organic cashew yogurt flavored with pumpkin spice. Around eight dozen other seasonal standbys have also recently arrived on the scene, like caramel apple mochi ice cream, gluten-free pumpkin streusel muffins, and even a new festive hand soap, according to the Trader Joe's website.
Just when you thought the popular grocery store couldn't possibly infuse any more items with the classic flavors of fall, you were wrong. Yet another new product release has TJ's shoppers brainstorming recipes on Instagram, imagining fall-themed dinners starring their favorite orange gourd: the pumpkin.
TJ's customers are finding culinary possibilities in these new gnocchi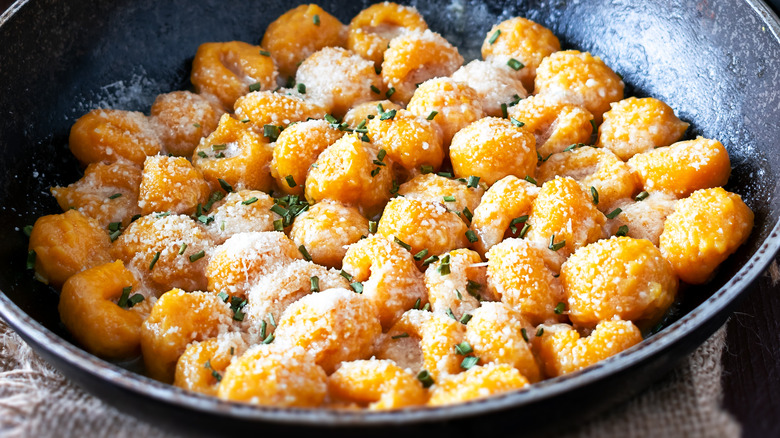 Micaela Fiorellini/Shutterstock
Don't be fooled by rising temperatures: Fall is on the horizon, whether you're ready for it or not. To get you in the spirit of the season, fan account @TraderJoesList recently broadcasted one of the store's newest releases on Instagram, and the comment section is full of recipe ideas from home chefs.
Trader Joe's just rolled out a relative of its uber-popular butternut squash mac and cheese: pre-packaged pumpkin gnocchi, which cost $2.99 per three-serving package and are already eliciting an enthusiastic response from shoppers. Gnocchi are traditional Italian potato-and-flour dumplings that are typically prepared like pasta. TJ's adds a fall spin to the specialty by replacing the eggs with pumpkin puree, which gives them a light orange hue.
The caption on @TraderJoesList's post asked shoppers what the best sauce for this fall meal would be, and followers delivered. Several users suggested brown butter and sage, while another recommended a different pumpkin-y Trader Joe's favorite: creamy Autumnal Harvest pasta sauce. Someone else took a nod from The New York Times, recommending crispy Brussels sprouts and pancetta. Clearly versatile, according to the comments, these gnocchi cook up in two minutes.