Sheet Pan Chicken Nachos Recipe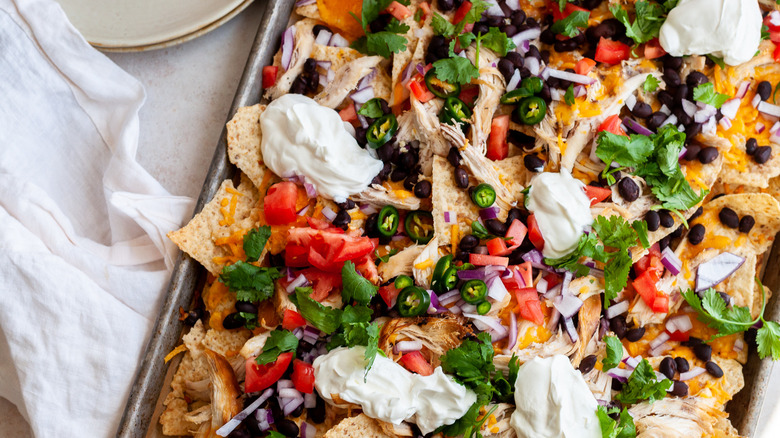 Christina Musgrave/Mashed
What foodstuff is better than loaded nachos? Alright, perhaps in terms of nutrition, there are a few things that score more points than nachos — kale salad, we're looking at you — but in terms of taste, they're pretty hard to beat. You've got the crunch of the chips, the salty, gooey goodness of the cheese, the spice of a favorite salsa, the bite of onions or chives, the cooling sour cream and, when you do it right, you have a good deal of tasty protein, too. And this recipe, courtesy of recipe developer Christina Musgrave of Tasting with Tina, does it right! 
These sheet pan chicken nachos transcend appetizer or snack and come to be more of a meal unto themselves. An easy-to-make and impossible not to enjoy meal, at that. Ah, but when to make this treat of a dish? "I love serving these for a football game or tailgate, girl's night, or for having a casual hangout with friends," says Musgrave. "These are great for a crowd."
So, assemble the gang, grab your sheet pan, and let's feed 'em!
Gather your ingredients for sheet pan chicken nachos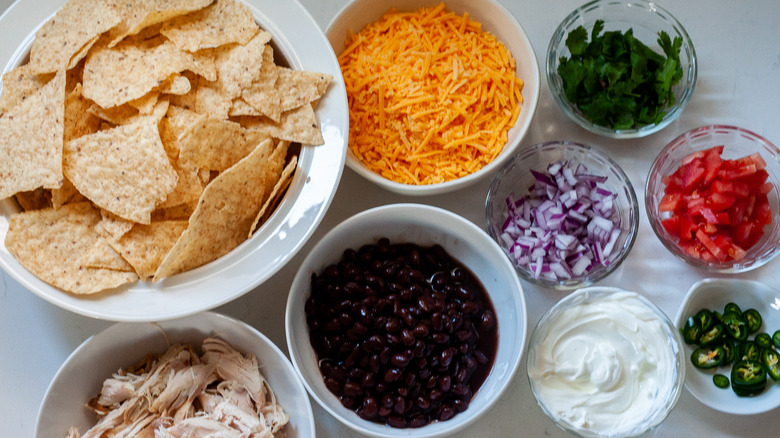 Christina Musgrave/Mashed
To make a large, delectable serving of nachos, start with an entire bag of your preferred tortilla chips. You'll also need shredded chicken, a can of black beans, lots of shredded cheddar cheese, sour cream, a diced Roma tomato, a sliced jalapeño, a diced red onion, and roughly-chopped cilantro, if desired.
Asked if there is a standout ingredient, Musgrave says: "There's no star ingredient, but the biggest time-saver in this recipe is shredded chicken. Using rotisserie chicken, buying shredded chicken, or using leftover chicken to make these will save a ton of time."
Layer the chips, cheese, and chicken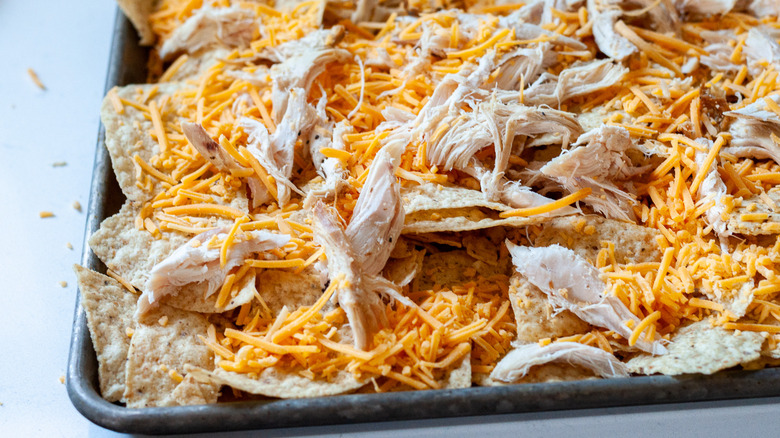 Christina Musgrave/Mashed
Start off these nachos by preheating your oven up to 400 F. Then, prepare that sheet pan by rolling a large piece of foil out over it. 
Evenly spread out the entire bag of chips across the pan, then top them with the shredded cheese and the shredded chicken. You'll also want to add the black beans in this step, but before you just dump the beans out onto the pan, make sure you drain, rinse, and pat them dry to prevent adding unnecessary moisture to the chips. 
Bake, then top the nachos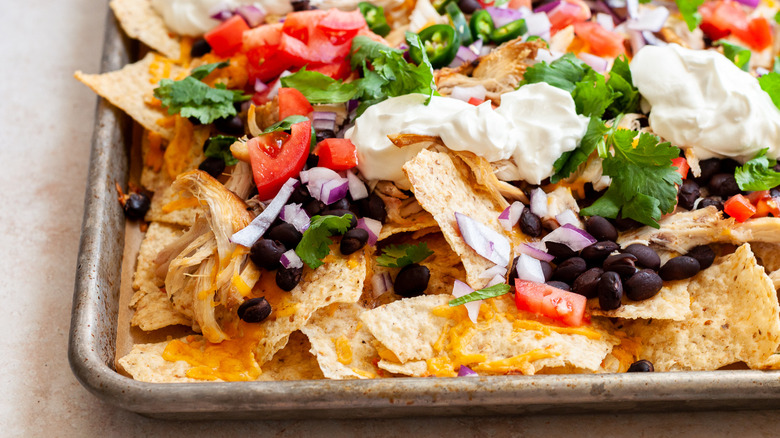 Christina Musgrave/Mashed
Once the oven is hot, pop the pan in and bake the nachos for about 8-10 minutes, or just as long as it takes for the cheese to completely melt. Once the cheese has melted evenly, remove the pan from the oven and set about adding your toppings. Add the diced tomato, sliced jalapeño, and onion, then dollop the sour cream in spoonfuls before sprinkling the cilantro on top, if desired. 
And of course, you can add any of your personal favorite toppings, from salsa to hot sauce to corn or black olives. Musgrave says: "Try to space out the toppings as much as you can so you get maximum flavor and texture in every bite.
Time to enjoy those nachos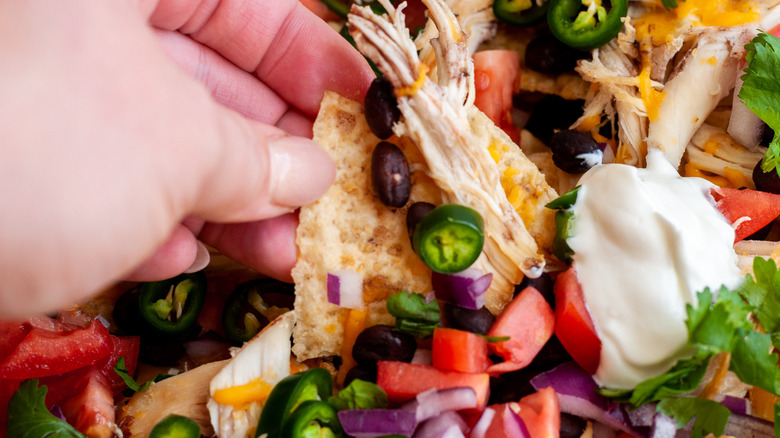 Christina Musgrave/Mashed
That's it, you're done! It's best to serve the nachos right away, right off the sheet pan itself, though you can use a broad spatula to lift out portions and plate them or put them in shallow bowls. Just grab some napkins either way, as eating nachos can be a messy but delighttul affair. As for kitchen cleanup? That's easy. "I love that the recipe is made and served on one pan," says Mugrave. "It helps a ton with cleanup and makes it super easy!"
Sheet Pan Chicken Nachos Recipe
When you want a quick and easy recipe suited for a crowd, this sheet pan chicken nachos recipe is hard to beat. You even cook and serve it in the same pan!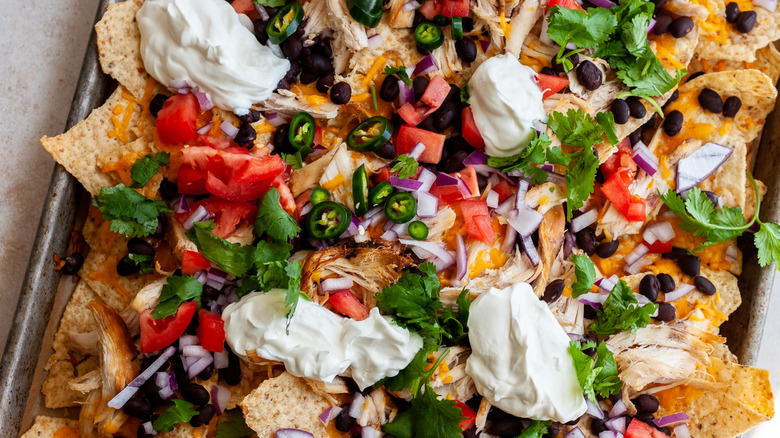 Ingredients
1 bag tortilla chips
1 pound shredded chicken
1 can black beans, rinsed, drained, and dried
2 cups shredded cheddar cheese
½ cup sour cream
1 roma tomato, diced
1 jalapeno, sliced
½ red onion, diced
Optional Ingredients
Directions
Preheat the oven to 400 F.
Line a baking sheet with foil.
Spread the tortilla chips on the pan and top them with the chicken, cheddar cheese, and black beans.
Bake until the cheese is melted, about 8-10 minutes.
Top with dollops of sour cream, diced tomato, sliced jalapeño, diced red onion, and cilantro, if desired.
Serve and enjoy.
Nutrition
| | |
| --- | --- |
| Calories per Serving | 528 |
| Total Fat | 30.5 g |
| Saturated Fat | 10.8 g |
| Trans Fat | 0.4 g |
| Cholesterol | 78.8 mg |
| | |
| --- | --- |
| Total Carbohydrates | 39.3 g |
| Dietary Fiber | 6.0 g |
| Total Sugars | 1.7 g |
| Sodium | 434.8 mg |
| Protein | 23.9 g |