Crispy Fried Catfish Recipe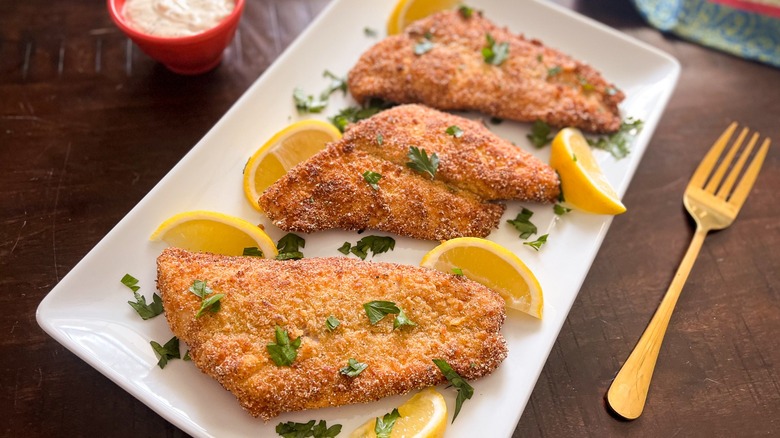 Erin Johnson/Mashed
Fried fish might be most commonly associated with seaside towns or the distinctly British meal of fish and chips, but this crispy, juicy, savory dish can be enjoyed anytime, anywhere, including in your own kitchen. While fried food might seem intimidating to make at home, food blogger Erin Johnson has a recipe for crispy fried catfish that is simple and straightforward to prepare, whether you serve it with your favorite side dishes like french fries or a la carte with tangy wedges of lemon.
"Crispy, fried fish makes for a delicious meal, and using a mix of cornmeal and panko is a great way to ensure your fish is as crispy as possible," Johnson says. "This method is easy and can work with any flakey white fish." Plus, it only takes about half an hour to make, so you can enjoy a tasty meal of perfectly crunchy fish fillets even on busy nights.
Get your fried catfish ingredients together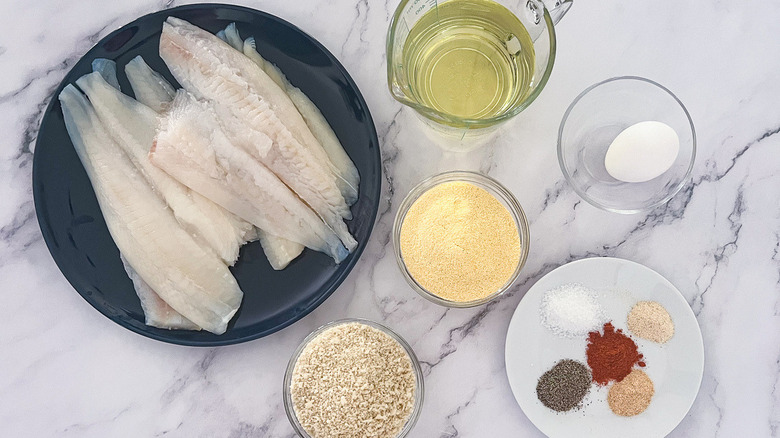 Erin Johnson/Mashed
The breading and frying process for this catfish is relatively quick, so you want to make sure you're prepared before you get started. You'll need several catfish fillets, of course, plus an egg, panko breadcrumbs, yellow cornmeal, salt and pepper, garlic powder, paprika, and onion powder. For frying, you'll need vegetable oil, though Johnson notes you can substitute peanut oil if you prefer.
Prepare the batter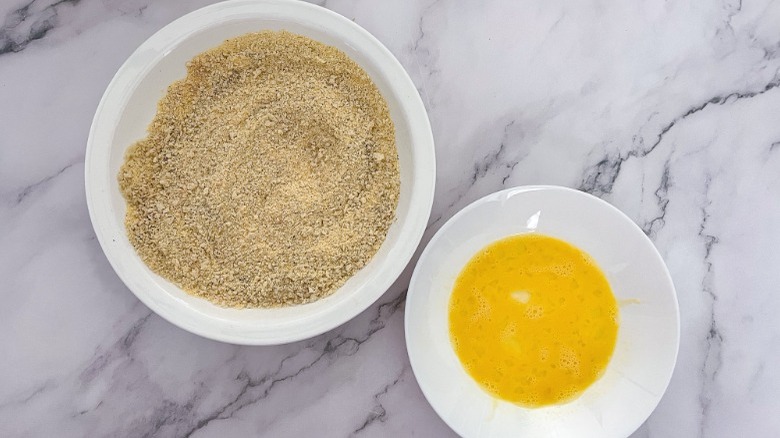 Erin Johnson/Mashed
Get out two dishes to prepare your batter stations. In a small bowl, crack and scramble the egg. In a bigger, wider bowl (Johnson suggests using a pie tin or similar), mix up the breadcrumbs, cornmeal, and seasonings. Once you've done that, you're ready to bread some catfish!
Bread the fish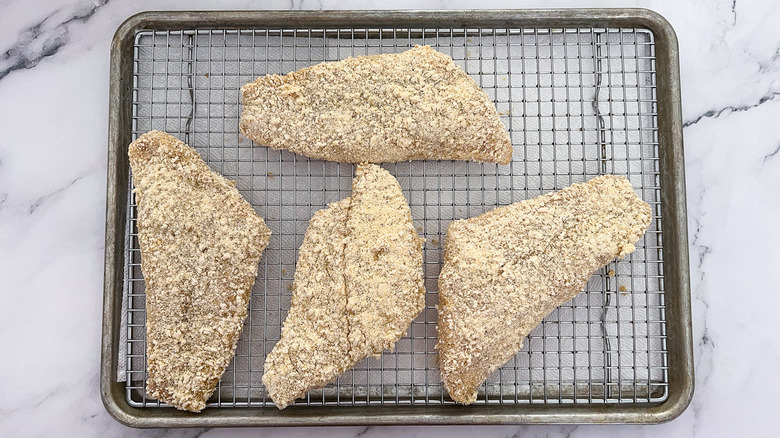 Erin Johnson/Mashed
Take your first piece of catfish and lay it in the egg so it gets well-coated, then press it into the breadcrumb mixture, making sure each side is covered with breading. Place the breaded fish on a baking sheet lined with a wire rack, and repeat this process with the other fish fillets.
Fry the fish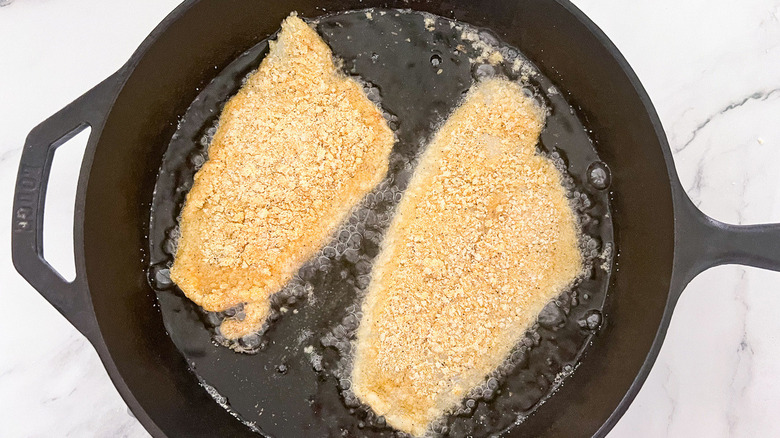 Erin Johnson/Mashed
Now that your catfish is breaded, it's frying time! Start by pouring the oil into a deep cast iron skillet or Dutch oven and heating it on the stove until it reaches 375 F. Once the oil is good and hot, add the fish pieces. Don't add them all at once if that'll make the pan too crowded, as that can cause the oil temperature to drop and interfere with the frying process. Let the fillets cook for about 5 minutes on each side.
Dig into some crispy fried catfish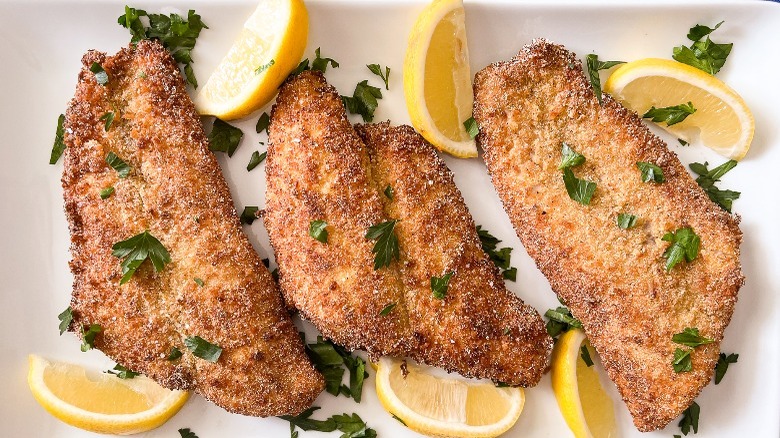 Erin Johnson/Mashed
Once your catfish is looking crispy, golden, and cooked through, it's time to dig in! "I like to serve this with fries and tartar sauce, but is also delicious with a baked potato and side salad," Johnson says.
Fried fish doesn't necessarily make for the best leftovers, but if you do end up with extra, Johnson suggests refrigerating it overnight in an airtight container and using an "air fryer or oven" to reheat the pieces the following day. "The fish won't be as crispy, but will still taste good. I like to slice it into strips and put it on fish tacos," she explains.
Crispy Fried Catfish Recipe
This crispy fried catfish recipe makes for the perfect dinner.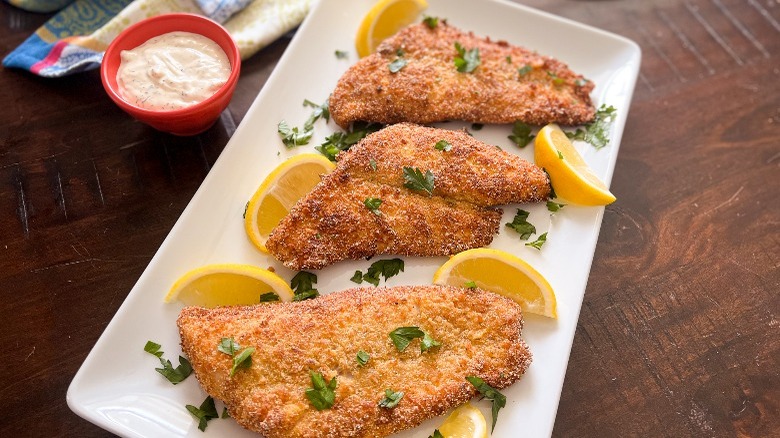 Ingredients
¾ cup panko breadcrumbs
¾ cup yellow cornmeal
2 teaspoons kosher salt
1 teaspoon ground pepper
1 teaspoon garlic powder
1 teaspoon onion powder
1 teaspoon paprika
1 egg
4 catfish fillets
2 cups vegetable oil, for frying
Optional Ingredients
lemon wedges, for serving
Directions
In a shallow bowl or pie pan, combine the panko, cornmeal, salt, pepper, garlic and onion powders, and paprika.
In another shallow bowl, beat the egg.
Dredge a catfish fillet in the beaten egg and then into the cornmeal and panko mixture. Coat the fish well, pressing down to adhere the breading. Flip and repeat.
Place the fish onto a wire rack over a baking sheet and repeat with the reminding fillets.
Heat the oil in a heavy or cast-iron skillet to 375 F.
Add the fish, careful not to crowd the pan, and cook for 5 minutes per side.
Serve immediately.
Nutrition
| | |
| --- | --- |
| Calories per Serving | 647 |
| Total Fat | 43.8 g |
| Saturated Fat | 4.6 g |
| Trans Fat | 0.3 g |
| Cholesterol | 127.4 mg |
| | |
| --- | --- |
| Total Carbohydrates | 33.2 g |
| Dietary Fiber | 2.1 g |
| Total Sugars | 1.0 g |
| Sodium | 570.8 mg |
| Protein | 29.1 g |