Oreo's Newest Cafe Just Opened In This State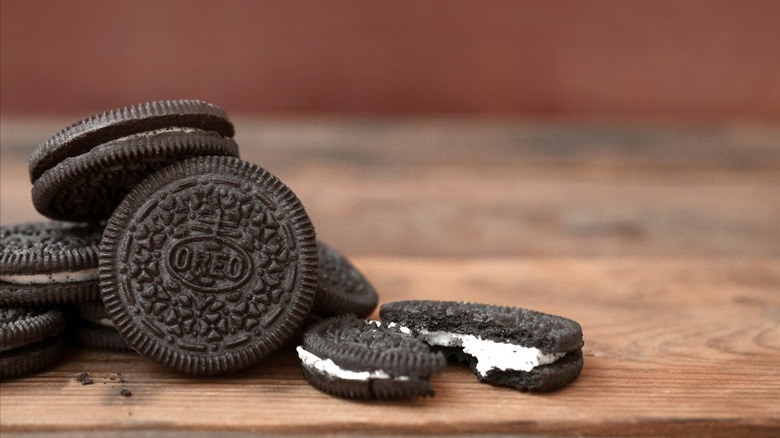 Mehaniq/Shutterstock
Milk's favorite cookie is growing up. The lunch pail favorite, pantry staple, and ever-popular Oreo announced its first ever cafe last year, igniting unbridled enthusiasm among fans of the sandwich cookie, according to a Mashed report. The restaurant sits on the third floor of an IT'SUGAR store in the American Dream Mall in New Jersey, per a press release sent to Mashed at the time.
The menu at Oreo Cafe offers menu options that extend well beyond a simple glass of milk. Guests can customize a dessert themselves or select from a range of Oreo-themed delicacies, like an Oreo-infused waffle sundae. Those in the know can also choose from a secret menu that was meant just for followers of Oreo's social media (via Instagram). According to the Food Network, merchandise available for purchase includes an Oreo-scented candle and all manner of cookie-themed paraphernalia.
One guest wrote that the Oreo Cafe is a "cookie-lover's dream," in a NJ101.5 post. Now, Oreo is giving cookie-lovers in another state the opportunity to enjoy the immersive Oreo experience.
The new cafe is in Hawaii
Following the success of the first ever Oreo Cafe in New Jersey, America's favorite sandwich cookie opened a second location at the Ala Moana Center in Honolulu, Hawaii, according to HONOLULU. A local news station, KHON2, called the debut of the whimsical cafe a "blessing."
Like the New Jersey location, the new 2,000-square-foot-Oreo Cafe sits atop an IT'SUGAR store, the Star Advertiser reported. Elements of the new space are similar to its counterpart in New Jersey, but the menu is chock full of Hawaiian flair and flavors, like the Pineapple Upsidedown Golden Oreo Snowcream and the Banana Chia Oreo Milkshake.
On social media, Oreo fans seem excited. One Instagram post showed off Oreo's new facility in Hawaii and some of the sweet treats offered there. One commenter couldn't wait to get in line. "BRB getting my plane ticket," they wrote. Another said, "Omg ... I need one of these in my life!"