The Absurd Reason A TikToker's Chick-Fil-A Order Was Left In A Tree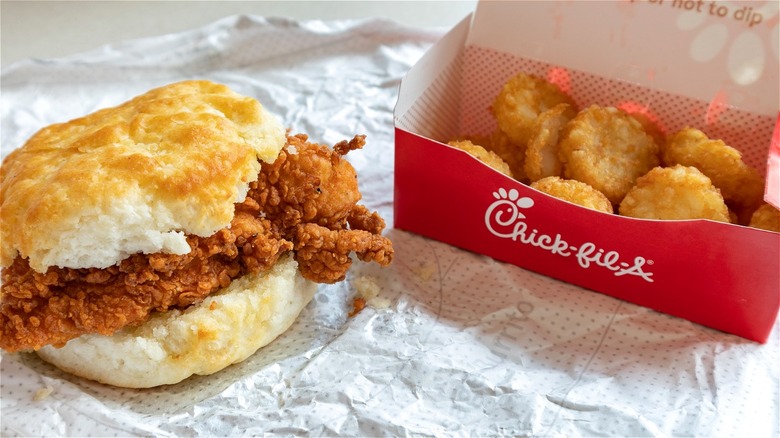 James Andrews1/Shutterstock
Of all the luxuries Americans get to experience, having your next meal delivered directly to your door is definitely one of them. If you're a Chick-fil-A regular and can afford to sit in the comfort of your own home while a delivery driver picks up and drops off your next spicy chicken sandwich, more power to you.
Whether or not you consider yourself a Chick-fil-A aficionado, it's common knowledge that the restaurants' drive-thru lines are always busy. According to the American Customer Satisfaction Index, Chick-fil-A just ranked first place (for the eighth consecutive year) for overall customer satisfaction above competitors like McDonald's and Taco Bell. Maybe people keep returning for the famous Chick-fil-A sauce, or perhaps they want more friendly interactions with employees. After all, people who work at Chick-fil-A typically enjoy their jobs (via Reddit).
Yet, if time is of the essence, you can always bask in the luxury of your worn-in couch and call in that order. If you ask many customers, though, you should be sure to be generously tip the delivery worker who braved a crowded Chick-fil-A parking lot so you could enjoy your lunch with or without pants. Otherwise, your meal could end up in a tree — as did one recent TikToker's.
Buyer beware: Tips go a long way in food delivery service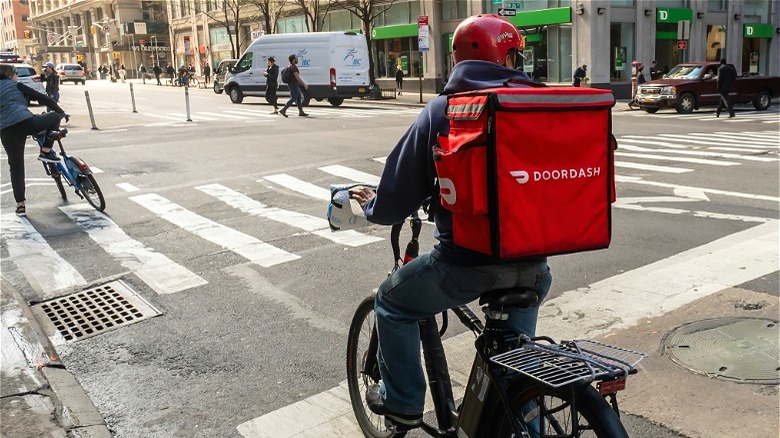 rblfmr/Shutterstock
Recently, one social media user posted a text conversation on TikTok with their DoorDash driver over a recent Chick-fil-A order. When the poster, @a2, asked the driver where the delivery was (the user lived in an apartment complex), the driver responded, "tree." The conversation became heated until the delivery driver flew off the handle, throwing major shade at the user while making sure to comment on the customer's seemingly low $1.50 tip.
This created quite a stir in the comments of the post, with many DoorDash employees speaking out against the TikToker. "For a $1.50 tip you deserve this and more," one user wrote, explaining that tips are the livelihood of most food delivery workers. Providing a different perspective was the most-liked comment, reading, "people who say to tip $5 minimum are out of touch with reality." @a2 agreed with the comment, stating he wasn't going to pay $5 for an online order of $13.
For DoorDash workers, Chick-fil-A is an exceptionally difficult place to pick up orders. At some locations, per a Reddit thread, the restaurant supposedly takes an hour to prepare delivery orders, but DoorDash employees only get paid per delivery, per the company's website. While you could go to the drive-thru yourself or make your own copycat Chick-fil-A recipes at home, make sure that if you do decide to order in, you think twice before tipping low — if you don't want to forage for your nuggets, that is.