Easy Candied Walnuts Recipe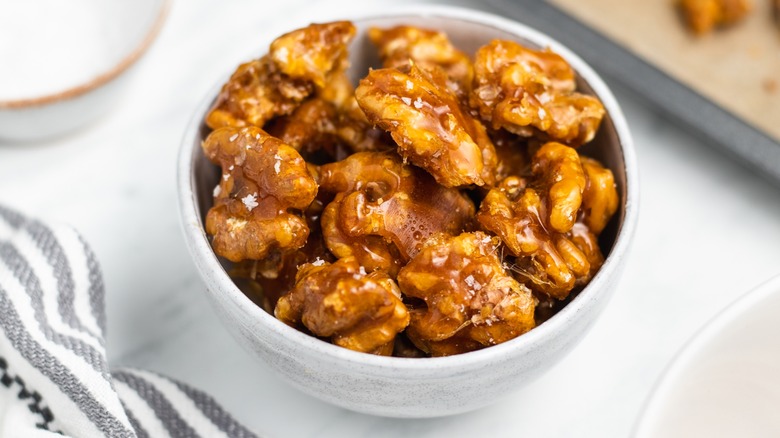 Catherine Brookes/Mashed
Candied nuts might seem like a sweet that belongs more to your grandparents' generation than to your own, but take a bite or two of these sweet and salty nuts and you'll see at once that grandma and grandpa were onto something. And that something — which is a delightful candied walnut, to be clear — can be made with just three simple ingredients thanks to this recipe from Catherine Brookes of Blue Sky Eating. What's more, while these candied walnuts are ideal for enjoyment during the chilly fall evenings or as a treat around the holidays, they're pretty great any time of year, and any time of day, for that matter. Brookes says, "They're great enjoyed as a snack or after dinner treat."
These candied walnuts will take less than 25 minutes to make from start to finish, so let's get started right away; indeed, chances are good you have everything you need to make them in your kitchen already.
Gather your ingredients for the candied walnuts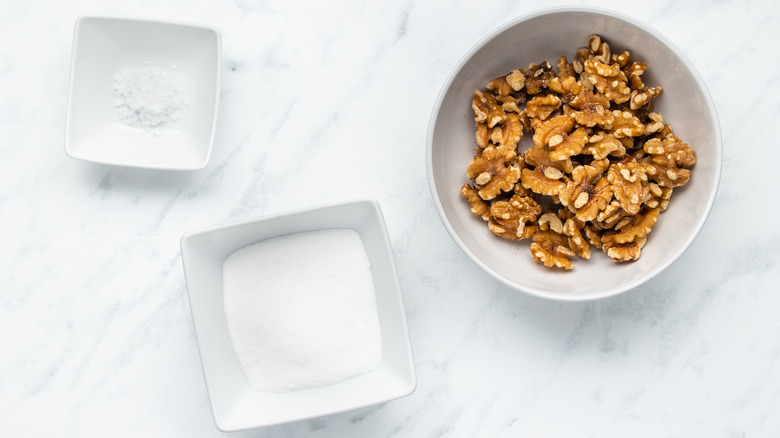 Catherine Brookes/Mashed
To prepare enough candied walnuts to have about five or six servings worth, you'll need a cup of walnut halves, half a cup of sugar, and half a teaspoon of a good, flaky sea salt. "I'd say the balance of sugar and salt is definitely important here," Brookes says, adding, "In the right quantities they complement each other so well!"
Roast the walnuts and prepare for the next steps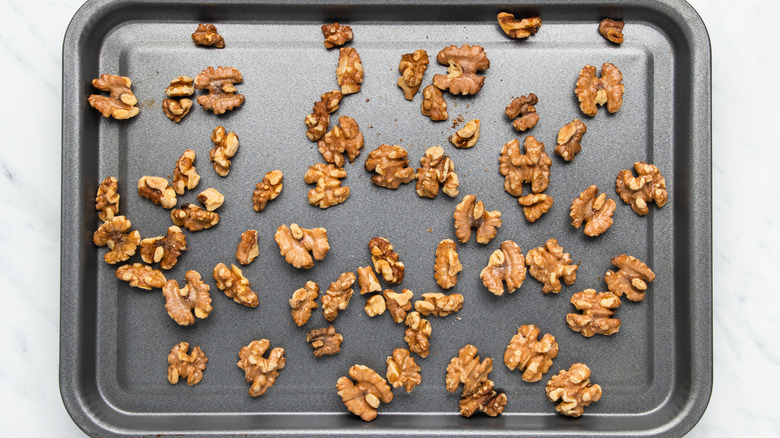 Catherine Brookes/Mashed
To start things off, preheat the oven to 350 F. Spread the walnuts out onto a baking sheet as the oven warms, ideally one lined with parchment paper or a silicone mat though it's not essential here. Then bake the nuts for just 6 to 8 minutes, cooking them until they have become lightly toasted. "Be careful not to burn them!" Brookes says.
As the nuts roast, prepare another baking sheet or a large plate or cutting board for the sticky step to follow. Line the sheet, plate, or board with a good non-stick parchment paper and then set a pair of forks close at hand for use shortly. "It's good to have this ready before you start the next steps as you will need to work quickly," Brookes explains.
Melt the sugar and coat the nuts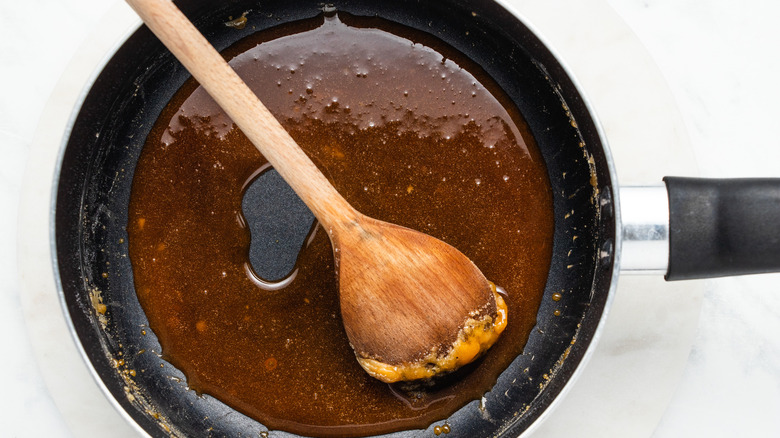 Catherine Brookes/Mashed
Pour all of the sugar into a pan (nonstick being ideal) and place the pan on the stove over medium heat. Begin to stir the sugar frequently, keeping it moving as all of the sugar melts and turns into a golden brown color. This will take about 8 to 10 minutes, FYI, so be patient. And keep stirring.
Once the sugar has fully caramelized, add the roasted walnuts to the pan and stir them just enough to be fully coated in the melted and browned sugar.
Sprinkle on the salt, cool, then enjoy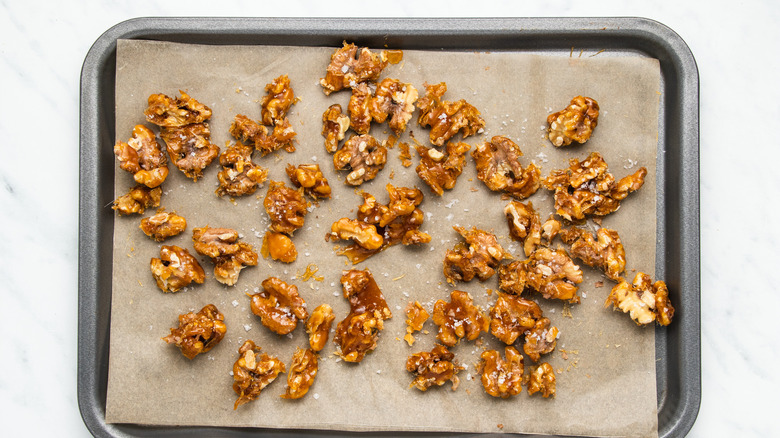 Catherine Brookes/Mashed
As soon as the nuts are coated with melted sugar, immediately transfer them out onto that prepared work surface (the lined plate, sheet, or cutting board) and use those two forks to spread them out evenly. "The sugar will start to crystallize very quickly so this needs to be fast," Brookes says.
While the caramelized sugar is still warm and sticky, sprinkle the sea salt evenly over the nuts, and then leave them alone and let them completely. Once they have, enjoy! And take your time — Brookes says, "They should keep well up to two weeks in an airtight container at room temperature."
Easy Candied Walnuts Recipe
If you have a craving for a sweet and salty snack with a bit of a crunch, you should try making these easy candied walnuts that will keep for up to two weeks.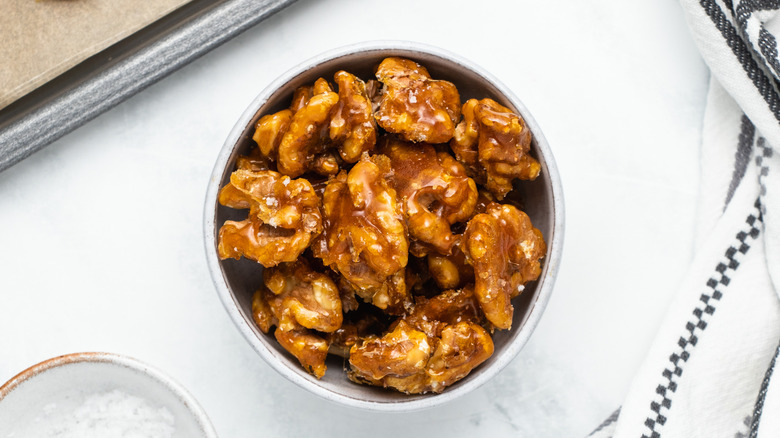 Ingredients
1 cup walnut halves
½ cup sugar
½ teaspoon flaky sea salt
Directions
Preheat the oven to 350 F and spread the walnuts on a baking sheet.
Bake for 6 to 8 minutes until toasted. Be careful not to burn them.
Prepare a baking sheet, large plate, or board by lining it with non-stick parchment paper and place two forks close at hand.
Add the sugar to a saucepan and place it over medium heat. Stir frequently until the sugar is dissolved and golden brown, about 8 to 10 minutes.
Add the toasted walnuts to the pan and briefly stir until they are coated in the sugar.
Quickly transfer the walnuts onto your prepared sheet and use two forks to separate them.
Sprinkle over the flaky sea salt and leave to cool completely.
Nutrition
| | |
| --- | --- |
| Calories per Serving | 69 |
| Total Fat | 0.4 g |
| Saturated Fat | 0.0 g |
| Trans Fat | 0.0 |
| Cholesterol | 0.0 mg |
| | |
| --- | --- |
| Total Carbohydrates | 16.8 g |
| Dietary Fiber | 0.0 g |
| Total Sugars | 16.7 g |
| Sodium | 40.3 mg |
| Protein | 0.1 g |