Everything We Know About The Healthy Choice Recall
"Food recall" may be among the most terrifying words in the English language. It immediately prompts a laundry list of past horror stories, such as the E. coli spinach outbreak that sickened 10 people across seven states in November of 2021 (via Forbes). However, bacterial contamination isn't the only reason foods can be recalled. The blueberries tainted with lead that NBC News reported on this summer have definitely earned a spot on the list of foods that were recalled for the scariest reasons (though a salad with dead bat parts might still take the top spot, just saying). 
So while we're relieved to not be finding pieces of unwanted animal in our food, there are still plenty of food recalls happening and many other possible causes for them. According to the FDA, a 2017 case saw various types of frozen hash browns recalled for a truly bizarre reason: contamination by golf ball. Indeed, "extraneous golf ball materials" had somehow found their way into products by McCain Foods USA, Inc. While this is more a niche example, a far more common reason for recalling food items is unintended or undeclared food allergens, either those that find their way into the food as contaminants (like that pesky golf ball), or those that are intended to be part of the recipe but are mislabeled. One frozen food brand has found itself in the latter situation, and it's led to quite the hefty recall.
When mislabeling becomes dangerous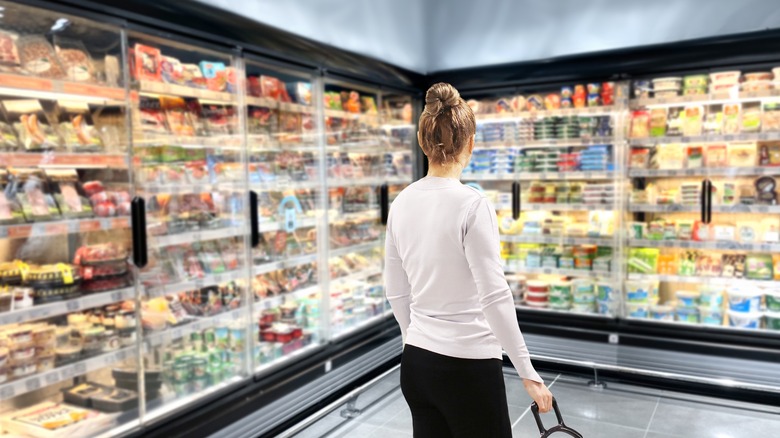 LADO/Shutterstock
According to the USDA, more than 22,000 lbs of Healthy Choice frozen meals are being recalled. Unfortunately, what consumers found when they peeled back the plastic film on the Healthy Choice POWER BOWLS Korean-Style Beef option wasn't Korean-style beef at all, but "a chicken sausage and pepper product." Worse still, that chicken sausage product contains milk, a top eight allergen that therefore legally must be labeled in bold print separate from the main ingredients list to alert shoppers to the potential danger (per FDA). Naturally, since these packages weren't intended to contain chicken sausage and peppers, they contain labels meant for the milk-free Korean beef product, creating a dangerous potential pitfall for consumers with dairy allergies. The POWER BOWLS Korean-Style Beef being recalled for undeclared allergens bear the "best if used by" date 04-18-2023 and have the lot code "5246220320."
The USDA is urging consumers to check their freezers, as the product had already been distributed nationwide before the dangerous error was noticed. The USDA is grading this as a Class I recall, which means it's "a health hazard situation where there is a reasonable probability that the use of the product will cause serious, adverse health consequences or death." Thankfully, the USDA notes that thus far, there have been no recorded instances of "adverse reactions" to the contaminated Power Bowls. In the meantime, it might be time to check out other popular frozen dinners for some alternatives.