We Tried To Krispy Kreme's Autumn's Orchard Collection. Here's How It Went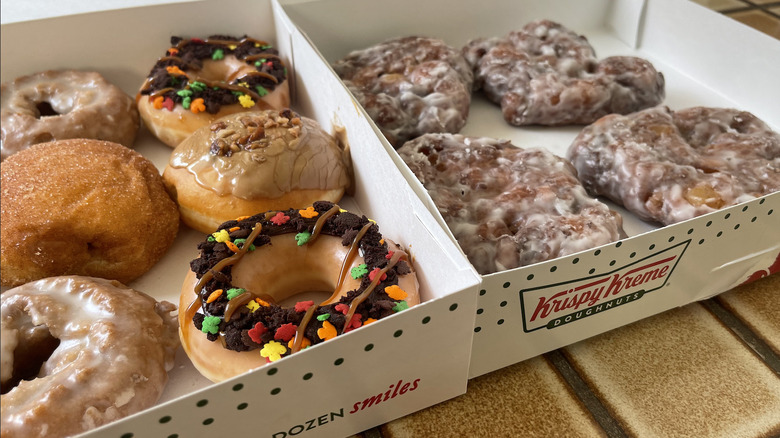 Molly Delmore/Mashed
Krispy Kreme rolled out its Autumn's Orchard Collection this week, and we're getting excited about the season. After trying their Pumpkin Spice Doughnut and coffee offerings a few weeks ago, we headed to our local Krispy Kreme to see if these delicious-looking doughnuts lived up to the hype.
Krispy Kreme's social media accounts confirmed fall is in the air. The company posted the rollout of its delicious fall-inspired doughnuts like handmade Apple Fritters and their Autumn Lover's Dozen featuring the new Maple Pecan Cheesecake, Salted Caramel Brownie, Spiced Apple Filled, and Pumpkin Spice Cake doughnuts.
With fall flavors on the mind and a craving for something sweet, we secured the Autumn Lover's Dozen and Apple Fritters to ensure we provided the best review possible. Get ready for the fall flavors because we can barely contain our excitement over these festive offerings. We tried Krispy Kreme's Autumn's Orchard Collection. Here's how it went.
What's offered in the Autumn's Orchard Collection?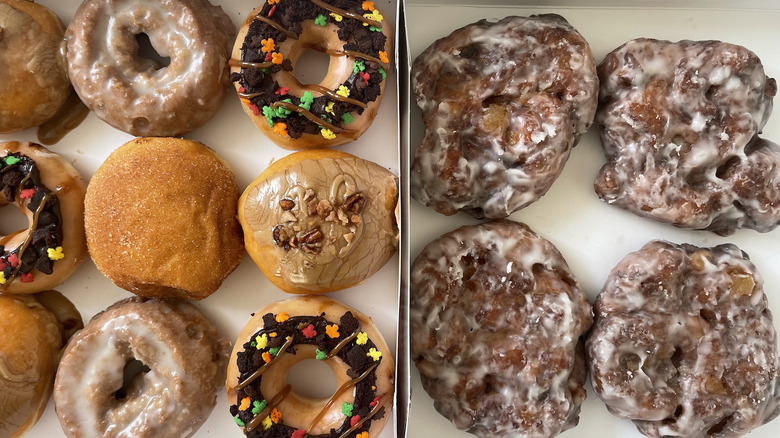 Molly Delmore/Mashed
This week Krispy Kreme launched the Autumn's Orchard Collection and Apple Fritters, providing different flavors, fillings, and decorations for the fall season. The Apple Fritters speak for themselves, but the Autumn's Orchard consists of four unique doughnuts giving us all the fall and Halloween feels.
The Apple Fritter tastes like grandma made them herself with sweet homemade apple filling, diced apples, and lots of cinnamon, with the perfect amount of glaze on top. The Maple Pecan Cheesecake Doughnut offers Krispy Kreme's signature cheesecake filling, dipped in maple-flavored icing, then topped with icing drizzle and pecan.
Next, the Spiced Apple Filled Doughnut takes your signature doughnut tossed in cinnamon sugar with apple cider flavored filling. It's an apple-spiced flavor lover's dream. The Salted Caramel Brownie Doughnut then levels up the doughnut game by offering an original glazed doughnut topped with salted caramel brownie batter flavored frosting, salted caramel drizzle, brownie bits, and fall leaf sprinkles.
Finally, the Pumpkin Spice Cake Doughnut is a glazed, old-fashioned pumpkin spice cake doughnut that sounds simple but offers an incredible taste.
How much does each doughnut cost?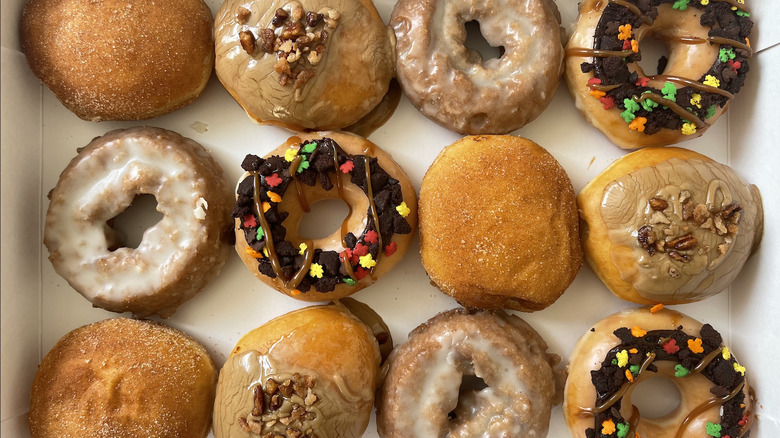 Molly Delmore/Mashed
Everything seems to be increasing in price, but we can count on Krispy Kreme to provide affordable and delicious doughnuts. As you can see, we ordered many doughnuts, but thankfully, even a single a la carte doughnut won't break the bank. For reference, we tested these in Southern California, where the cost of living is a tad more expensive, so keep that in mind when reading the pricing and our opinion on things being "expensive."
It costs only $7.98 for four Apple Fritters that are relatively large to get us started. These can be split in half or even fourths to serve a large group of people.
Next, to secure an Autumn Orchard Dozen, you can expect to pay $17.99. We feel like this is a fair price for 12 delicious doughnuts, many with additional toppings and fillings. If you only want to taste one or two doughnuts, you can buy one a la carte for $1.99 or $2.19, depending on the specialty of the doughnut.
How long and where will these doughnuts be available?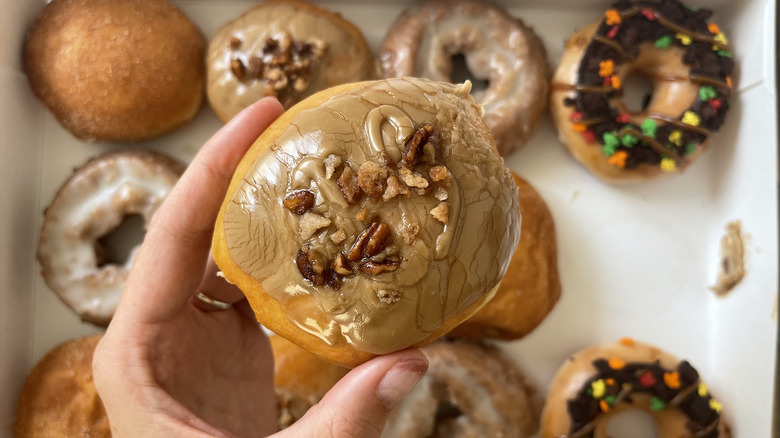 Molly Delmore/Mashed
When we found out Krispy Kreme planned to launch Pumpkin Spice flavored doughnuts in August, we scratched our heads at the thought of the holiday promotions starting early this year. While the Pumpkin Spice Doughnuts and coffee promos went off with a bang, we figured the doughnut chain had more in store for the rest of the season.
Starting this week and running until October 9th, Krispy Kreme will offer Autumn's Orchard doughnuts at participating stores in the U.S. and Canada. With Halloween still a few weeks past these dates, we expect the popular doughnut chain to have something else up its sleeves for later in the month.
As we witnessed with the earlier pumpkin promotions and seeing other brands do the same, we can only ask ourselves, what's next? We can guarantee that if another seasonal launch comes up, the Mashed team will definitely be jumping in line to try them.
What's the nutrition information for each doughnut?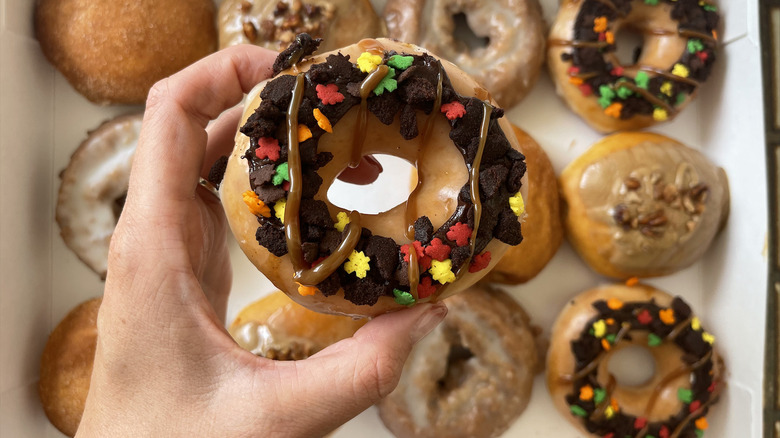 Molly Delmore/Mashed
We don't head to Krispy Kreme when we're on a diet, but these delicious-looking doughnuts may not set you back with your health goals as much as you may think. Everything in moderation.
While the calorie amounts for the following doughnuts won't damage your entire day's worth of food, the sugar contents are certainly something to keep an eye on if you plan on indulging more than once in a blue moon. First, let's dive into the Maple Pecan Cheesecake Doughnut, which contains 340 calories and 20 grams of sugar. The glaze and pecans contribute to these numbers, but the sweetness makes it all worth it.
Next on our list is the Salted Caramel Brownie Batter Ring Doughnut and all of its toppings which contain 370 calories and 28 grams of sugar. We tend to reach for the lowest calorie and sugar option; Spiced Apple Filled Doughnut, which yields 280 calories and 14 grams of sugar.
The Glazed Pumpkin Spice Cake Doughnut contains only 290 calories but 25 grams sugar. We expected it to have more calories as this doughnut is so rich and filling. And finally, the Apple Fritter is loaded with 350 calories and 26 grams of sugar, making it the giant dessert of the bunch.
How does this collection compare to other Krispy Kreme doughnuts?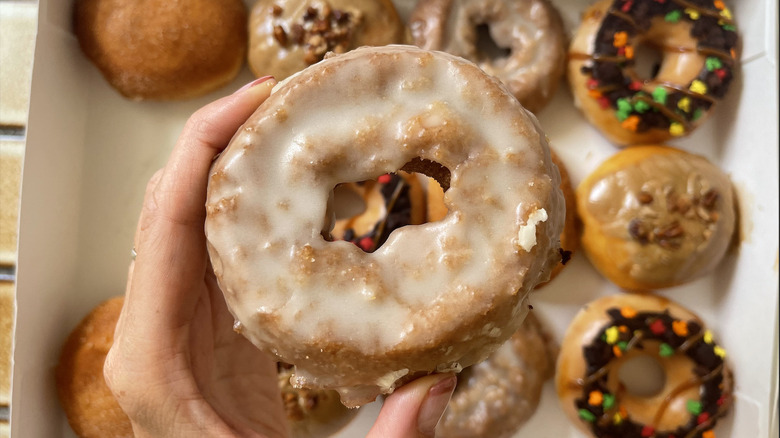 Molly Delmore/Mashed
Let's compare the Autumn Orchard Collection to the Pumpkin Spice Doughnuts Krispy Kreme launched only a few weeks ago. We found the Autumn Orchard collection containing doughnuts and Apple Fritters provided more variety which we appreciated when ordering the dozen plus doughnuts. 
Additionally, the end of September launch date makes more sense to promote a fall collection. We have difficulty getting in the spirit for all things pumpkin in August, so this makes the Autumn Orchard doughnut collection that much better.
Our favorites in this fall campaign included the Maple Pecan Cheesecake Doughnut and the Salted Caramel Brownie Doughnut because of their unique flavor combinations and crunchy toppings. It's hard to stop at only one in this variety of dozen packs, and we found ourselves wanting to take a bite of all of the doughnuts for more than research purposes.
The verdict: these fall flavors are definitely worth a taste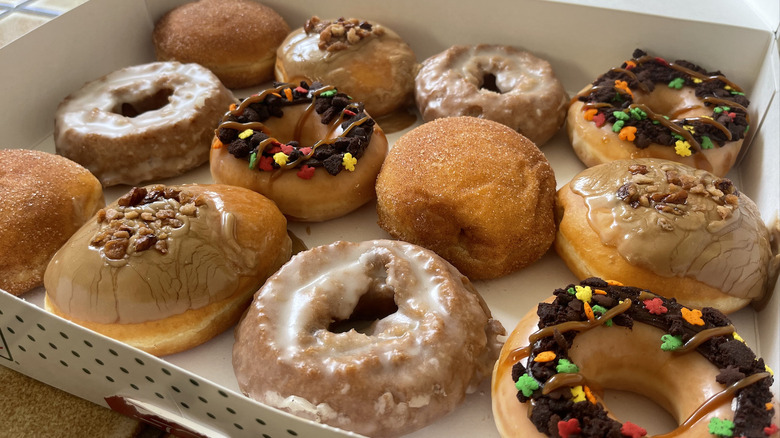 Molly Delmore/Mashed
So did Krispy Kreme's Autumn's Orchard Collection pass the taste test? In short, absolutely.
We enjoyed these fall flavors and wished they would be available longer than through the first week of October. Krispy Kreme may keep some of them around or bring them back, similar to what the chain did with the Pumpkin Spice Cake Doughnut that initially made its seasonal debut in August.
If you are craving fall-flavored doughnuts or a handmade Apple Fritter, we recommend heading to your local Krispy Kreme. While the weather is likely too warm in your neck of the woods and potentially feels like it's still summer, these fall desserts might get you in the holiday spirit and help you welcome in the fall season. From maple filled to pecan-topped and cinnamon glazed, there's something for everyone.
The verdict is that Krispy Kreme Doughnuts Autumn's Orchard Collection flavors are worth a taste.