We Tried Krispy Kreme's Pumpkin Spice Coffee Drinks. Here's How It Went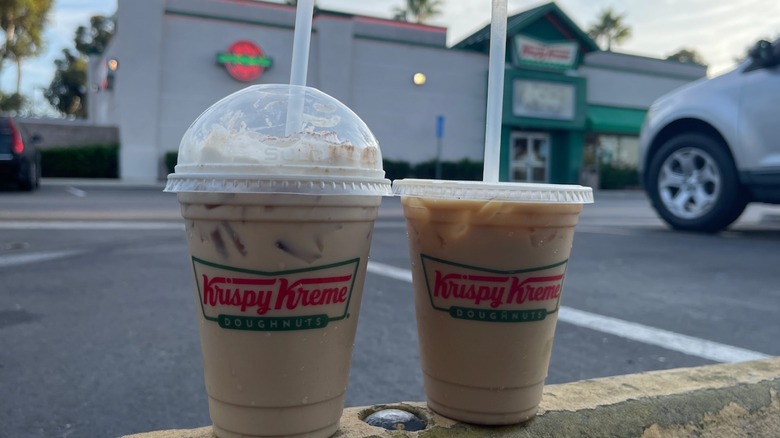 Molly Delmore/Mashed
Krispy Kreme rolled out its Pumpkin Spice drink lineup on August 8, including a riff on the ever-popular Pumpkin Spice Latte formula. This year the brand stepped it up and launched an all-new Pumpkin Spice Iced Coffee as well. When we learned that these drinks launched for the season, we ran to our nearest Krispy Kreme to try out the pumpkin drink creations.
According to Krispy Kreme's website and drive-thru signage, it's officially Pumpkin Spice Season. While Krispy Kreme is widely known for its doughnuts, don't sleep on its coffee. We got our hands on the Pumpkin Spice Latte and newly launched Pumpkin Spice Iced Coffee. We're licking our lips as we speak; you can smell the pumpkin before even taking a sip.
Let the pumpkin spice takeover begin. Fall is the perfect time to expand your horizons and try a new coffee creation from Krispy Kreme. We tried Krispy Kreme's Pumpkin Spice coffee drinks so we could tell you whether or not to add them to your autumn coffee rotation.
What's in the Pumpkin Spice coffee drinks?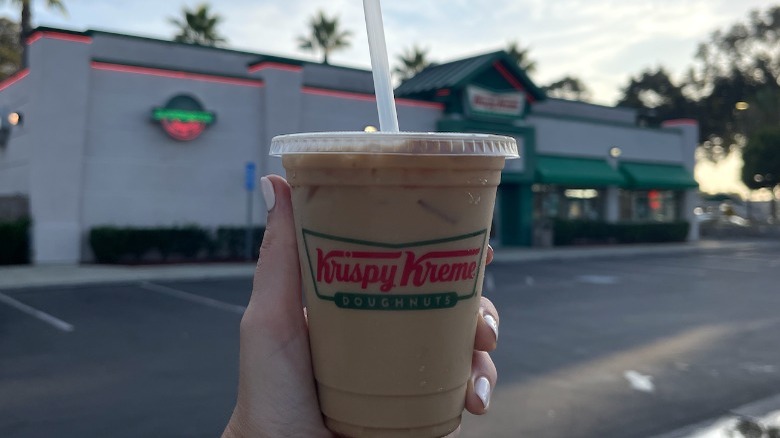 Molly Delmore/Mashed
This year, Krispy Kreme offered two Pumpkin Spice coffee drinks, the Pumpkin Spice Latte and Pumpkin Spice Iced Coffee. The names don't immediately give away considerable differences in the beverages, but they're actually quite distinct from each other.
First, we tried the Pumpkin Spice Latte, a Krispy Kreme seasonal favorite. This latte contains Pumpkin Pie Sauce, topped with whipped cream and Pumpkin Spice seasoning. This drink can be ordered hot, iced, or frozen. We ordered it iced as the outside weather pushed us towards cold beverages. This iced drink reminded us of the taste and consistency of a Frappuccino or blended coffee drink.
Next, we tasted the newly launched Pumpkin Spice Iced Coffee. This drink consists of an iced coffee blended with Pumpkin Pie Sauce. While both drinks taste incredible, we gravitated towards this new creation. It was the perfect amount of pumpkin spice without tasting too sweet.
How much does each drink cost?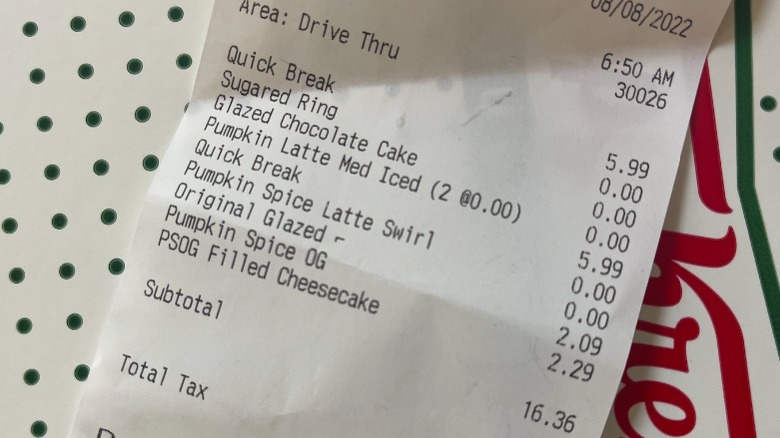 Molly Delmore/Mashed
Before we dive into pricing, consider our Mashed team tried these drinks in Southern California, where gas and the housing market aren't the only things whose prices have skyrocketed in recent months. We ordered the beverages as is, with no extra shots or non-dairy milk, to further raise the price.
Krispy Kreme's Quick Break combo allowed us to receive the Pumpkin Spice Latte and Pumpkin Spice Iced Coffee free of charge. Let us explain: If you order any two original Glazed or Classic Assorted Doughnuts, you receive any size coffee or iced coffee for free. Each Quick Break was $5.99, and we ordered two additional donuts as well. We paid $16.36 for six Pumpkin Spice Variety doughnuts and the two medium iced coffees.
As mentioned earlier, Southern California may skew higher than the national average, so you might be able to purchase these at a cheaper price depending on where you live. If we ordered each drink a la carte, a medium iced drink would cost $3.69. Getting the combo with doughnuts makes the most financial sense because we know you wanted the doughnut anyway.
Where and for how long will it be available?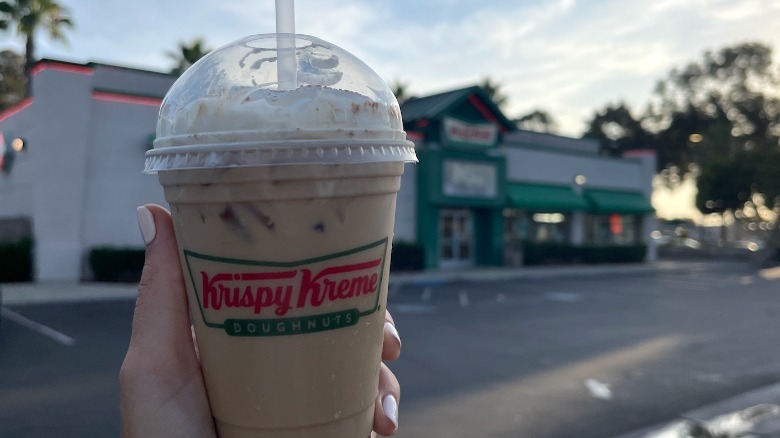 Molly Delmore/Mashed
Krispy Kreme launched these pumpkin coffees in August and, to our surprise, will also be removing them at the end of August. We read the website and found it surprising that a fall creation would only be available for 20 days in August.
Starting on 8/8, Krispy Kreme will sell Pumpkin Spice coffees and doughnuts through 8/28 at participating stores in the US and Canada.
While we usually wait until September or October to dive into Pumpkin Spice anything, Krispy Kreme is kicking the season off early this year. We headed to Instagram to see if the comments could provide insight on this early launch. One Krispy Kreme super fan shed some light on the situation. "Krispy Kreme releases their holiday specials early each year; the very 'special' ones being a limited release. Sometimes they will bring them back for a limited time throughout the season.
What's the nutrition information for each drink?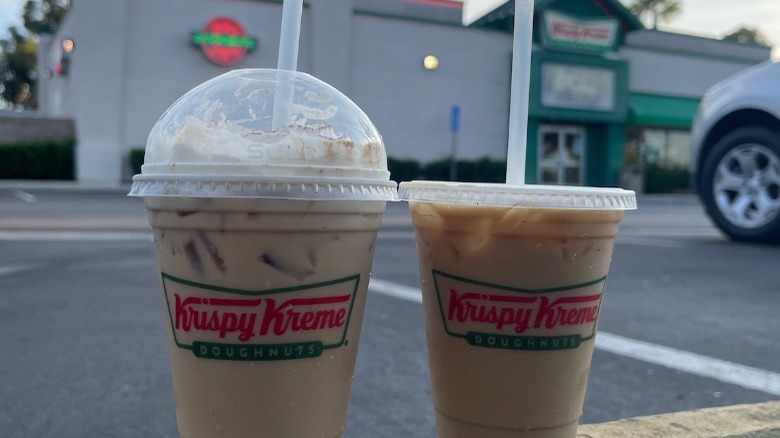 Molly Delmore/Mashed
With specialty drinks, we can assume the sugar content is higher than an average coffee, and the calories will match.
Let's start with the Iced Pumpkin Spice Latte. We ordered a medium or 16-ounce drink which comes in at 360 calories, 90 of which are from fat. Without modification, the Pumpkin Spice Latte comes with 2% milk, which we can assume contributes a fair bit to the calorie total. Krispy Kreme does not have a wide selection of alternative milks like other coffee places; the only other option is skim milk. We are sending apologies and keeping our dairy-free fans in our thoughts through this Pumpkin Spice Latte season. If you worry about sugar intake, stay clear of this drink and its 26 grams of sugar per 16 ounces.
The Pumpkin Spice Iced Coffee is much lower in the calories department at 140. Only 10 calories are from fat, but we still see a significant amount of sugar in this drink: 22 grams, to be exact.
How do they compare to other Pumpkin Spice coffee drinks?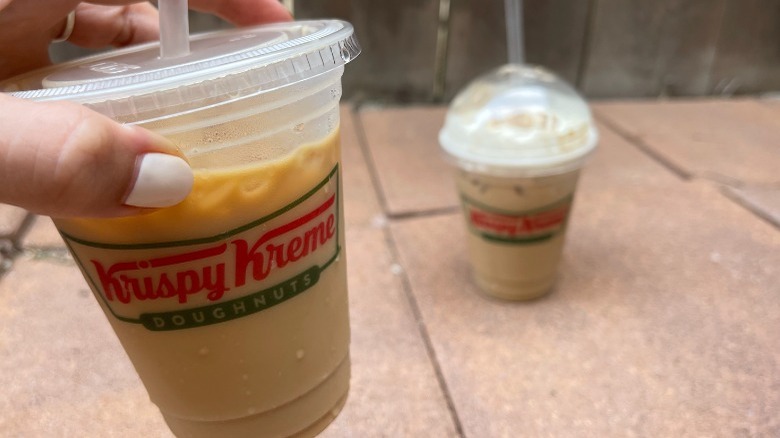 Molly Delmore/Mashed
After trying Krispy Kreme's renditions of the Pumpkin Spiced Latte and Coffee, we think they could be up there with big dogs like Starbucks. Both drinks offer a perfect balance of pumpkin to coffee and cream.
We compared nutrition values, and Krispy Kreme lines up closely with Starbucks. Starbucks Pumpkin Spice Latte contains 390 calories, 2% milk, pumpkin flavoring, and whipped cream. The flavors are very similar, and it would be hard to distinguish either beverage in a blind taste test.
When it comes down to deciding where you'd like to purchase a pumpkin-flavored coffee, we will choose based on what food we want to accompany the drink, either doughnuts or a spinach feta wrap. Starbucks does have the upper hand in terms of availability. As we mentioned, these drinks are only available at Krispy Kreme for a limited time, so don't wait to get your hands on one.
The verdict: they're definitely worth a taste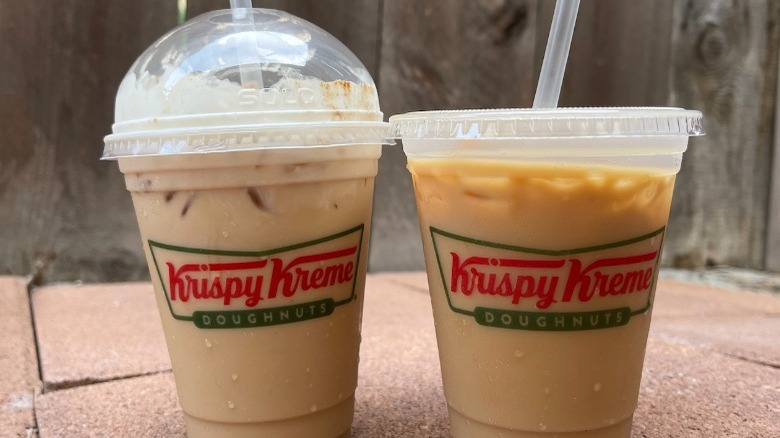 Molly Delmore/Mashed
If this article has not yet convinced you to try Krispy Kreme's Pumpkin Spice Coffee Drinks, let's revisit a few items. One of the biggest perks of Krispy Kreme is receiving a free drink with a Quick Break doughnut special. If you plan to buy doughnuts, why not enjoy a pumpkin coffee with it? We tasted a brilliant mix of coffee and pumpkin in each drink, and we wanted more when the cup ran dry.
We only tried the iced versions, but the frozen Pumpkin Spice Latte also called our name; it looked (and likely tastes) like a milkshake.
If you want to kick off the fall season in August, race to your local Krispy Kreme. Grab one of the pumpkin-flavored coffees we've discussed and maybe a doughnut. You won't be disappointed, but you might leave with a bit of a sugar rush.