The Italian Wendy's Meals Reddit Just Spotted
If asked to name what an average Wendy's serves, you'd probably rattle off a Baconator, Frosty, or maybe something about those supposedly "hot and crispy" fries you've seen commercials for. Whatever your answer, it probably isn't going to be about getting Italian food from a place that serves square hamburgers and chicken nuggets.
While it's true that Wendy's doesn't dish out chicken Parmesan or lasagna, instead allowing places like Olive Garden to satisfy the public's cravings for Italian American foods, that doesn't mean the chain hasn't explored its own takes on "Italian cuisine" in the past. In 2014, Restaurant News reported that Wendy's released a "Mediterranean-inspired" cheeseburger topped with bacon, Asiago cheese, roasted tomatoes, and rosemary garlic aioli on a ciabatta bun. In 2019, the chain came under fire when advertising its Parmesan Caesar salad, as some found the commercial, portraying a mobster meeting, to perpetuate negative stereotypes of Italians. 
Although Caesar salads and burgers topped with Asiago cheese may not exactly be one's definition of "Italian," Wendy's is still an American hamburger company. Its latest menu items, however, may be the chain's closest thing yet to classic dishes you'd find at Italian spots on the East Coast.
Wendy's Italian mozzarella sandwiches may be coming in November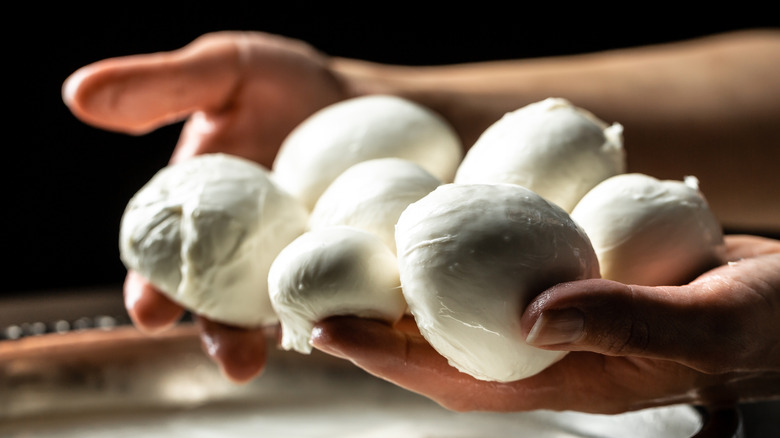 sweet marshmallow/Shutterstock
On the r/Wendy's subreddit, a supposed Wendy's employee uploaded what appears to be a letter from the company's marketing and innovation team to all U.S. locations. The memo states that starting November 15, the chain will introduce an "Italian Mozzarella Chicken Sandwich and Cheeseburger," as well as garlic fries, to the menu. The sandwiches will include "gooey fried mozzarella cheese and rich marinara sauce" on a "unique garlic knot bun." If the letter's contents are to be believed, the Italian Mozzarella sandwiches "surpassed all expectations" during tests in early 2022, and there's a sense of optimism about releasing the sandwich and fries nationwide.
"Finally something good," u/Vaders_Fist_501 commented on the post. "This sounds like BK's Italian Chicken, but likely superior since BK is pretty much trash these days except for the Whoppers," said u/TLOE. "I can't imagine these flavors complementing a burger, but maybe someone likes beef drenched in tomato sauce?"
According to Brand Eating, Wendy's did something similar, albeit much more simplistic, back in 2017 by putting fresh mozzarella and basil pesto on chicken sandwiches. The upcoming duo appears to be more complex with the fried cheese, addition of tomato sauce, and the introduction of a new bun. Wendy's hasn't made any public hints about the sandwiches or garlic fries as of yet, so customers will have to wait and see.