The Best Pizza Sauces In 2022, Ranked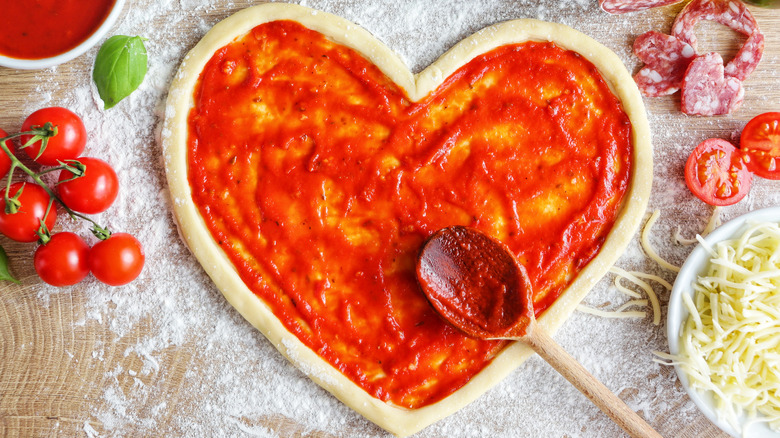 KANGIITALY/Shutterstock
We may receive a commission on purchases made from links.
You don't need a fancy pizza oven at home to churn out your own pies. In fact, you don't even need a pizza stone, which helps during baking, though they're inexpensive enough that you should probably consider one if you make pizzas fairly regularly. What you do need, at the very least, are dough and sauce, and if you're not in the mood to perfect your own secret sauce recipes, or just don't have the time to prepare them, you can snag premade versions easily.
When looking for a premade tomato sauce, America's Test Kitchen suggests you start by inspecting the list of ingredients and shying away from anything containing tomato paste because that's already cooked, eliminating the freshness you want from a robust sauce. From there, we suggest you aim for a sauce with few ingredients and demand that they be natural and fresh. Assuming you don't have time to test all the pizza sauces on the market (or the interest in tasting all the duds), we took up the task of sampling sauces ourselves to bring you the best pizza sauces in 2022, ranked from bottom to top. Keep in mind that these are our very top choices, though, so even the bottom one is a winner.
How we selected our top pizza sauces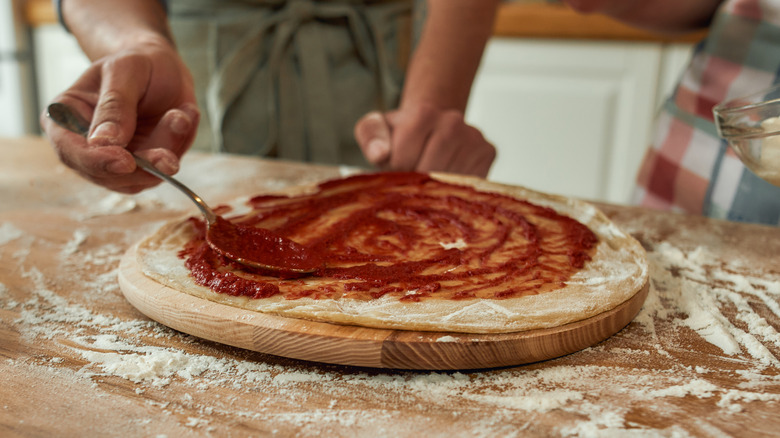 BAZA Production/Shutterstock
Taking into consideration what we've just shared about the importance of quality ingredients, we first scoured the market for those sauces that generally adhered to these standards. From there, we considered the experience and opinions of both pizza experts and other professional reviewers to determine which sauces cook well and taste authentic before settling down to our own taste test of the top contenders. Finally, we consulted with those we think should count most, the consumers, taking a deep plunge into the countless reviews of those who've been enjoying (or not enjoying) these products through actual home use, considering everyone from first-time pizza samplers to serious aficionados baking pies on the regular. 
We wanted this list to be of true service to you, so we've included only those sauces you can readily find online, eliminating those not currently available. Keep in mind that prices can change almost daily with supply and manufacturing issues still plaguing plenty of consumer markets, especially groceries, so feel free to click through and see today's cost before making any personal judgments based on price alone.
Stonewall Kitchen Classic Pizza Sauce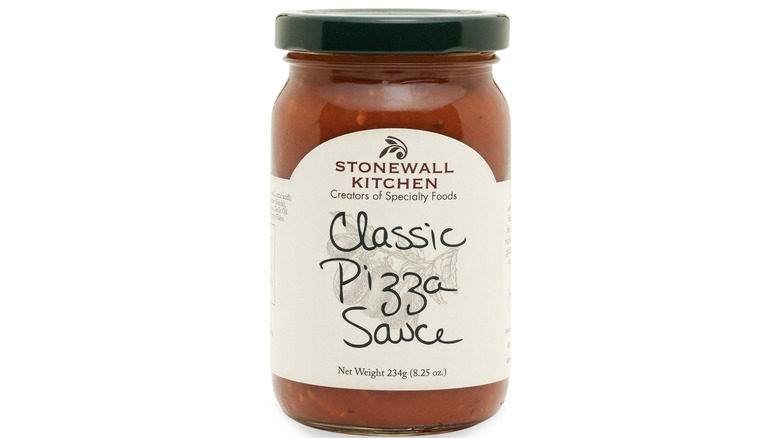 Stonewall Kitchen
Stonewall Kitchen may have started out at a farmers market stand in Portsmouth, New Hampshire, in 1991 (via Stonewall Kitchen), but the gourmet product brand now pumps out about 75,000 jars of tasty treats daily. Though jam was Stonewall Kitchen's original ... well ... jam, the expansive line today includes a gourmet pizza sauce that takes the entry spot on our list of the best pizza sauces in 2022.
Let's start with what we love: There's some serious flavor in this jar, including a noticeable garlic profile, and even some red pepper flakes. Customers like Mary, who left a 3-star Amazon review, says the flavor alone is worth 5 stars, but the unusually high price of the jar makes it a bit inaccessible. Amazon customer Jones agrees, adding that one jar contains only enough for a single pizza, so it's especially expensive. Detractors, like Amazon customer von Neumann, complain that Stonewall Kitchen Classic Pizza Sauce has too strong a sugar profile, citing 16 grams of cane sugar in an 8.25-ounce jar and calling it nothing more than junk food at a high price. We agree that a pizza sauce doesn't need this much sugar and are also not quite sure why this jar commands such a pretty penny, landing it at the bottom of our best.
Purchase Stonewall Kitchen Classic Pizza Sauce on Amazon for $13.98 as of September 2022.
Contadina Pizza Squeeze Sauce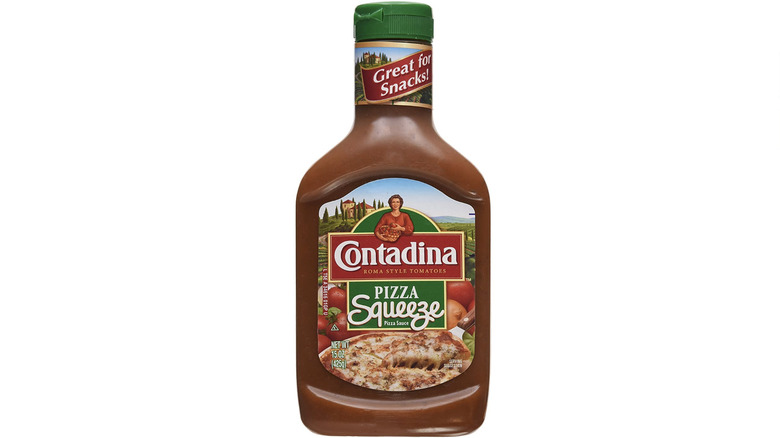 Contadina
We'll admit there's something a bit classier and more elegant about glass jars than plastic bottles, but we're equal-opportunity tasters and can certainly recognize a product's innate quality, regardless of its packaging. Contadina Pizza Squeeze Sauce does come in a plastic bottle (how else could you get that essential squeeze?), but we think both the sauce and its nontraditional bottle have some serious merits, and some users agree.
One obvious advantage of plastic over glass is that it doesn't break, and that's especially helpful if there are kids in the kitchen. Shawn, a verified Walmart purchaser, said that kids love the flavor and lack of chunks in this sauce, so it's especially great for finicky eaters. Influenster user Lisa M.'s kids are also big fans of this sauce, and she appreciates the relatively low cost, since the family uses it often.
Rest assured, this isn't merely a kids' product, though. An Amazon verified purchaser who gave this sauce 5 stars claims to have tried many pizza sauces before landing on this one and appreciates the handy squeeze bottle, too. Where Contadina Pizza Squeeze Sauce really shines, though, is its adaptability. Amazon verified purchaser Florence Ronca uses it for a variety of snacks, from pizza bagels to pizza English muffins, and even squirts it on meatballs, while others use it as a dipping sauce for bread, mozzarella sticks, and more.
Purchase Contadina Pizza Squeeze Sauce (3-pack) on Amazon from $13.25 as of September 2022.
Pomì Pizza Sauce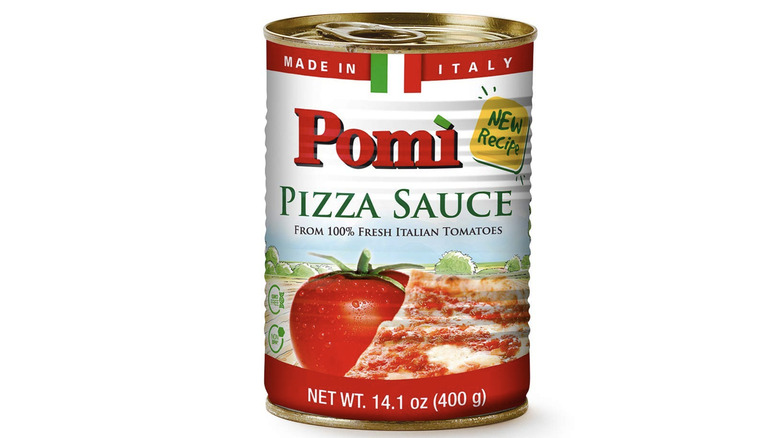 Pomi
Sometimes the simplest products produce the greatest flavors as long as the ingredients are fresh and pure. Pomì Pizza Sauce follows the brand's ethos that "perfection is simple" (via Pomì), using only 100% fresh Italian tomatoes, olive oil, and seasonings in each can of sauce. Fans, including us, love the result.
Sold in neither glass nor plastic, this sauce is certainly subject to a common complaint among other acidic products sold in cans. Some customers say that, while other sauces come with a telltale metallic taste, Pomì's does not. Amazon verified purchaser Amanda was so in awe of Pomì Pizza Sauce that she felt compelled to leave a public review, unable to ignore how enamored she was of this simple, yet delicious, product, noting that she even caught her husband eating it straight out of the can. There are certainly those who don't love the simple preparation of Pomì Pizza Sauce, yearning for more built-in zest, and we'll agree that a finished product shouldn't necessarily require adding one's own favorite seasonings, but we still appreciate the purity of this sauce and think many other pizza fans will, too.
Purchase Pomì Pizza Sauce (12-count) on Amazon from $31.99 as of September 2022.
Cento Pizza Sauce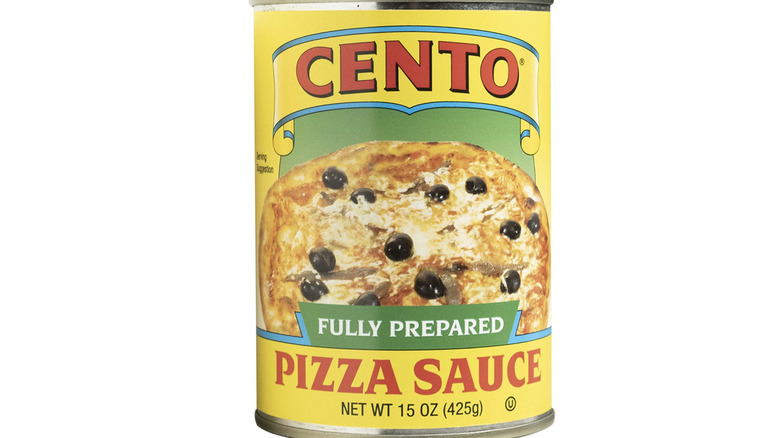 Cento Fine Foods
If you grew up just about anywhere in the U.S., you're likely familiar with the yellow label of Cento Fine Foods. Famed for its use of San Marzano tomatoes, the preferred variety for true Neapolitan pizza sauces, Cento is the only American tomato product brand with its own facility in Italy's Sarnese Nocerino area (via Cento), and that may have something to do with why so many of its ardent supporters think Cento Pizza Sauce is the best on the market.
Influenster user Corrina I. says her Italian family has been using this sauce as long as she can remember, thanks to its authentic Italian flavor. Amazon customer bob says it tastes just like the sauce used in the Italian bakeries of New York and Philadelphia. Amazon verified purchaser Julie Big Spender appreciates the spreadable consistency that isn't too watery and is willing to pay a little extra for the quality and flavor Cento Pizza Sauce provides. That said, this isn't necessarily an expensive product, especially compared to some of the gourmet offerings you'll find on this list, so don't consider this a splurge item; it's reasonably priced.
Purchase Cento Pizza sauce (6-count) on Amazon from $22.69 as of September 2022.
Yo Mama's Classic Pizza Sauce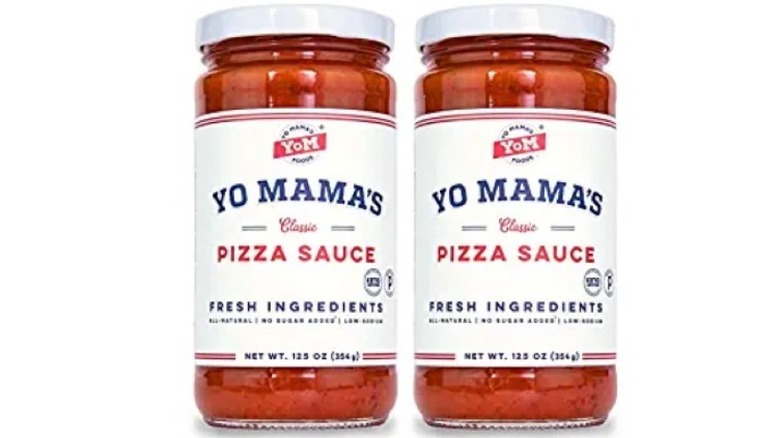 Yo Mama's Foods
At the other end of the cost spectrum, Yo Mama's Classic Pizza Sauce costs more than twice as much as Cento's per unit and comes with 2.5 ounces less per jar, too. Yo Mama's Classic Pizza Sauce is a premium product, though, so it's not just the price that increases, but the quality of ingredients and, especially, the preparation. Yo Mama's uses fresh whole tomatoes instead of concentrate, juice, or paste, and the added seasonings bring a unique flavor that separates it from the simpler sauces available.
Pizza isn't traditionally a keto-friendly food, but products like Yo Mama's Classic Pizza Sauce help make it more attainable with no added sugars, and this brand has developed a particularly strong reputation in the keto community. Amazon verified purchaser M. Schindel gives Yo Mama's 5 stars as an "excellent keto-friendly pizza sauce," but you don't need to be on a restrictive diet to appreciate the lack of added sweetness. Plenty of traditional customers also rate this sauce with 5 stars and rave about its other qualities, too, like its nice, thick consistency. Even if you're used to added sugar in your sauce, like verified customer Tiff, you may also find that a purer sauce with more thoughtful flavoring is even better. Tiff also appreciates that the jars were still large enough for several homemade pizzas.
Purchase Yo Mama's Classic Pizza Sauce on Amazon (2-count) from $18.98 as of September 2022.
Botticelli Traditional Pizza Sauce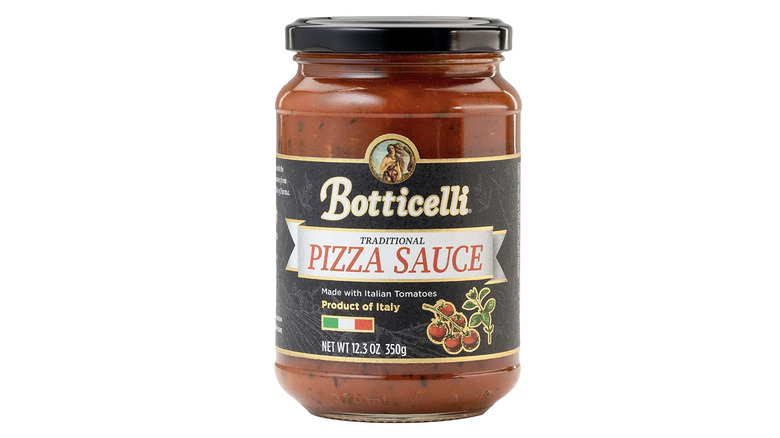 Botticelli Foods
Even more expensive, though only slightly, Botticelli Traditional Pizza Sauce shares several qualities with Yo Mama's, including its keto-friendly lack of added sugars. What sets Botticelli's sauce slightly ahead, though, is its more robust flavor that still manages a natural sweetness. We're not sure if this has anything to do with the fact that this one is actually made in Italy, giving it better access to fresher ingredients, but it's certainly worth mentioning.
Botticelli customer Alex Segal appreciates the lack of sugar, describing the result as a "sweet depth of flavor" attributed to a strong recipe with excellent preparation, and SnackViews adds that you can actually taste the freshness of the tomatoes and will appreciate the touch of sea salt. Amazon verified purchaser Sarah calls this sauce "truly amazing" and uses it to impress family and friends with next-level homemade pizzas, having once received the compliment that it was "like Michael Jackson moon walking on my pallet [sic]." There are, of course, plenty who dislike the fairly steep price of this pizza sauce, but even some of those, like Amazon verified purchaser Kory, admit it's still a good sauce.
Purchase Botticelli Traditional Pizza Sauce (2-count) on Amazon from $19.50 as of September 2022.
Pastorelli Pizza Sauce
Pastorelli Foods
If someone tells you to sketch a pizza, you're probably going to draw a circle with lines crossing through it and maybe add some smaller circles to indicate pepperoni. This is certainly the classic image of pizza most Americans think of first, but it's not the only pizza. Detroit pizza, for example, is generally rectangular in shape (as are plenty others), and comes with a thick crust similar to the deep-dish styles of Chicago (via Buddy's Detroit-Style Pizza). With different styles of pizza come different pizza-sauce needs, and Pastorelli Pizza Sauce is one that may perhaps be best for some of these alternative pizzas.
With a sauce hearty enough to stand up to a thick-crusted pizza like those in Chicago, it's fitting that Pastorelli Pizza Sauce actually originates in the Windy City (via Pastorelli Foods). Fans like Amazon verified purchaser eddie say the exemplary sauce, a staple of the pizza scene in Chicago, is reminiscent of the city itself. Influenster user angela P. finds it equally suited for Detroit pizza, which is not only thick but also baked in a way that caramelizes its cheesy edges, requiring a serious sauce to balance the pie's other prominent features. Still, you don't necessarily need a regional or specialty pie in order to enjoy Pastorelli Pizza Sauce. Walmart shopper webshopperextraordinaire say it's even better than previous favorites and recommends adding it to frozen pizzas to beef up their flavor.
Purchase Pastorelli Pizza Sauce (12-count) on Amazon from $30 as of September 2022.
Godfather's Pizza Pizza Sauce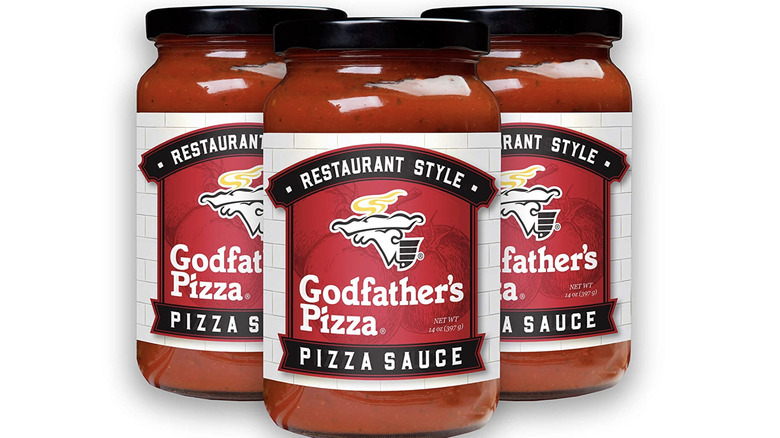 Godfather's Pizza
Though there were more than 500 locations of Godfather's Pizza in the pre-pandemic world of 2019 (via Restaurant Business), it's possible you've never encountered one and haven't been able to indulge in one of its pies. If that's the case, purchasing the restaurant's pizza sauce is an easy way to get a hint of its beloved pizzas, and you definitely should. For the rest of you, if you're fans of the brand, your No. 1 question is most likely whether or not this jarred sauce actually tastes like the sauce in the restaurant. In our opinion, it nearly does.
There are certainly those, like Amazon verified purchaser will nick, who say that this jarred sauce tastes nothing like the sauce served at Godfather's Pizza, but we land much closer to the camp of Amazon verified purchaser Michelle Colbjornsen, who says it "tastes exactly like the Godfather's Pizza sauce" her whole family loves, though we're not entirely convinced it's quite so exact. Regardless, Godfather's Pizza Pizza Sauce is a delicious product that will enhance your homemade concoction, so it's well worth a try regardless of your matchy matchy expectations. Still, you have to be willing to shell out a bit more for these jars, especially since free shipping currently isn't available, even on Amazon, and some customers have found this added cost to be a bit too much to bear.
Purchase Godfather's Pizza Pizza Sauce (3-count) on Amazon for $15.75 as of September 2022.
Don Pepino Pizza Sauce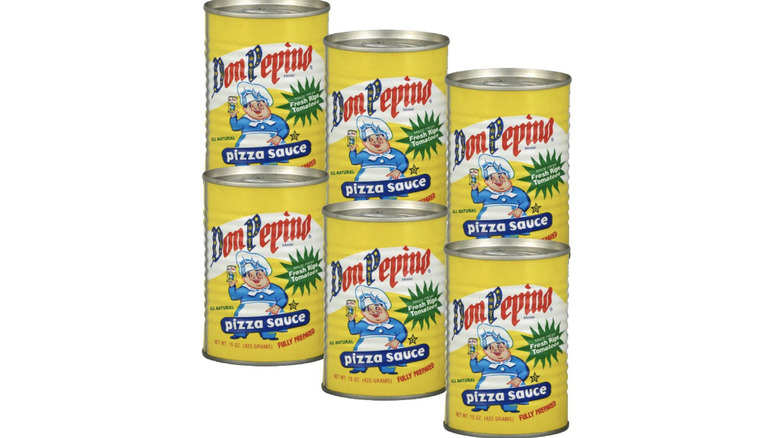 Don Pepino
Muir Glen Organic Pizza Sauce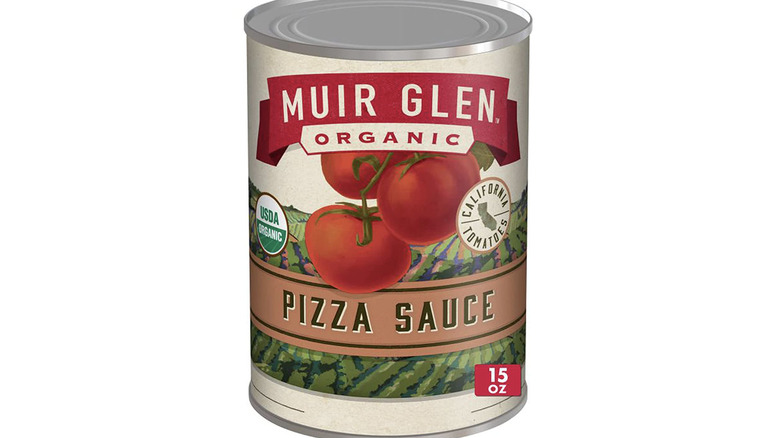 Muir Glen
If you're in the market for a high-quality organic pizza sauce, you've just stumbled upon the only one on our list, and we're pretty sure you're going to love it as much as we do. For those who think organic products lack the bold flavors of less healthy options, Muir Glen Organic Pizza Sauce will quickly change minds.
One happy customer whose child never had pizza before raved that the rich and savory flavor of this sauce made an instant pizza-lover of their child, and the rest of the family enjoyed it, too. A Walmart shopper agreed that the sauce was deliciously rich, appreciating the spot-on spices of the recipe. Influenster Elizabeth D. was equally wowed by the flavor of this organic sauce, which she says is better than any other she's tried. All three noted the sauce's hallmark quality, its extra-thick consistency, which Kroger shopper MysticBabe says can even make it a viable substitute for tomato paste when you don't want to open an entire can for just a spoonful. We also love that Muir Glen Organic Pizza Sauce isn't among the most expensive sauces on this list, making healthier food options more accessible to all.
Purchase Muir Glen Organic Pizza Sauce on Amazon from $1.90 as of September 2022.
Mutti Pizza Sauce with Basil & Oregano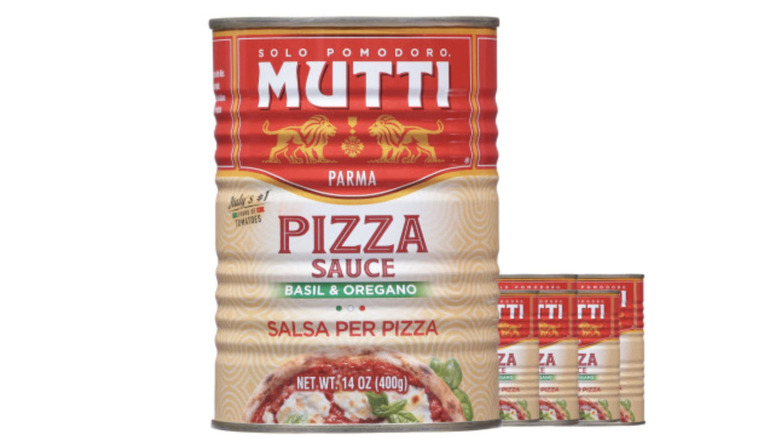 Mutti
If you're looking for a pizza sauce that comes readymade with a distinct flavor profile you definitely won't have to adjust, Mutti Pizza Sauce with Basil & Oregano is among the cream of the crop. Made simply of Italian tomatoes and a pinch of spices, fans, like Amazon verified purchaser Tron, appreciate that it comes thoughtfully flavored without veering into the realm of overpowering. Pizza Blonde finds that the oregano is more noticeable than basil in this sauce, and we do, too, but neither of us is disappointed by the balance.
At a medium price point compared with the rest of our best pizza sauces in 2022, we appreciate that Mutti still delivers what some fans, like Influenster Sam H., call a restaurant-quality sauce that distinguishes itself from the more generic sauces you might expect to find at similar cost. Finally, The Pizza Heaven reviewed Mutti Pizza Sauce with Basil & Oregano and declared it almost as good as authentic Neapolitan pizza sauce, with the slight complaint that the tomatoes don't taste like the San Marzano tomatoes found in a true Neapolitan. Since Mutti doesn't specify the exact type of Italian tomato used, it's possible this reviewer is correct. Regardless, you'd be hard-pressed to find a pizza sauce that will get you closer to the flavors of Naples without grabbing your passport.
Purchase Mutti Pizza Sauce with Basil & Oregano (6-count) on Amazon from $25 as of September 2022.
Rao's Homemade Pizza Sauce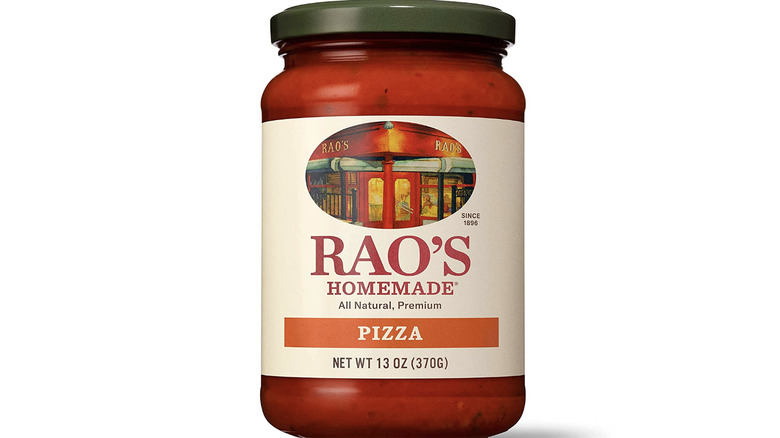 Rao's Homemade
If you've read all the way through this comprehensive ranking of the best pizza sauces in 2022, you've seen some that have ideal consistencies, some with ideal ingredients, and some with ideal spice balance, but our No. 1 sauce boasts all of these exceptional qualities. While not the cheapest sauce on our list, Rao's Homemade Pizza Sauce is also not the most expensive, yet it snags top marks across the board from us, and from most people who've tasted it, too, making it even more impressive.
Redditor panic_ye_not, who says Rao's Homemade Pizza Sauce smells as good as it tastes, is in awe of the rich flavors that make it among the best they've ever tasted, including in Italy, and attributes much of this to the "generous amount of extra virgin olive oil" in the recipe. Amazon verified purchaser jahmeelo gray agrees it's "bursting with flavor," and vows not to change pizza sauces any time soon. We're obviously in agreement. Influenster Haley B. admits to not loving pizza, but has been converted by this sauce alone, and from-scratch sauce maker Rob A. admits to using Rao's Homemade Pizza Sauce instead of his own recipe when cooking for a crowd. We're sorry to spoil his secret, but you deserve to know.
Purchase Rao's Homemade Pizza Sauce on Amazon from $4.49 as of September 2022.