Ryan Reynolds' Gin Distillery Tour Will Trap You In The Actor's Office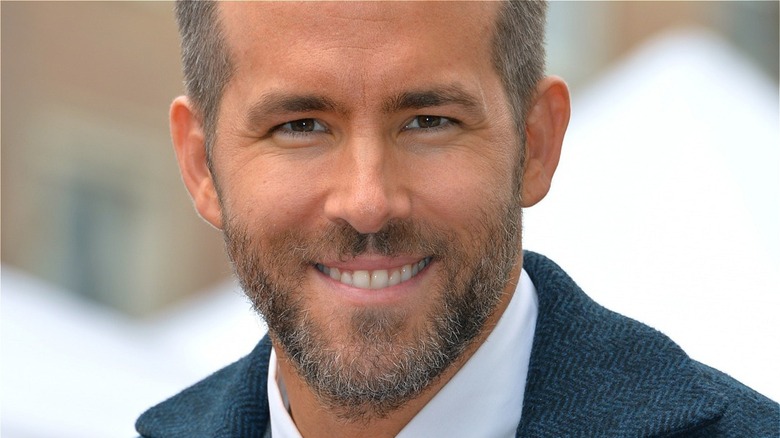 Featureflash Photo Agency/Shutterstock
As a likable Hollywood A-lister, Ryan Reynolds has had a soaring career. With films like "Red Notice," "The Hitman's Bodyguard," and the enviable role of Marvel's Deadpool, you'd think this star would have enough to do. Apparently not. He has now ventured into the realm of spirit-making with his Aviation Gin Distillery. And, judging by the number of celebrities that have entered the world of liquor production, it seems to be the thing to do. Clearly, if you haven't conquered the "spirit world," you haven't truly made it in Tinseltown.
Seriously. Look at this list. The Spirits Business revealed that Mark Wahlberg is a co-owner of Flecha Azul Tequila, a line that is made using "100% estate-grown Blue Weber Agave." Dwayne "The Rock" Johnson has also waded into the world of tequila with his Teremana Tequila, which a press release claimed had "the most successful launch of a spirits brand in U.S. history." And, one thing you might not have known about Sammy Hagar is that the rocker teamed up with Guy Fieri to create their own brand of tequila, Santo.
Besides not focusing on tequila, it seems that Reynolds will try to make his alcohol stand out by offering something unique — a distillery tour that is anything but serious.
Reynolds says his distillery tour is 'like Disneyland for adults'
Rumor has it that touring Ryan Reynolds' Aviation Distillery is unlike any other factory tour. A YouTube video jokingly shows visitors being put to work on the line in the hopes "that after the tour is done, guests may be more knowledgeable than employees." Reynolds can be seen throwing safety vests on attendees and ushering them to packaging, and telling them the tour isn't over until the gin is done. While work isn't required, comfy footwear is recommended.
The actor shared with People, "If a grown-up theme park and a bartender fell in love and produced offspring, it would be this gin factory." The Portland, Oregon, facility will charge $28 for the one-hour tour that Reynolds adds is "like Disneyland for adults. With fewer furry suits" (via Narcity). Visitors will experience gin taste-testing, buying goodies at the gift shop, lounging at the draft cocktail bar, and "full access to the actor's office" (via People). The office, surprisingly, also functions as an escape room that confronts visitors with puzzles, some of which involve Easter eggs. This is likely made all the more difficult after visiting the tasting room and cocktail bar.
One YouTube commenter remarked, "Imagine randomly working for this company and it all started by them just taking you and giving you [stuff] to do." So visitors can put on a hard hat, grab a broom, and brush up on their Easter egg knowledge if they hope to ever leave.