The Unexpected Reason McDonald's Is Adding A New Happy Meal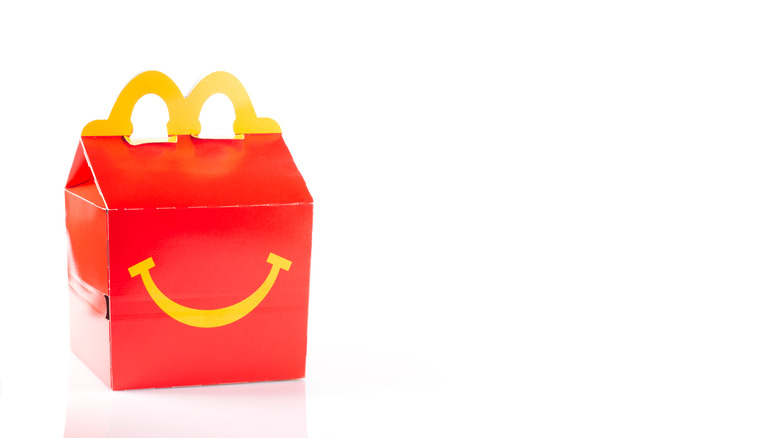 Aleks822/Shutterstock
When you think of the famous McDonald's Happy Meal, you likely picture the classic red box topped with the iconic golden arches. However, you might also recall that the packaging has changed from time to time, in order to match Happy Meal toys and promotions. Well, another one of these promotions is starting on Monday, October 3, 2022.
McDonald's dropped a hint on September 26, cryptically posting Instagram photos of the McDonaldland characters –- Grimace, Birdie, and the Hamburglar. But, the post also included a fourth character, one people might recognize from the streetwear brand Cactus Plant Flea Market.
McDonald's confirmed the collab early September 27, with the Twitter post, "The Cactus Plant Flea Market box drops October 3." Naturally, McDonald's fans were waiting with bated breath wondering how the beloved Grimace and CPFM streetwear could possibly come together for a Happy Meal.
What's the deal with the McDonald's and Cactus Plant Flea Market collaboration?
After all of McDonald's Instagram posts suddenly disappeared, the chain posted two photo series hinting and then confirming a collaboration with Cactus Plant Flea Market. Per the Instagram post, this collab features a newly redesigned Happy Meal box, but the packaging isn't the only thing that's changing.
According to PR Newswire, the CPFM-inspired Happy Meal is targeted at adults and comes with either a Big Mac or 10-piece Chicken McNuggets, as well as a few more colorful surprises. Yup, you guessed it, the Happy Meal toys include Grimace, Birdie, Hamburglar, and Cactus Buddy figurines. What's more, each purchase of a CPFM Happy Meal enters you into an exclusive merch giveaway. Additional merch will be available for purchase at the collab's website on October 3, 2022.
McDonald's further riled up fans by asking Twitter to share their favorite of the four redesigned characters. To no one's surprise, countless people chose Grimace, prompting the chain to comment, "If Grimace has a million fans, I am one of them." Fortunately for Grimace lovers, one of the giveaway prizes might just be a Grimace chair. We need it.