The Most Popular Steak At Texas Roadhouse
We can smell it now — the sizzling sensations and flavors of Texas Roadhouse. If you've ever eaten at the popular steakhouse chain, then you know what we're talking about. Founded in 1993 in Indiana, Texas Roadhouse has since transformed into one of the largest steakhouse chains in the world, with over 600 locations in the United States and additional outposts around the globe. With almost three decades under its belt, the chain has made a name for itself with not only its hand-cut steaks, but also its classic shelled peanuts, freshly baked rolls with honey cinnamon butter, variety of margaritas, and even an in-house butcher on the Texas Roadhouse staff.
The world loves Texas Roadhouse, according to Companies Market Cap. The restaurant chain racked in over $3.4 billion in sales in 2021, which translates to a lot of steaks served. What kind of steaks, exactly? Between prime rib, ribeye, filet mignon, sirloin, strip, T-bone, and more, it can be quite overwhelming deciding what cut of steak to get from Texas Roadhouse. Did you know there's one particular steak cut that's the most popular among customers?
Six-ounce sirloin for the win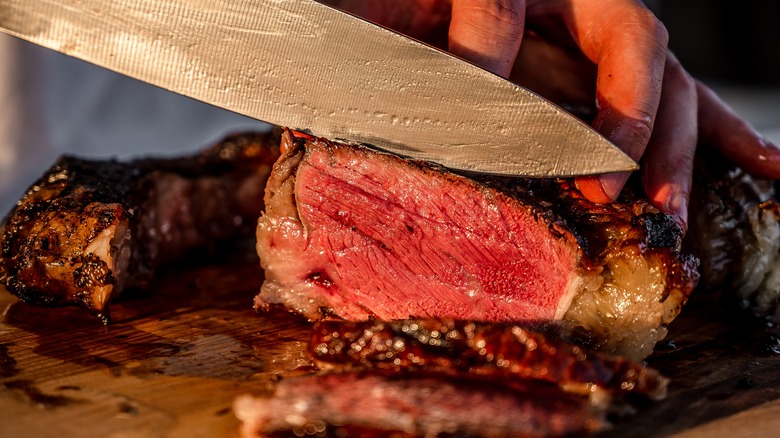 Norbertas/Shutterstock
According to The Motley Fool, the six-ounce sirloin is the number-one selling steak at Texas Roadhouse. In 2016, the publication sat down with the chain's senior investor relations director Tonya Robinson and senior PR director Travis Doster, who revealed this interesting tidbit: "In 1993, the number one steak was the six-ounce sirloin. In 2016, the number one selling item is the six-ounce sirloin."
Surprised? We're not. Texas Roadhouse's sirloin made our list of best steaks at the restaurant due to its affordable price and perfect level of doneness according to the customer's request. Sirloin is also moderately fatty compared to other cuts and keeps you satiated with 250 calories, 6 grams of total fat, and 46 grams of protein per six-ounce cut of meat (via My Food Diary). Per Restaurant Business, sirloin is a top choice for restaurants to offer, too, as it can easily be cut into filets and aged for additional tenderness. Plus, it's as tasty as the filet mignon, but more affordable.