What You Might Not Have Known About The Texas Roadhouse Staff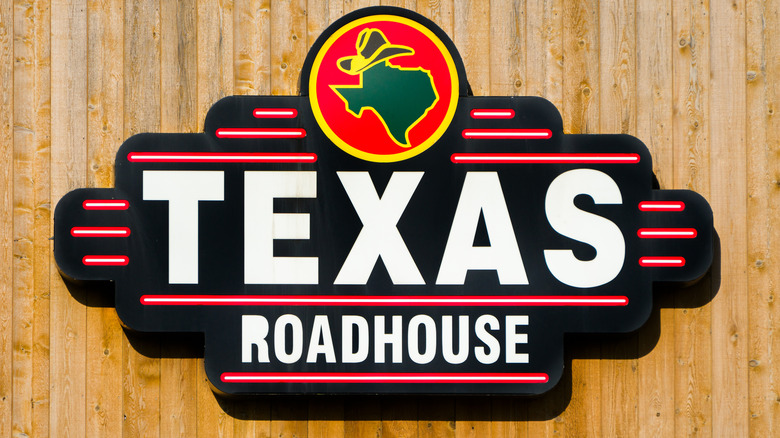 Ken Wolter/Shutterstock
Toby Keith blares over the bleating chorus of the evening dinner rush. The smell of fresh sirloin and barbeque sauce hangs thick in the air, practically dripping from the wood-paneled walls and comfy leather booths. Neon signs advertising different types of beer illuminate richly painted murals of the American heartland above your head. In between the crunch of peanut shells and the clinking of glasses, you hear a mechanical bull starting up and a chorus of waiters and waitresses singing happy birthday to a customer. It's another Friday evening at Texas Roadhouse.
The Kentucky-based steakhouse claims to be known for a few things, such as "hand-cut steaks, fall-off-the-bone ribs, made-from-scratch sides, and fresh-baked bread" (via Texas Roadhouse's Fact Sheet). While that may be true, there are a few other things you may not have known about Texas Roadhouse on your first visit. On certain occasions, according to Country Music Nation, Texas Roadhouse staff will perform elaborate dance numbers to some of country music's hottest hits. Did you know that every Texas Roadhouse has a corner dedicated to Willie Nelson? Did you know that $20 million dollars of Texas Roadhouse's money go into buying peanuts and bread (via National Peanut Board)?
The chain's surprises also extend to the local staff, who may know more about meat than you may have imagined.
There's an in-house butcher on board
You've probably heard that Texas Roadhouse doesn't kid around when it comes to meat. You also probably heard that about every other steakhouse from the East Coast to the West. What could Texas Roadhouse do differently?
According to Texas Roadhouse's Instagram posts, each location has its own "meat cutter," an in-house butcher who cuts its meat, rather than having it shipped in pre-cut. Texas Roadhouse also has the unique feature of letting you "pick your own steak," where you can pick the cut of meat you want straight from a butcher's case located at the front of the restaurant. This means that your meat is almost entirely customizable, from the way it's cooked to even how it's cut.
Texas Roadhouse employees can also become the de facto "owners" of the chain, should they follow certain conditions. According to Texas Roadhouse, if managers agree to "put down a $25,000 deposit and sign a five-year employment contract," the manager in question will receive a 10% cut of the restaurant's profits. The benefits of this are twofold: The management will now have a much more vested interest in ensuring the best customer experience in order to bring in more customers and more profit. Essentially, you benefit from a better experience while the manager benefits from extra cash. A win-win situation at its finest.