The Dessert Dumplings TikTok Is Calling Perfection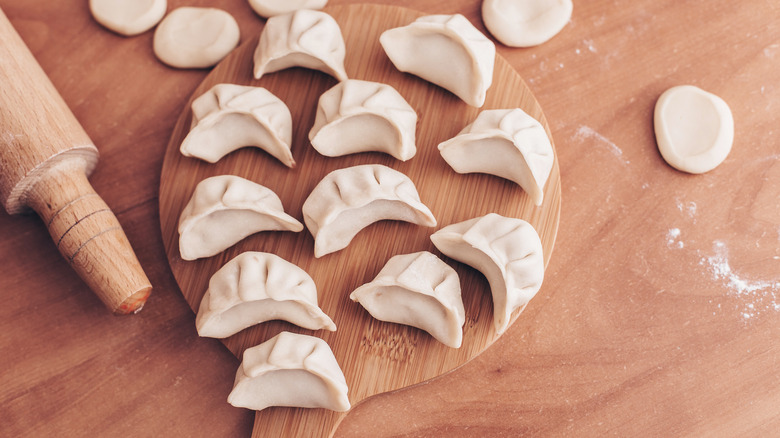 kseniya_tretyakova/Shutterstock
Dumplings come in all shapes and sizes, but when you think of the dish, something savory probably comes to mind. From soup dumplings to pierogi, there are so many delicious fillings that you can pack into one bite-sized dough pocket. Sometimes overshadowed by their salty counterparts, sweet dumplings are just as complex and varied around the world. To name just a few, there are Chinese tang yuan, South African souskluitjies, and Indian modak (via MasterClass), as well as a simple dessert dumpling recipe that's impressing viewers on TikTok.
TikToker and YouTuber @cookingbomb posted about Chinese sweet dumpling that she learned from her mom, and people are wowed by this fun and unique dish. The vegan treat starts with a jelly-like wrapper made from water and agar agar, which is derived from seaweed and often used as a plant-based substitute for gelatin, as well as optional butterfly pea powder to turn it light blue. Once the wrapper firms up, she fills each circle with chopped up fresh fruit, like mangoes, strawberries, and dragon fruit. Although a fruit platter is a tasty treat, these sweet dumplings will bring that same freshness in a more texturally exciting way.
Here's what TikTok is saying about these creative dessert dumplings
The TikTok from @cookingbomb has over 94,000 likes, as well as tons of comments gushing about how beautiful the dessert dumplings are. "Omg THIS IS GORGEOUS," one user said, while another joked, "It's for me why are you eating it."
Many users noticed how easy this recipe is to customize with your favorite fruits or other fillings entirely. One person who tried the recipe shared their twist, saying, "I use durian and vegan coconut custard filling. Very clever, thank you for this." Another person suggested adding some honey or whipped cream to the dessert, while a few users wondered what would happen if the dumplings had lemon juice squeezed on top; butterfly pea flower tea famously changes from a blue-purple to a purple-pink when combined with lemon juice, per Bon Appétit.
Want to skip the dumpling-folding process or don't have a cookie cutter handy? One person's suggestion might work for you: "I bet this would be great if you cut the agar jelly into strips and served the fruit on top like noodles." No matter how you serve it, this fruit-filled dumpling seems like a refreshing way to finish off a meal. And if you need more ideas for your dessert menu, check out these seriously delicious desserts you can make with fruit.