You Probably Forgot Coolio Had His Own Cooking Show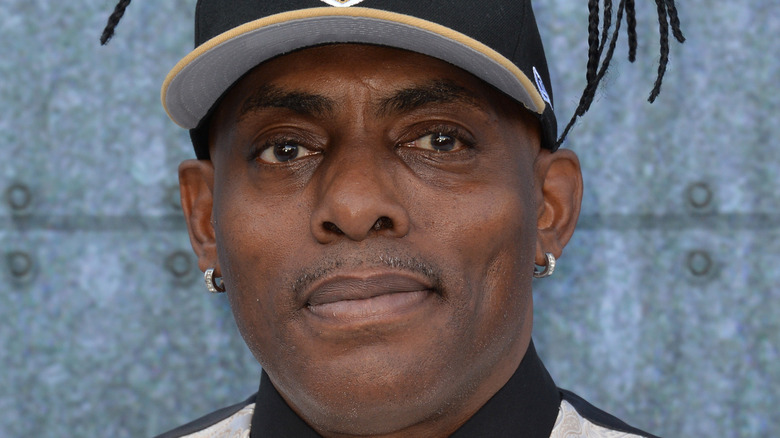 Featureflash Photo Agency/Shutterstock
Hip hop icon Coolio, 59, died on Wednesday of unknown causes, The Washington Post reported, before he was scheduled to play a show in Germany on Saturday. The rapper died unexpectedly in a friend's home in Los Angeles.
Coolio was widely known for hits like "Fantastic Voyage," and "Gangsta's Paradise," which earned him a Grammy and positioned him at the top of Billboard's Hot 100 list, according to CNBC. In total, he's sold more than 17 million records, but his career transcended the world of hip hop.
Coolio also appeared in a number of TV shows, including "Futurama," "Robbery Homicide Division," and "Fear Factor." While he is lesser known for his acting roles, Coolio's time on the screen also included a stint in the kitchen. He is remembered for surprising his fans by showing off his honed culinary skills on a cooking show that dropped in 2008, "Cookin' with Coolio" (per IMDb).
Coolio's cooking days
As fans mourn the loss of hip-hop star Coolio, who died in Los Angeles on Wednesday, they remember his many roles in the music industry and on the TV screen. Some people are also mourning the loss of the famous rapper's culinary mind.
Coolio became known for his healthy comfort food recipes, Cook Backstage reported, on a web-based show called "Cookin' With Coolio," which amassed 4 million hits over its duration. He began cooking when he was 11 years old after he burned a grilled cheese sandwich. His mother made him work in the kitchen to reimburse her for the ingredients he'd wasted, per the Cooking with Coolio website. He then mastered the secrets of his family's recipes and discovered his passion for cooking. He designed his recipes to be accessible to the average person, the website explained.
Coolio also went on to show off his expertise in the kitchen on several television shows. He appeared on "Celebrity Cookoff" on the Food Network and "Celebrity Chopped."