Hormel And Coolio Make Gifts Sizzle With Bacon-Scented Wrapping Paper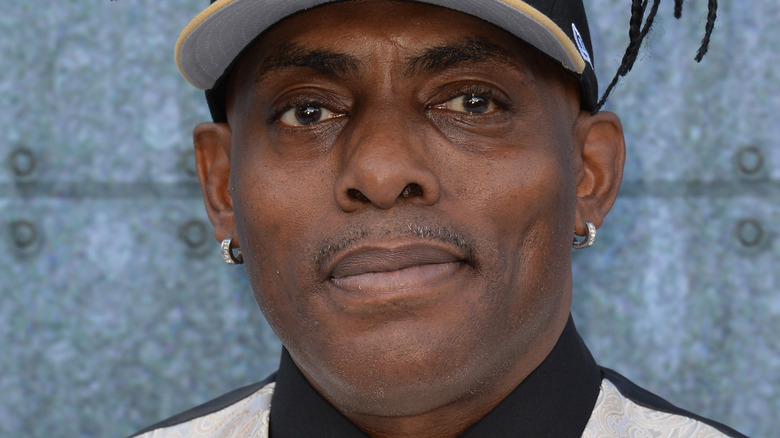 Featureflash Photo Agency/Shutterstock
There's no denying the fact that people love bacon. According to SFGate, the average American eats about 18 pounds of bacon per year, and Foodimentary says these tasty strips of pork are a constant presence in more than half of American households. While best-known as something enjoyed on the side of scrambled eggs or on a breakfast sandwich, bacon has become more than just a breakfast meat. It's a versatile ingredient that can be used to add crunch and salt to almost any dish, whether it's layered on a BLT, crushed up on top of macaroni and cheese, or paired with chocolate for a sweet and salty dessert.
If you're a firm believer that bacon makes everything better, you're in luck. You can now take your passion for pork off your plate — and onto your Christmas gifts. Just in time for the holiday season, popular meat brand Hormel is teaming up with rap legend Coolio to release Black Label bacon wrapping paper which is — get this — gift wrap that smells like bacon (via Hormel).
The bacon wrapping paper is only available until Black Friday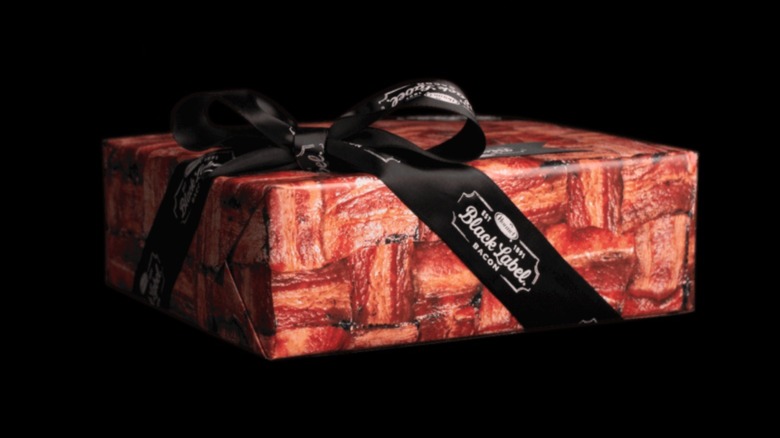 Hormel
The perfect gift wrap for any foodie on your list — or for yourself — the Hormel Black Label bacon wrapping paper not only looks like juicy strips of bacon woven together, but it also smells like strips sizzling on the stove on a lazy weekday morning (via Hormel). "Heading into the holiday season, we wanted to show our fans how Hormel Black Label bacon can elevate the ordinary appetizer, entrée and even gift to something unexpected and truly extraordinary," Nick Schweitzer, senior brand manager at Hormel, explained in a press release, as reported by NY Daily News.
If you want to get your hands on the bacon wrapping paper, there's a catch. You can't buy it — it's only available to a handful of fans on Hormel's website while supplies last. You can enter for a chance to win now through November 26, which is Black Friday. On that day, Hormel will select a few lucky winners to receive a gift wrapping kit that includes the bacon-scented wrapping paper, gift tags, and ribbon. The Salvation Army's Angel Tree program will receive a $1 donation from Hormel for every entry (up to $10,000).
If you need wrapping or cooking inspiration, you can watch Coolio's new YouTube series with Hormel, "Wrappin' with Coolio." The rapper shows you how to use the bacon wrapping paper (or any paper, for that matter) along with how to cook with Hormel's drool-worthy Black Label bacon.