Why You Should Never Buy Olive Oil From Dollar Tree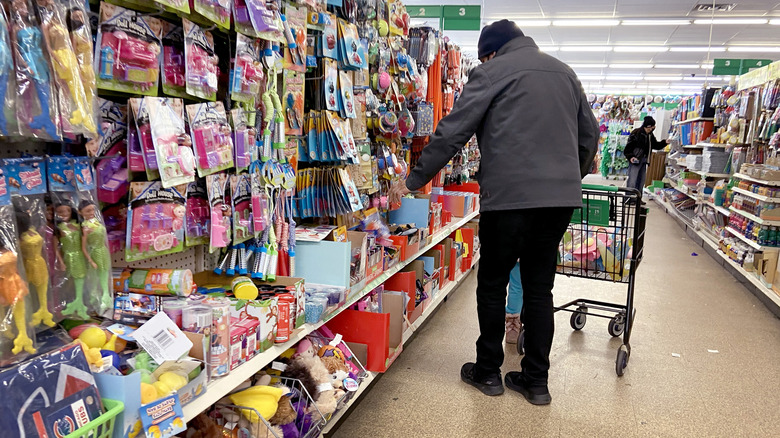 Scott Olson/Getty Images
Dollar Tree has been a cornerstone of the retail market since 1953 when it began to edge out five-and-dime stores. It's a variety shop that has managed to become very successful based around the simple concept of offering almost everything for prices that are insanely low, especially in a time when inflation is threatening to cause a recession (per MSN). Being able to get soup, nail clippers, a spatula, and maybe even a steak for about $1.25 each is a bargain that few can pass by.
Even though there's loads of love about getting everything a bachelor or bachelorette's apartment needs for pennies on the dollar, there's also a trade off. The items at Dollar Tree aren't always of the highest quality. There are whole lists on Reddit of items to avoid, and many recommendations for foods you shouldn't buy at Dollar Tree. Some of the cuisine you'll find can be suspect, starting with the cheap coffee and moving all the way down to the cheese, which one person on Reddit said was "unmeltable" and "fake."
Now, there's another suspect in the lineup of items to avoid at Dollar Tree — and this one is pretty simple.
Olive oil for only $1.25 is not top shelf material
On Walmart's website, you can find what Rachael Ray calls "E.V.O.O." (which is one of the catchphrases people wish she'd stop using). To everyone else, it's simply "extra virgin olive oil." It costs about 20 cents per ounce. Go into Dollar Tree, and TikTok account Sensational Finds shows that you can find a bottle of Pampa Soybean and Virgin Olive Oil for about $1.25 (per TikTok), which is the standard price for Dollar Tree items, according to CNN. This works out to approximately 14 cents per ounce. However, losing those six cents an ounce means you're getting a greatly inferior product.
"Stop buying this cooking oil," Sensational Finds' video says. "It's really 95% soybean oil and it contains GMOs." She goes on to suggest another olive oil, this one from Gourmet Empire, which is actually extra virgin olive oil. However, even at Dollar Tree prices, you'll still end up paying 21 cents per ounce, which is comparable to Walmart and likely other grocery stores. The lesson: Unless you need a small, travel olive oil for cooking on the go, you're no better off at Dollar Tree than anywhere else.