Marvel Fans Will Love AriZona's New Sport Drink Line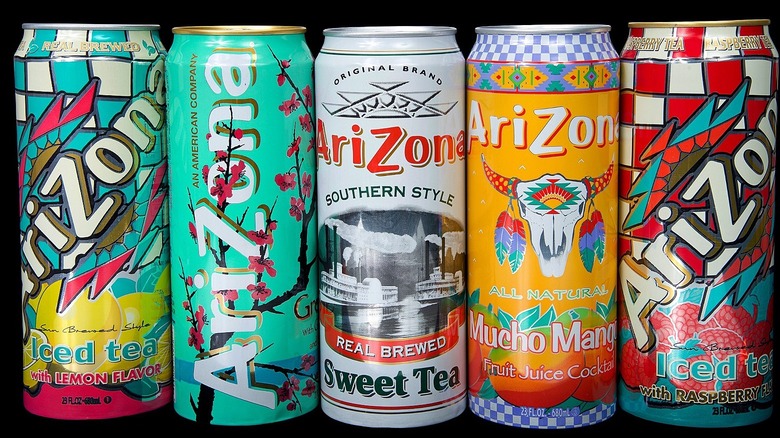 Sheila Fitzgerald/Shutterstock
AriZona, the beverage company known for its affordable iced tea, has launched a brand new "thirst-quenching" drink to celebrate its 30th birthday this year. AriZona has been around since 1992, when it first started producing iced tea out of its first New York City location in Brooklyn. The company was known for their 24-ounce cans of tea that only cost 99 cents (which is still the price today) and the eye-catching designs on its products (via AriZona).
Since the '90s, the beverage company has launched new drinks of every kind. From hard seltzer to coffee and everything in between, AriZona has made its mark in the beverage world and has kept up with the demand for its popular drinks without changing its price. Now, AriZona is taking on a whole new beverage world: the sports drink market. And its four new flavors will have all Marvel fans excited for their release.
Marvel-themed sports drinks
AriZona is releasing four new flavors of a sports drink perfect for superhero fans called Super LXR Hero Hydration. The line of drinks will be released this October in collaboration with Marvel. AriZona's newest drinks are advertised as an "advanced hydration beverage that has been formulated to fuel the everyday hero in the gym, sports field, classroom, office, or at home to achieve their best" (via Marvel). What makes these drinks fun, especially for Marvel fans, is that each of their flavors is paired with a fan-favorite Marvel hero.
Each hero is given their own flavor, with each matching the iconic colors of the specific hero. Peach mango is paired up with the Black Panther, lemon lime has the Hulk on its label, acai blueberry is teamed with Captain America, and dragonfruit watermelon goes hand-in-hand with Iron Man (via AriZona). According to Marvel, this is only the start of its collaboration, and more flavors with hero pairings will continue to be released over time. This will give every Marvel fan a chance to buy their favorite hero in sports drink form, something we are sure most fans probably never knew they wanted until now. Any specific hero you're craving to try first?