Why Instagram Is Fired-Up About Aldi's New Nashville-Inspired Pizza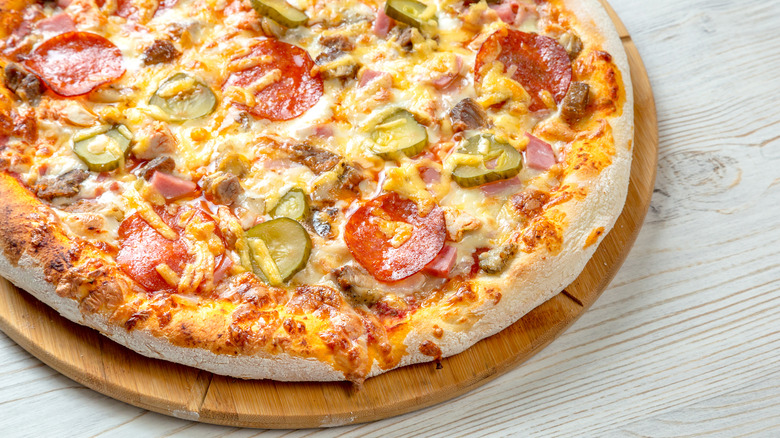 Medolka/Shutterstock
When most people think of Nashville, the first thing that comes to mind is country music — and that stands to reason since the self-described Music City — holds the Country Music Hall of Fame and Honky Tonk Highway. However, the capital of Tennessee is home to much more than just that. Of course, the state is also known for its extensive whisky distillery trail, which includes the world-famous Jack Daniels, but fewer people might know about their specialty spicy chicken.
According to Culture Trip, spicy chicken became a thing in Nashville when a local man, Thornton Prince, was served chicken heaped in hot pepper by his wife, who believed he was philandering around town. Instead of the negative reaction she expected, Prince liked the dish so much he eventually opened a chicken restaurant known as Prince's Hot Chicken Shack. 
The chicken is breaded and fried with "a spice paste, often made with cayenne pepper, garlic powder, or paprika," which brings us to the newest addition to Aldi's Mama Cozzi's pizza range, the Nashville Recipe Hot Chicken Deli Pizza.
How much spice can you handle?
The Nashville hot chicken-inspired pizza offering is gathering some interesting reactions on Instagram. After Adventures in Aldi posted an image of the new pizza, saying they "love that Aldi has this in the take and bake section," and asking if anyone had tried it, one person responded, "It was too hot for me! One bite and I was done." Another said, "Yes! So hot! And I love hot things! A lot of heat but not a lot of flavor. Won't buy again."
According to Big Think, humans are the only creatures who like to eat foods that cause irritation and pain. And there are definitely people who love the challenge of eating spicy food and seeing just how much they can handle — such as those who participate in hot pepper eating contests. The comments on Adventure in Aldi's post may indicate that this pizza might just become the same kind of challenge. As one user noted, "Based off these comments now I wanna try it and see how spicy it really is!"