What A Typical Breakfast Looks Like In Colombia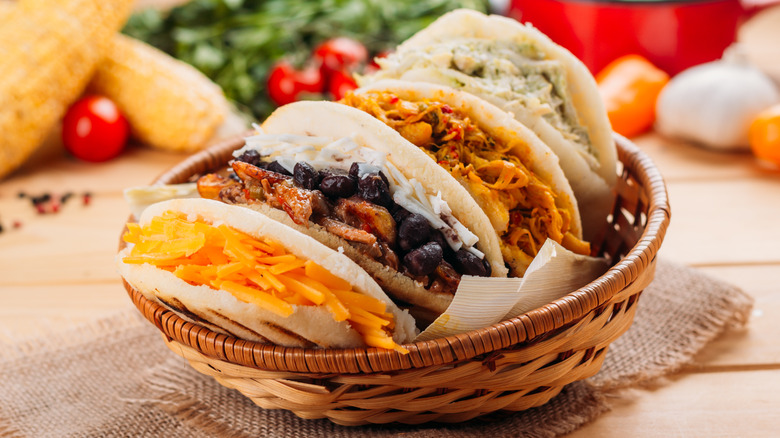 nehophoto/Shutterstock
Have you ever been to the beautiful country of Colombia, boasting a huge variety of scenic views such as mountains and rainforests? The country is well-known for its astonishing landscapes and famous people such as the singer Shakira, the actress Sofia Vergara, and Pablo Escobar. And high in the mountains, the famous Colombian coffee is grown, and tons of this coffee variety (Arabica) get exported to other countries (via Reuters). 
Besides this aromatic beverage, Colombia can also be proud of its traditional dishes and food that's as hearty as you might expect. But what do Colombians eat for breakfast, widely considered to be the most important meal of the day? The BBC reports that skipping breakfast appears to be linked to health and weight issues. Relatedly, if eaten every morning, it may improve our diets because breakfast foods are usually high in fiber and nutrients. Eating breakfast also keeps us satiated and increases our energy levels throughout the day. So let's take a look at some of the hearty meals that are eaten each morning across Colombia.
Colombian breakfasts include arepas, tamales, and a meal called bandeja paisa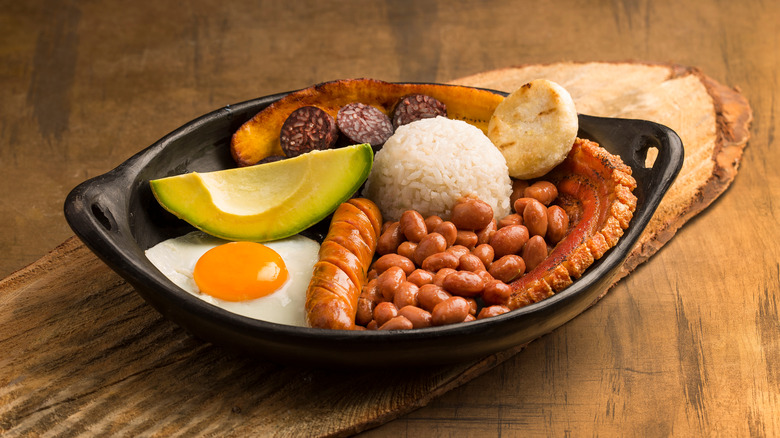 Luis Echeverri Urrea/Shutterstock
The Culture Trip revealed a list of Colombia's most popular breakfast meals, and the results might surprise you if you've never eaten the country's traditional cuisine. Just don't expect cereal or croissants because Colombian food is a bit more substantial. For starters, there are the ubiquitous arepas, crunchy corn cakes that are fried or grilled, and often topped or filled with cheese or tomato-based salsas. Those with a sweet tooth don't need to worry as there are sweet versions with sugar, butter, and chocolate as well. 
TasteAtlas reports that arepas are eaten not just for breakfast, but throughout the day, and there are many varieties, such as cheese arepas, egg-filled arepas, arepa paisa from Antioquia, and arepa Santandereana, made with cassava and crispy chicharron. And for those feeling extra hungry, there's a dish called bandeja paisa, consisting of a plate filled with beans, rice, fried eggs, arepas, chorizo sausage, ground meat, and avocado slices, making this a feast akin to the full English breakfast.
And just like in Mexico, you can also find tamales on a Colombian breakfast table if you'd like a lighter meal. In the end, one of the most popular breakfast meals is a cup of hot chocolate with a piece of soft cheese melting in the bottom of the cup (via Foreign Fork). With such a wide array of breakfast options, Colombia is a true breakfast lover's paradise.