Healthy Tuna Wrap Recipe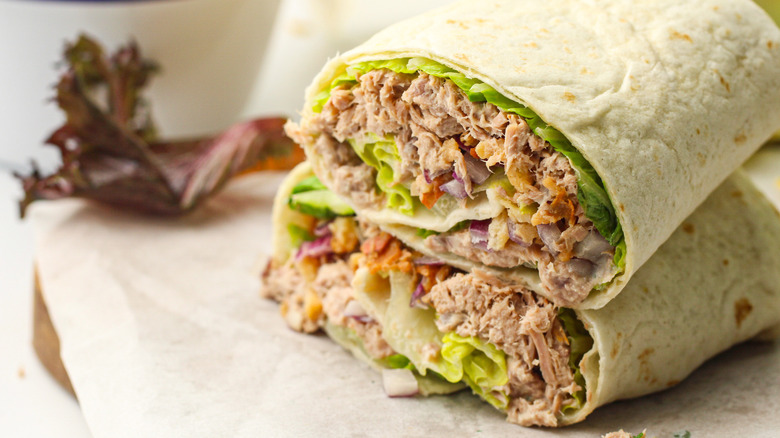 Susan Olayinka/Daily Meal
When it comes to lunchtime, you really can't go wrong with a good old wrap. The rolled-up format provides an easy vehicle for including protein, vegetables, and carbs into a single meal, and it's typically simple and quick to prepare. If you want to make a wrap that's particularly nutritious, then you're in luck with this healthy tuna wrap recipe, courtesy of recipe developer Susan Olayinka. "It's a really simple and healthy meal that you can throw together in no time," Olayinka says of the dish. And she's definitely right — with just 6 minutes of prep time and no cook time, it really couldn't be easier to whip up this tasty wrap. 
If you've never had a tuna wrap before, then you'll be delighted to know that Olayinka describes it as having "a really fresh and light flavor." She adds that "The tuna is well-seasoned and the Greek yogurt gives it a nice tang." As for the veg — lettuce and onion, in this case — she notes that they enhance both the flavor and texture, offering up some nice crunch and "making it a really enjoyable meal." If you want an easy dish you'll enjoy, don't overlook this healthy tuna wrap recipe. 
Gather the ingredients for this healthy tuna wrap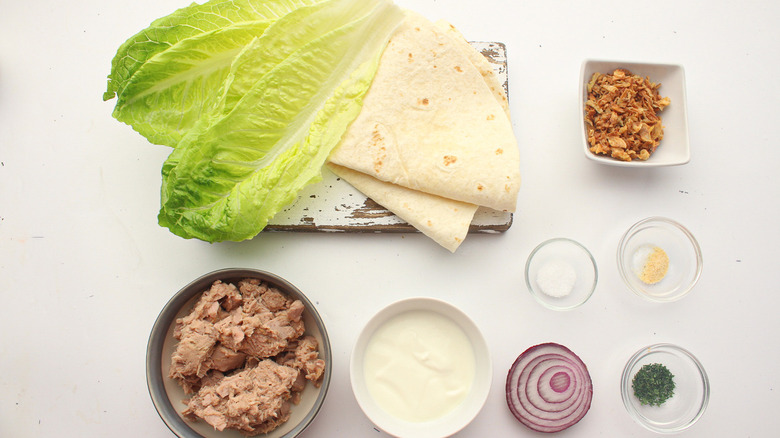 Susan Olayinka/Daily Meal
It wouldn't be a wrap without a tortilla; any type is fine, just make sure it's big enough to fit all of the goodies. As for the goodies, the contents of the wrap include red onion, Greek yogurt, garlic powder, dried parsley, salt, precooked or canned tuna, romaine lettuce, and crispy fried onions for extra crunch. 
"The Greek yogurt is used in place of mayo, which not only makes this recipe healthier but also gives it a bit of a tangy flavor," Olayinka says of this key ingredient. She does note, however, that you could easily use mayo or a different type of plain yogurt if you're not into the Greek variety. She points out that you can swap in other ingredients too depending on your taste. She suggests tomatoes or cucumbers for some extra vegetables, nuts or seeds for texture, and says that "You could also experiment with different seasonings or add in some shredded cheese." 
Mix up the creamy tuna filling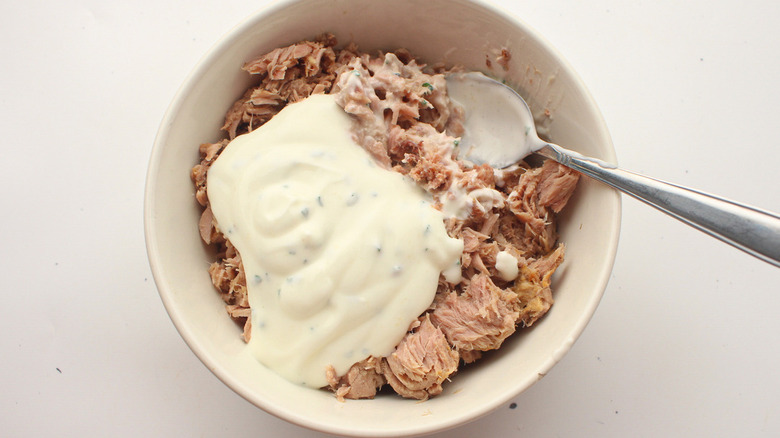 Susan Olayinka/Daily Meal
You'll need to do some light prep work to begin. First, lay out the tortilla on a flat surface so it's ready to go when you start building the wrap. Next, dice up the red onion into small pieces. 
Then, add the Greek yogurt, parsley, salt, and garlic powder to a small bowl and mix it all up. Place the tuna into a separate bowl and break it up with a fork, then pour the creamy yogurt mixture over the tuna, stirring to evenly coat the fish. 
Assemble the tuna wrap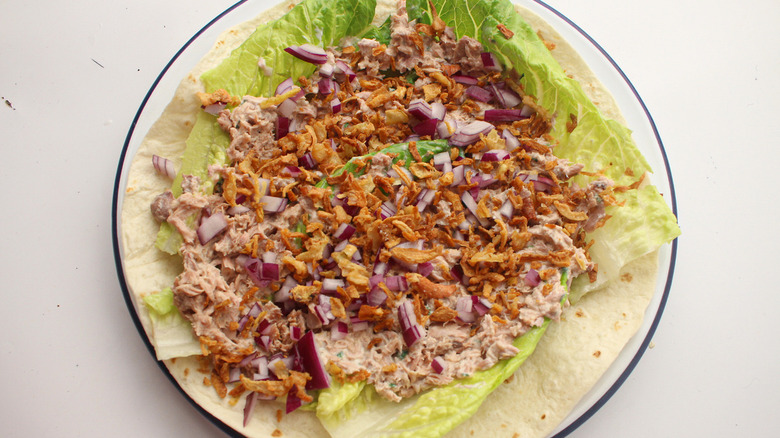 Susan Olayinka/Daily Meal
Return your attention to the tortilla and lay the romaine lettuce leaves over the surface. Follow it up with the tuna mixture, leaving about 1 inch of space around the edges. Sprinkle on the red onions and crispy fried onions, then roll the whole thing up as tightly as possible. Finally, cut the wrap in half horizontally. 
Serve this healthy tuna wrap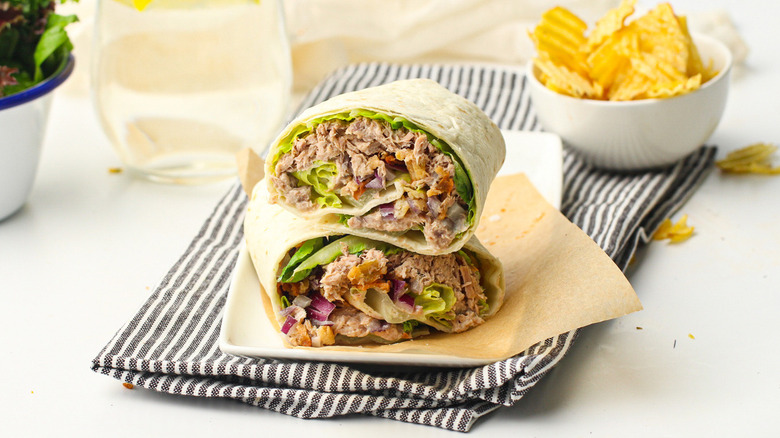 Susan Olayinka/Daily Meal
That's a wrap — literally! Once your tuna wrap is sliced, all that's left to do is to dig in. "This would be a great light lunch or dinner, and could be served with a side salad or fruit," Olayinka suggests. Chips, fries, coleslaw, or even macaroni salad are also great pairing options — you simply can't go wrong with a wrap that's this fresh, tasty, and versatile. 
Healthy Tuna Wrap Recipe
If you're looking for a nutritious and easy lunch for busy days, this healthy tuna wrap recipe has got you covered. It's versatile, simple, and quick to make.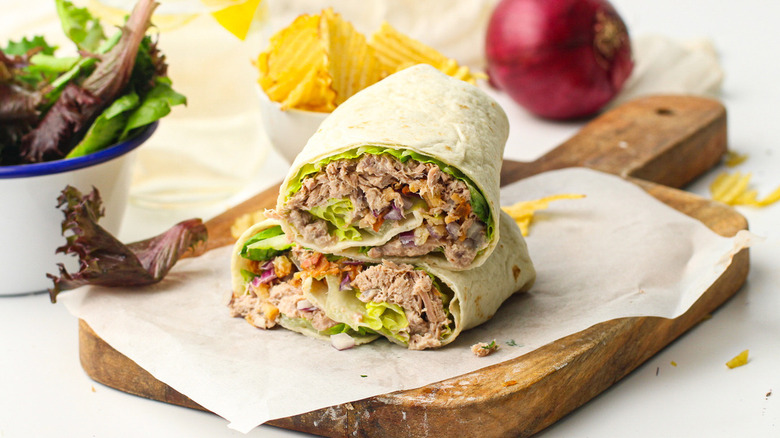 Ingredients
1 flour tortilla
¼ red onion
⅓ cup Greek yogurt
⅛ teaspoon garlic powder
1 teaspoon dried parsley
¼ teaspoon salt
1 cup tuna
4 leaves romaine lettuce
¼ cup crispy fried onions
Directions
Place the tortilla on a flat surface.
Dice the red onion.
In a small bowl, mix together the Greek yogurt, garlic powder, dried parsley, and salt.
Add the tuna to a separate bowl and use a fork to break it up into small chunks.
Add the yogurt mixture to the tuna flakes and mix together until well-coated.
Place the lettuce leaves on the wrap.
Spread the tuna mixture onto the tortilla wrap, leaving about an inch around the edges.
Finally, sprinkle on the red onions and crispy fried onions.
Tightly roll up the tortilla wrap, then cut it in half horizontally.
Nutrition
| | |
| --- | --- |
| Calories per Serving | 646 |
| Total Fat | 18.1 g |
| Saturated Fat | 6.8 g |
| Trans Fat | 0.0 g |
| Cholesterol | 102.9 mg |
| | |
| --- | --- |
| Total Carbohydrates | 48.9 g |
| Dietary Fiber | 3.4 g |
| Total Sugars | 6.1 g |
| Sodium | 1,137.0 mg |
| Protein | 69.9 g |