Reddit Has The Best Response For How To Eat Aldi's Fall-Themed Spread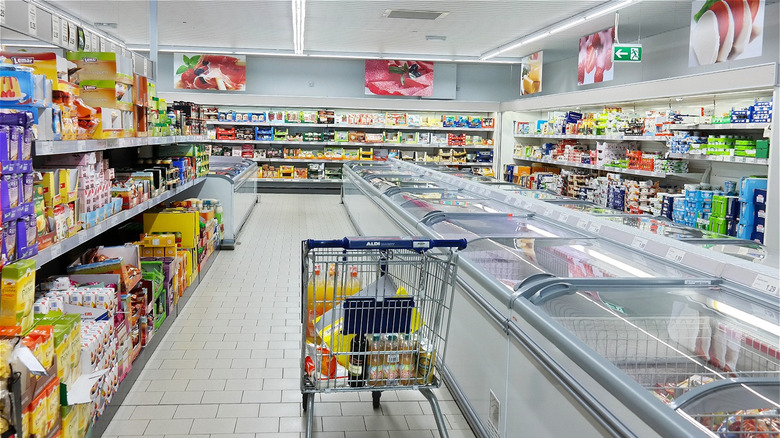 defotoberg/Shutterstock
When the weather starts to cool and the air turns crisp, you know it is the perfect time to go apple picking. Visiting an apple orchard is a time-honored fall activity that makes it easy to enjoy the beautiful weather while also getting your hands on some ripe, sweet fruit. However, once you get home, you might be faced with the problem of what to do with all those fresh-picked beauties. Once you've eaten all the fresh apples you can stomach, and maybe baked as many strudels and apple pies as you can handle, you can enter the world of apple jams, butters, and spreads.
These preserves are a great way to continue enjoying that sweet apple flavor well into winter. Apple jams and spreads are often made with spices and sweetener, while apple butter is a more concentrated type of applesauce that is spiced and cooked over a long period of time, making it a thick, flavorful, caramelized spread, according to Bon Appétit. But if picking your own apples and preparing homemade fall desserts just isn't your thing, never fear. There are plenty of ways to enjoy the delicious flavors of fall without ever having to set foot in an apple orchard. This year, Aldi has seemingly combined a number of autumn flavors into one delectable jar with the release of its salted caramel apple spread. This popular seasonal item has recently lined store shelves and fans can't seem to get enough of the sweet fall-themed spread.
Aldi shoppers recommended eating the spread with gusto
Despite on Aldi fan claiming in a Reddit post that they couldn't taste the caramel, a curious Aldi shopper recently purchased the salted caramel apple spread to make macaron filling and took to the social media site to ask for ideas for what to do with the leftovers. "Macs don't require much, so I still have almost the entire jar," they explained, asking "How do you eat this? Do you put it on something? Dip something in it? Put it between layers of cake?"
Fellow Reddit users were quick to share their own recommendations, but most people seemed to feel the spread doesn't require much. "Alone. in the middle of the night. so you don't have to share," replied u/mardigrashotel. They were far from alone in this sentiment. Many other caramel apple spread superfans shared similarly enthusiastic responses. "Like a rat. Bare hands. Over the sink," agreed u/outlawpickle, while others suggested "with a spoon" or just "your hands." "I would put this on literally anything I could. Steak? Spread. Shrimp? Spread. My partner's body? Spread," joked u/Carolinastitcher.
Others suggested some more serious recipe ideas as well. "Spread it on crescent rolls, along with a sprinkle of butter and cinnamon, roll and bake and YUMMY," wrote one user, while another suggested simply "on a cinnamon bagel." Others suggested drizzling it on ice cream, over pancakes, or using it as a pretzel dip. Apparently, there really is no wrong way to enjoy this spread.