What You Need To Know About DiGiorno's National Pizza Month Deals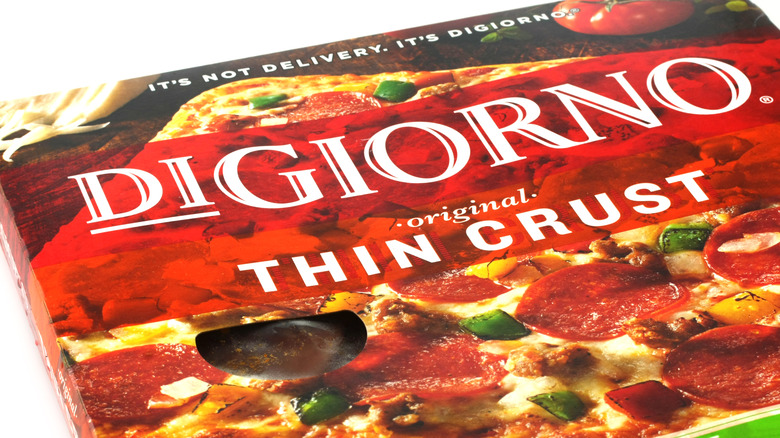 George W. Bailey/Shutterstock
October is National Pizza Month, so you don't want to miss out on the great deals that many pizza restaurant chains are running. According to CNET, Domino's is offering 20% off online orders through October 16, 2022, as well as two or more carry-out dishes for $6 each. Little Caesars is featuring a deal where you can get a large pizza with three toppings for just $8. At Papa John's, you can enjoy a large one-topping pizza for $10.
Another major pizza retailer, DiGiorno, is running its own National Pizza Month promotion with an incredible grand prize. According to a press release from the company published on PR Newswire, the 31 Days of DiGiorno Sweepstakes gives customers the opportunity to win free pizza, DiGiorno merchandise — including a fanny pack. However, the grand prize, "The Ultimate Pizza Experience," which will award one lucky winner $5,000 to be put toward a pizza-inspired trip anywhere in the U.S., a pizza tour in Italy, or a "pizza pass," a.k.a tickets to a sporting event, comedy show, or concert.
Three ways to enter for the DiGiorno grand prize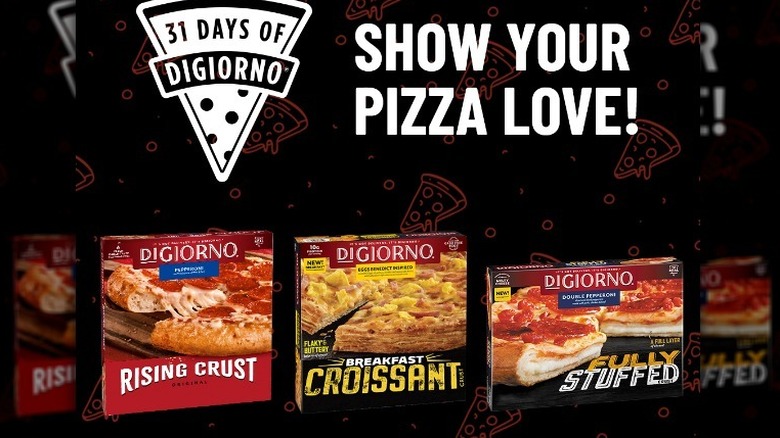 DiGiorno
DiGiorno customers can enter to win up to three times per day by either signing into the sweepstakes website, uploading a photo of a DiGiorno pizza receipt to the website, or submitting a pic of their most "memorable pizza-occasion" to the site for a chance to have the pic reposted on DiGiorno social media, according to the press release. Merchandise and pizza winners will be drawn weekly and awarded coupons to redeem for their prizes (via DiGiorno's website).
DiGiorno fans have taken to social media to share their excitement for the promotion. Instagrammer @prenticestreetgirl1 commented on a post sharing news of the sweepstakes, writing, "Love the pizza, love DiGiorno! Hope to win!" while user @chlcken_parmesan made an interesting promise: "I AM ENTERING DIGIORNO, IF I WIN I WILL GO TO MY SCHOOL IN A PIZZA COSTUME." In yet another post, Instagrammer @d_m_t_experience shared their affinity for pizza while suggesting an alternative prize, writing, "I don't want a $5,000 check. I want 1,000 thin crust pizzas."