Why Lisa Vanderpump's Everything Bagel Martini Just Works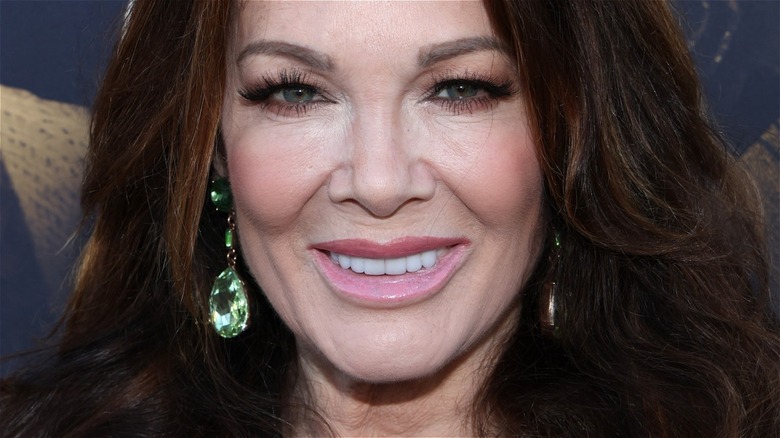 David Livingston/Getty
Everything bagel seasoning has made its way around the food universe time and again, popping up everywhere from a chicken recipe to a Lay's potato chip flavor. That's presumably what inspired Pandora Vanderpump Sabo, daugher of "Real Housewives" star Lisa Vanderpump, to do the unthinkable: She created an everything bagel martini.
The drink is on the menu of Vanderpump à Paris, her mother's Parisian-style restaurant in Las Vegas. Along with dishes such as stuffed baguettes and goat cheese cakes, diners can also try out Le Dirty Bleu, a bagel-inspired dirty martini consisting of gin, blue cheese stuffed olives, rosemary, and everything bagel seasoning. While this amalgamation of items might seem like an unorthodox blend to make a drink with, it has its fans: A Yelp reviewer said they tried their first martini with the onion, garlic, sesame, and poppy seed blend at the restaurant and would "never drink one without it now." Furthermore, it earned a spot on Delish's list of cocktails from the celeb restaurant that are "ridiculously beautiful." Still uncertain about this drink? Here's why the flavor combination just works.
The seasoned rim packs a punch
Writer Aly Walansky of Kitchn tried Le Dirty Bleu while having dinner at Vanderpump à Paris, where the chilled martini glass was rimmed with everything bagel seasoning (adhered by a sugar syrup) and the simple blend of gin, olive brine, and vermouth was garnished with rosemary and blue cheese olives. Pandora Vanderpump Sabo disclosed to the outlet that the restaurant wanted to serve a more exciting take on the classic gin martini, so they opted for one with onion and garlic flavors.
When you think about it, bagels are often enjoyed with capers, which taste somewhat similarly to olives, an integral component of a good dirty martini. They both have a salty, briny, and slightly earthy taste, which makes them perfect in many food items and alcoholic beverages (via Food Network). When you sip on a briny martini, then, it may not be so surprising to take in the toasty, garlicky flavors of an everything bagel — bonus points if the drink is served with a side of smoked salmon crostini. Cheers to proof that the everything bagel really does have a place everywhere, including in cocktails.