What A Typical Breakfast Looks Like In Portugal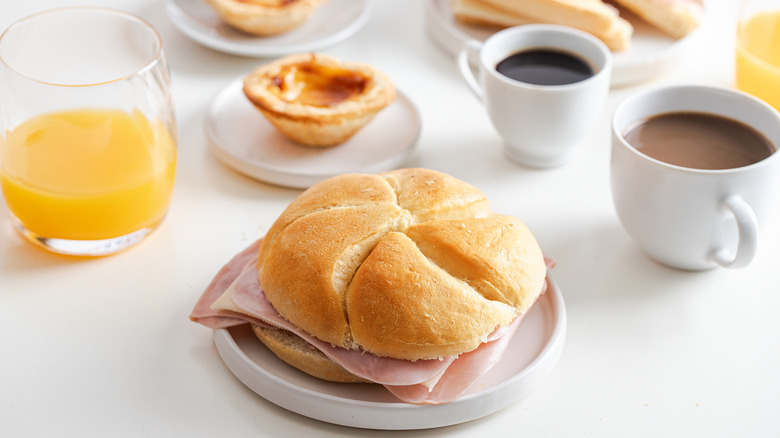 vasanty/Shutterstock
It can be great to break up your usual routines by going on a trip. And Hey Mondo reports that traveling to places we haven't seen before helps with our mental health and makes us happier than those who don't like to travel as much. If you love discovering new places, some of your travels might have brought you to Portugal, which is located in the west of Europe. Its capital, Lisbon, is one of Europe's oldest cities. 
Portugal is also the birthplace of many explorers, such as Ferdinand Magellan and Vasco de Gama. And bookworms will love the fact that the world's oldest bookshop can be found in Lisbon, and it dates back to 1732 (per Expatica). Apart from fortified wine (Port), historical sites, and beautiful fado music, Portugal also has plenty of traditional cuisine and tasty dishes to try while you're visiting the beautiful country (per Hey Explorer).
A typical Portuguese breakfast includes bread, cheese, ham, pastries, and coffee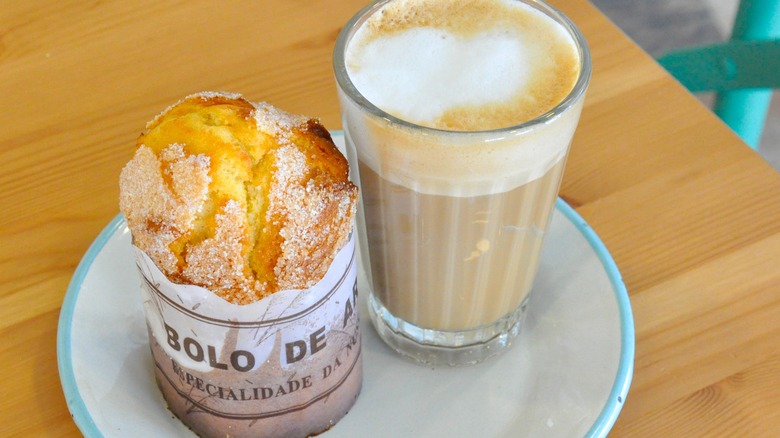 tastytravels/Shutterstock
Portugalist reports that although many people think the Portuguese eat pastel de nata custard pastries first thing in the morning, the truth is somewhat different. A typical Portuguese breakfast includes fresh bread, cheese and ham slices, jam, and a cup of coffee with milk on the side. Taste of Lisboa revealed that scrambled eggs are a viable breakfast option for many people, as well as sandwiches with chourição sausage or thinly sliced smoked pork loin. 
In the countryside, people pair savory cheese slices with quince paste. And at pastelarias, the Portuguese cafés and pastry shops, locals indulge in pastries, sandwiches, ham and cheese croissants, coffee, and freshly squeezed orange juice. Alternatively, you can try out a pastelaria staple called bolo de arroz, a muffin made from rice flour. However, Lisbongo claims that the Portuguese eat pastries and sweet treats a bit later in the morning, around 11 a.m. 
Coffee is an essential morning ritual, too. Some of the most common options are meia de leite (similar to a latte), abatanado (espresso and hot water), and galão (a large cup of espresso with milk). With such a wide array of breakfast meals and beverages, there's something for everyone in Portugal. Just save some space for lunch, as there are many more delicious dishes to try out, such as francesinha sandwiches, salted cod, and a stew called cozido à Portuguesa (per Devour Tours).