Simple Vegan Pancakes Recipe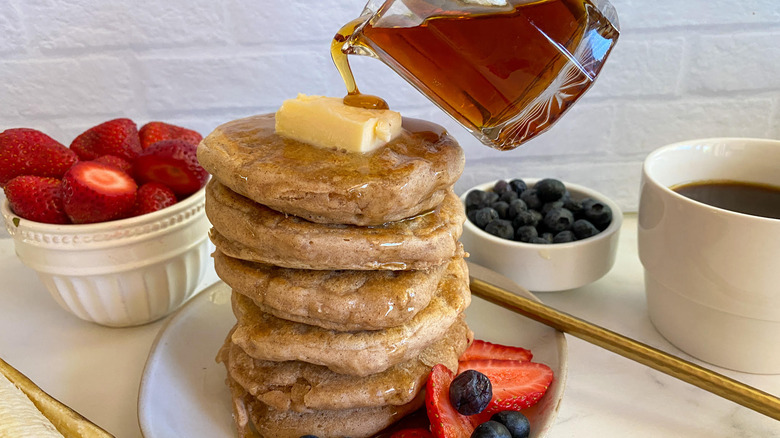 Miriam Hahn/Mashed
What better way to start your morning than with a big stack of pancakes? There's no doubt that pancakes are one of the most popular breakfast foods you can order at a restaurant, but making them in the comfort of your own home while you're nice and cozy in your pajamas is even better. Whipping up these simple pancakes is an easy task, and homemade is always better than store-bought or restaurant-made because you know the exact ingredients involved. Recipe developer Miriam Hahn came up with this breakfast treat and raves: "I love this recipe so much because it is super easy, and the pancakes come out incredibly fluffy and delicious!!"
Hahn also explains why she loves giving this diner classic a vegan twist: "I love eating mostly vegan and started eating this way 12 years ago when I learned that it is the best way of eating to prevent disease, have great energy, sleep amazing and look and feel your best." That being said, she adds: "I usually tell people that even if you don't fully commit to becoming vegan, just becoming plant 'focused' by eating more produce and reducing animal products is a good goal. So many things can be made vegan without tasting any different and these are a prime example!" Whether you follow a strictly vegan regimen or want to minimize your consumption of certain ingredients, this pancake recipe is a great place to start. 
Gather the ingredients for these simple vegan pancakes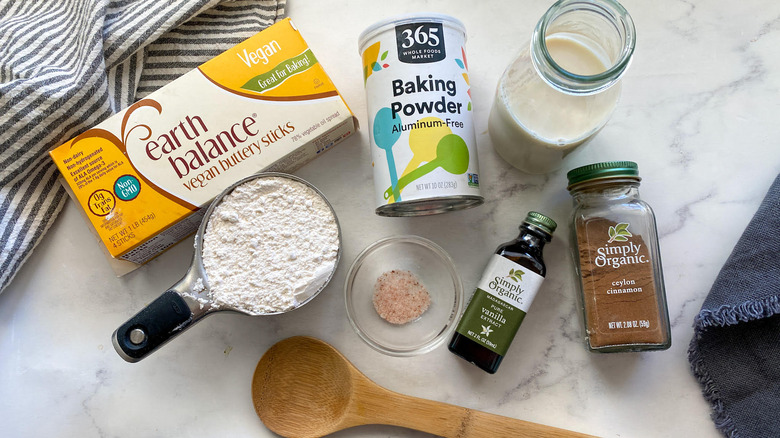 Miriam Hahn/Mashed
For this recipe, you will need all-purpose flour, baking powder, cinnamon, salt, vegan butter, non-dairy milk, and vanilla. "You can add pumpkin pie spice instead of the cinnamon to give these a fall pumpkin spice flavor," Hahn suggests. 
Combine the dry ingredients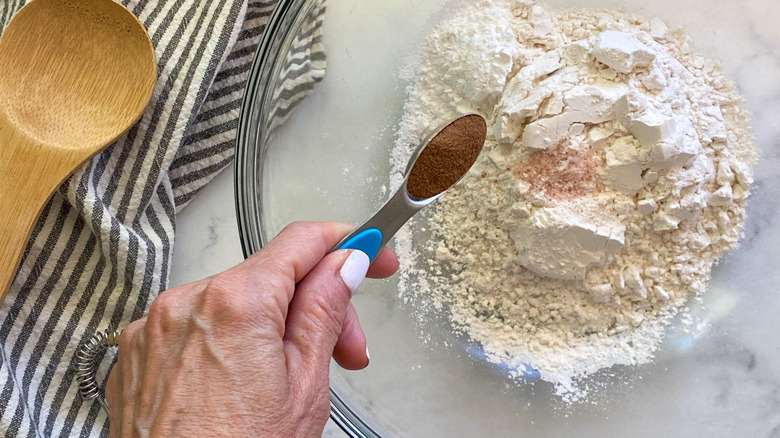 Miriam Hahn/Mashed
Start by setting out a large bowl and adding the dry ingredients: all-purpose flour, baking powder, cinnamon, and salt. 
Melt the butter and add it to the bowl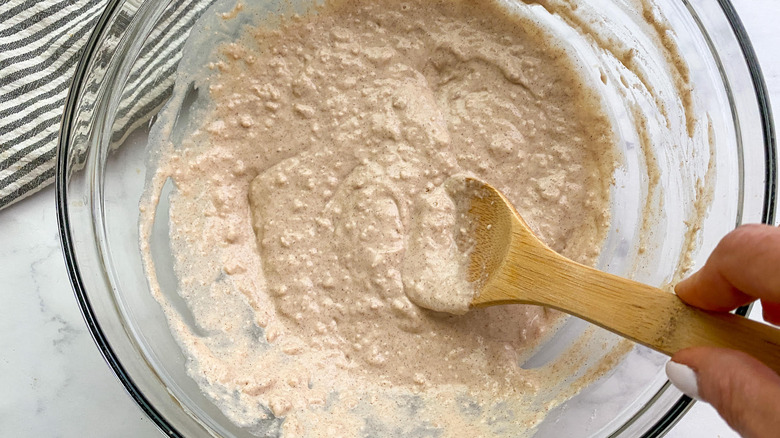 Miriam Hahn/Mashed
In a microwave-safe bowl melt 2 tablespoons of butter. Once melted, add the butter to the bowl with the dry ingredients. At this time, you can also pour in the non-dairy milk and vanilla. Give the mixture a few good stirs to combine and you have your pancake batter. 
Prep the frying pan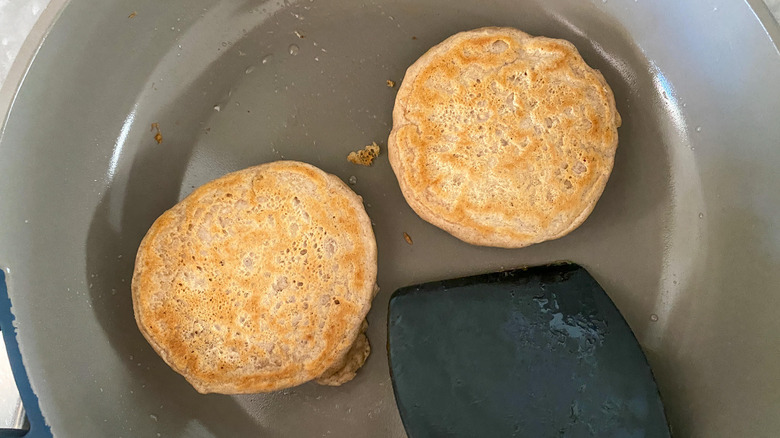 Miriam Hahn/Mashed
Grab a frying pan and place it on the stovetop. Add the remaining tablespoon of butter and turn the heat to medium. If you opt to cook the pancakes in two batches, just be sure to use ½ a tablespoon of butter at a time.
Measure out a ¼ cup of batter and drop it into the pan or skillet. For best results, Hahn recommends using a non-stick pan and adds that "The only mistake I would say to watch out for is making the pancakes too big, making them hard to flip. But if you stick with using ¼ cup of batter, it is perfect." 
Cook the pancakes for about 4 minutes on the first side and then flip them. The second side requires a little less cooking time — only 2 minutes. Once finished, they will be a nice golden brown color with airy bubbles on one side.
Add toppings and serve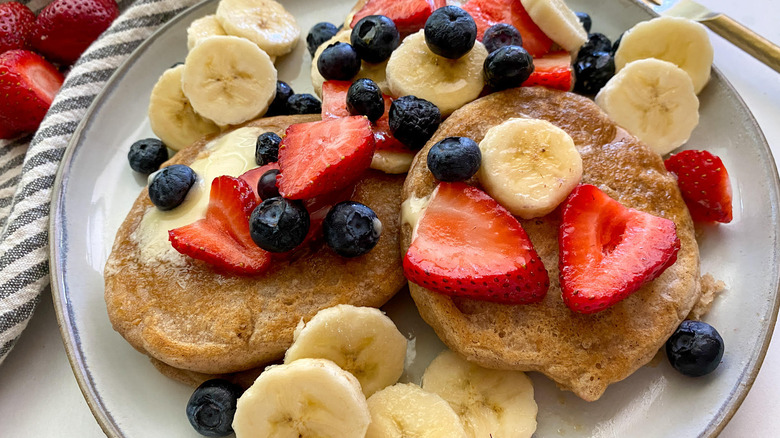 Miriam Hahn/Mashed
When you remove the pancakes from the skillet or griddle, they are ready to plate and serve as you wish. Some ingredients Hahn recommends as toppings are butter, syrup, and fresh fruit. "I love to serve pancakes with fresh fruit. You can also top with applesauce or apple butter," Hahn shares and suggests: "A pure maple syrup (Grade A) is my first choice in terms of syrup to keep these the healthiest!" If you have another topping you love to add to your pancakes, get creative.
These are also great for meal prep and Hahn shares that the batter can be made, cooked, and simply reheated at service. She also comments they can be frozen but says, "they will be so much better just made fresh off the griddle!" 
Simple Vegan Pancakes Recipe
For a plant-based twist on a classic diner recipe, try these simple vegan pancakes. Plate them with your favorite pancake toppings and breakfast is served.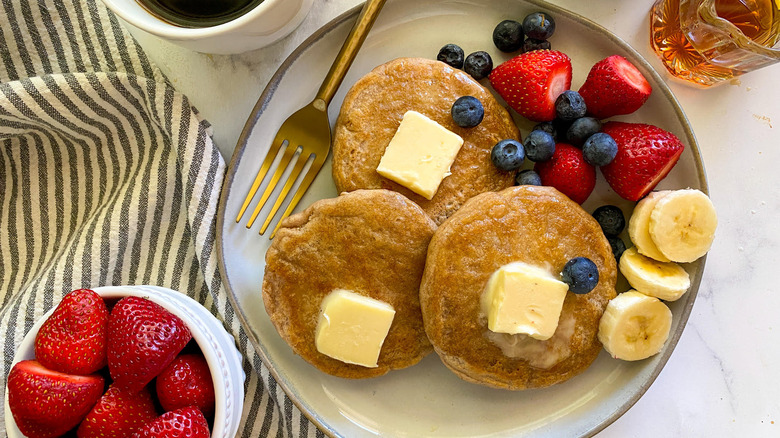 Ingredients
1 cup all-purpose flour
1 tablespoon baking powder
1 teaspoon cinnamon
¼ teaspoon salt
3 tablespoons vegan butter, divided
1 cup non-dairy milk
1 teaspoon vanilla
Directions
In a large bowl combine the flour, baking powder, cinnamon, and salt.
Melt 2 tablespoons of butter and add it to the dry ingredients along with the non-dairy milk and vanilla. Stir to combine.
Add the remaining butter to a large frying pan and heat it on medium. If you are using a small griddle and will be cooking the pancakes in 2 batches, use ½ tablespoon of butter.
Drop ¼ cup of batter for each pancake onto the surface of the pan or griddle.
Cook for 4 minutes on the first side, then flip and cook the pancakes for about 2 more minutes. The top side should be lightly bubbly and the cooked side should be golden brown.
Serve the pancakes with optional toppings like butter, syrup, and fresh fruit.
Nutrition
| | |
| --- | --- |
| Calories per Serving | 486 |
| Total Fat | 23.2 g |
| Saturated Fat | 19.5 g |
| Trans Fat | 0.1 g |
| Cholesterol | 0.0 mg |
| | |
| --- | --- |
| Total Carbohydrates | 58.3 g |
| Dietary Fiber | 3.1 g |
| Total Sugars | 5.3 g |
| Sodium | 609.4 mg |
| Protein | 10.5 g |