Instagram Is Raving About Michael Symon's Candid Workout Post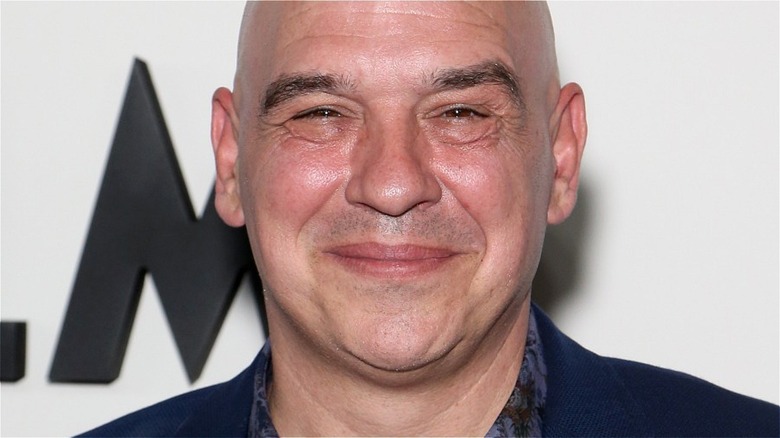 Gabe Ginsberg/Getty
It takes a lot of time and dedication to build the body you want, which is why many gym-goers share their success on social media. Renowned Chef Gordon Ramsay is just one celebrity known for turning his life around by beginning his journey to better health. "I was overweight, 18 stone (252 lbs.). I looked like a sack of s***. I look at the pictures and think, 'How did Tana stay around?' Because Tana has got better-looking and more gorgeous. And there she is, getting in bed with a fat f***," Ramsay said to Daily Mail. In 2013, he competed in the Hawaii Ironman — completing it in 14 hours (per Men's Health). Though he injured his hamstring at mile 10, he continued until he completed the triathlon. After a few other unfortunate injuries, he's found another way to stay in shape. "I've started cycling heavily again. I invested in an AlterG Anti-Gravity Treadmill last year, and that's helped tremendously," Ramsay said.
Now, Michael Symon, another popular chef with a slew of restaurants, books, and TV appearances, has been putting in the hours to become more fit, and he isn't lacking support from other famous faces.
He buffed up for his birthday
Chef Michael Symon took to Instagram to share a photo of his transformed body. "Wasn't gonna post because quite honestly would give my friends a lot of s*** if they posted this ... but hell with it ... [I] have worked my ass off for past 18 months to get in shape for my 53rd [birthday]," the caption read. He revealed that he's lost 12 pounds and added some muscle throughout his journey. "[I] am ready for the next 53 years...age is a number, nothing more," he wrote.
Other celebrity chefs were quick to hype Symon up in the comments. "Now THAT is the proper use of a flex. INSPIRE and MOTIVATE others ... love you buddy ...," wrote Andrew Zimmern. Justin Sutherland wrote, "Get that work Chef," and Traci Des Jardins wrote, "Oh hell yeah! I'm sure you remember what I said to you when we first met! Bravo!!"
Though Symon's goal was to get fit for his 53rd birthday, he was a bit late on posting his fitness update. According to another Instagram post, his actual birthday was September 19, and chefs such as Josh Capon also flooded the comments to wish him a happy birthday.