What A Typical Breakfast Looks Like In Greece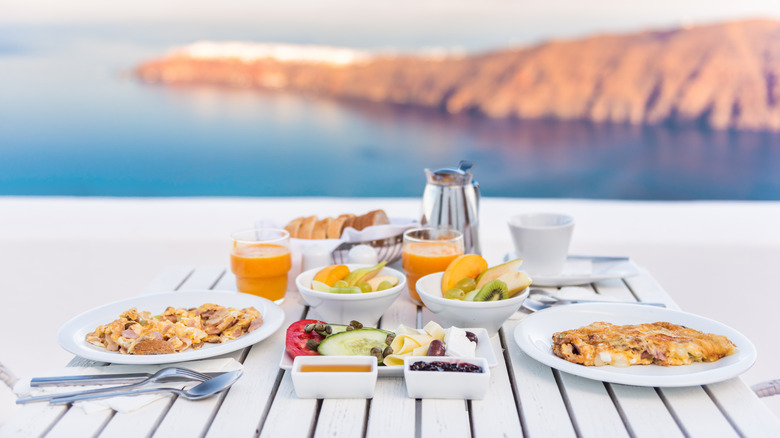 Maridav/Shutterstock
Anyone who loves traveling will probably consider Greece one of the world's top vacation spots. Expert World Travel reports that Greece has ideal weather most of the time, and it's also surrounded by a vast number of islands, making the country a perfect getaway spot. Greece is also famous for being the birthplace of democracy and philosophy, the Olympics, mythology, high-quality olive oil, and great nightlife. 
If you find yourself in Greece in the summer, don't forget to get a few shots of ouzo, a Greek liquor with a distinctive anise flavor. Ouzo is often paired with Greek dishes, and the country has a variety of food on offers to local and hungry tourists alike. 
Dishes such as moussaka and pastitsio, are just the tip of the iceberg. There are also dolmades, grilled meat skewers, octopus, and feta cheese, among many others (per BBC Good Food). But another part of Greek cuisine isn't talked about as often: the ubiquitous breakfast.
A typical Greek breakfast includes eggs, pies, yogurt and honey, cold cuts, and spoon sweets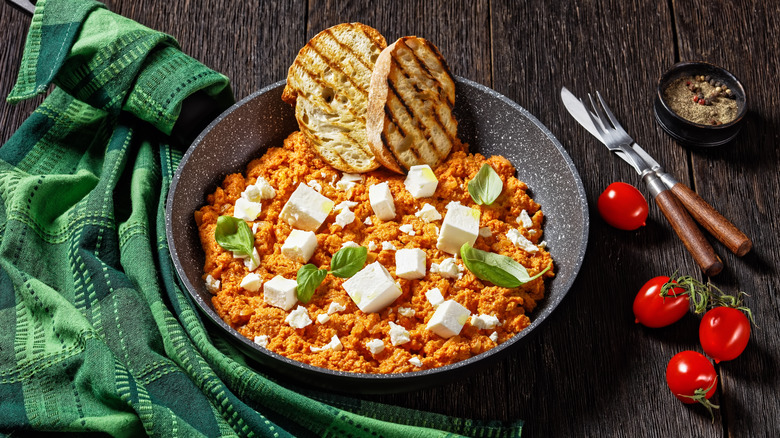 from my point of view/Shutterstock
Greece Travel Ideas reveals that there is no set list of items for a traditional Greek breakfast. Instead, each region in Greece has its bites and specialties, while most of the country eats the usual suspects for their morning meal: eggs. In Crete, staka with eggs is a common breakfast, consisting of fried or poached eggs that are topped with a mixture of milk cream and flour, similar to clotted cream. Other parts of the country like to indulge in kayanas or strapatsada, consisting of scrambled eggs cooked in tomato sauce and enriched with herbs such as oregano and basil. 
On the other hand, in Macedonia and Epirus, locals prefer to eat cheese and butter pies in the morning. Fresh bread topped with tahini sesame paste and delicious honey is a standard breakfast option as well, while others opt for creamy Greek yogurt drizzled with honey (per Discover Greece). Yum. Holidayify made a list of Greece's most typical breakfast foods, revealing even more tasty stuff such as cold cuts, marmalades, spoon sweets, cereals, and sesame seed-topped pastries. 
And what good would breakfast be without a beverage to finish it off? In Greece, popular choices include coffee and a glass of freshly squeezed orange juice. All that's left is to dig in and enjoy.