Bobby Flay's Top Tip For Turning Risotto Into Arancini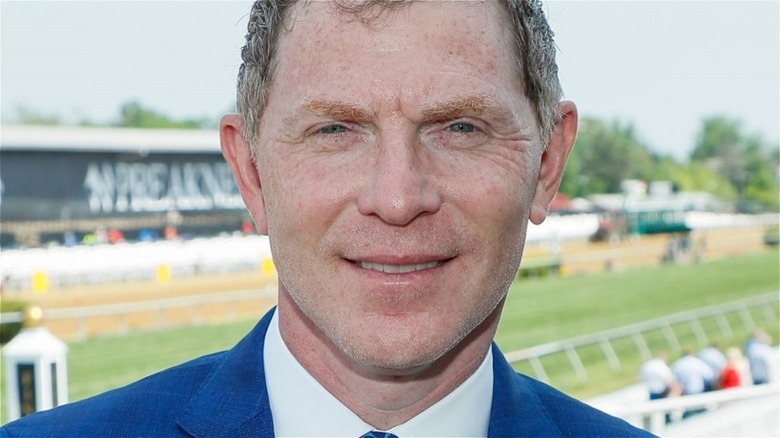 Paul Morigi/Getty
Bobby Flay, the familiar Food Network face and fierce cooking competitor on "Iron Chef" and "Beat Bobby Flay," also has a non-television project on his plate: He's been Misfits Market's chef-in-residence since October of 2020. Misfits Market is a food delivery service that rescues less than perfect-looking (but fine-to-eat) produce, as well as meat, seafood, plant-based protein, and pantry items that manufacturers have excess inventory of. Delivering the loot to customers at a discounted price, the brand's mission is to reduce food waste by not only buying and selling food directly from farmers and manufacturers, but also saving produce that doesn't meet the "superficial standards" of modern grocery stores and would otherwise be thrown away.
Each month, Flay unboxes his Misfits Market delivery and shares recipes and tips for the ingredients on the company's blog and social media channels. In one recent recipe video, Flay demonstrates how to use leftover cacio e pepe risotto to make arancini. 
Arancini, or Sicilian rice balls, typically contain a filling of meat or cheese and are deep-fried until golden brown, creating a delicious appetizer that's crunchy on the outside and creamy inside. Resembling "little oranges," the southern Italian street food is made with short-grain risotto rice, per The Spruce Eats. On Misfits Market's Instagram, fans can watch as Flay uses the starchy rice to make the following day's snack, the perfect accompaniment to an aperitivo, or the pre-meal cocktail that always has us counting the minutes until 5 o'clock.
Keep the oil at the perfect temperature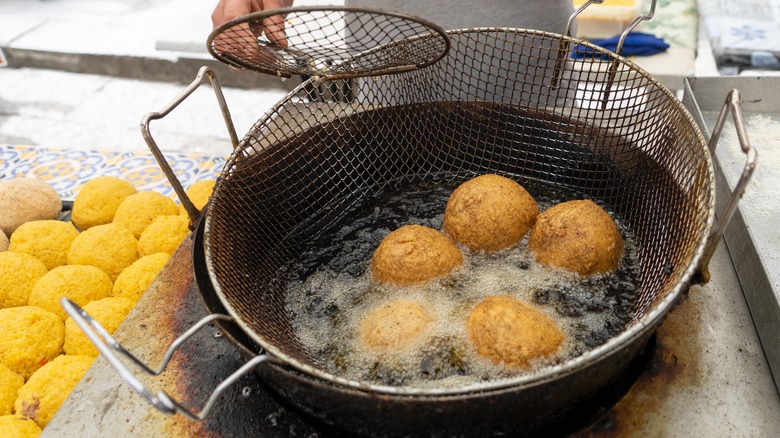 Marco Frino Fotografo/Shutterstock
In the recent Misfits Market Instagram post, Flay uses tonight's risotto to make tomorrow's arancini. He begins by placing the leftover warm risotto on a sheet pan, smoothing the rice into an even layer to be refrigerated overnight. According to New York Times Cooking, it's essential to thoroughly chill the risotto to keep the arancini from falling apart during frying. The chilled risotto becomes firm and starchy, allowing Flay to easily form the rice into balls.
After stuffing golf ball-sized heaps of risotto with fresh mozzarella, rolling them into balls, and breading them in seasoned flour, egg, and breadcrumbs, Flay reveals his top tip for perfect arancini: According to the Iron Chef, your cooking oil should be around 335 degrees Fahrenheit to keep the arancini from absorbing too much oil (which happens when the oil is too cold) and to avoid burning the outside before the cheese has time to melt (which happens when the oil is too hot). Since the rice is already cooked, the arancini should be heated through to warm the mozzarella and crisp the exterior to golden brown perfection.
Served with a sun-dried tomato vinaigrette, although your favorite jarred sauce would be fine, Flay places three arancini on a plate with a sprinkling of parsley before enjoying his Bicicletta cocktail. Asked by one user if the arancini can be air-fried instead of deep-fried, Misfits Market says yes, recommending a setting of 10 minutes at 400 degrees.