Shortcut Shoofly Pie Recipe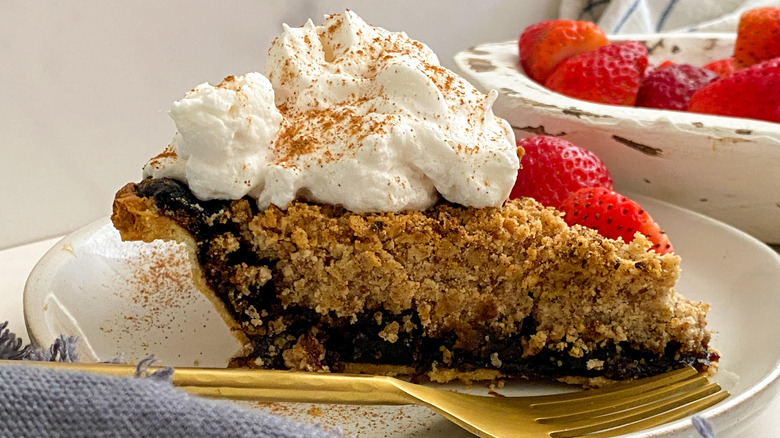 Miriam Hahn/Mashed
Ever heard of shoofly pie? This Amish delicacy is considered by many to be the best dessert in the state of Pennsylvania. Recipe developer and health coach, Miriam Hahn, brings us this recipe for a shortcut shoofly pie, so you can enjoy it without spending all day baking.
Hahn explains that this recipe "is really easy to make especially when you are using a premade crust." Not to mention, you won't need to go on a big grocery trip. "There are very few ingredients, mostly just sugar, molasses, and spices ... so when you need a quick dessert, your pantry will most likely have what you need," Hahn notes.
So what does shoofly pie taste like? Hahn shares that since molasses are the main ingredient, "the pie takes on that flavor giving it a rich sweetness matched with warm spiciness. It is a very dense and satisfying pie!" She further explains that this traditional Amish dessert "was originally made to serve for breakfast, so [it] makes a nice appearance on a brunch menu with fruit, eggs, quiche, and coffee. It is also great on a holiday dessert table or for a special weekend treat." 
Gather your ingredients for this shortcut shoofly pie recipe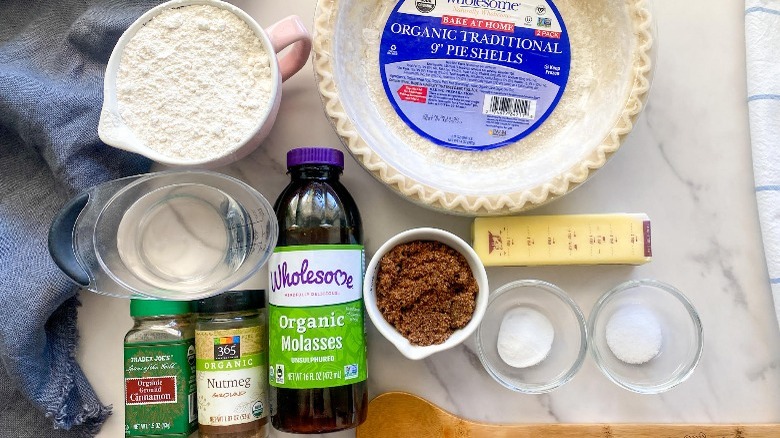 Miriam Hahn/Mashed
To make this shortcut shoofly pie, you will need all-purpose flour, brown sugar, cinnamon, nutmeg, salt, unsalted butter, molasses, hot water, baking soda, and a frozen 9-inch pie shell.
Prepare the crumb mixture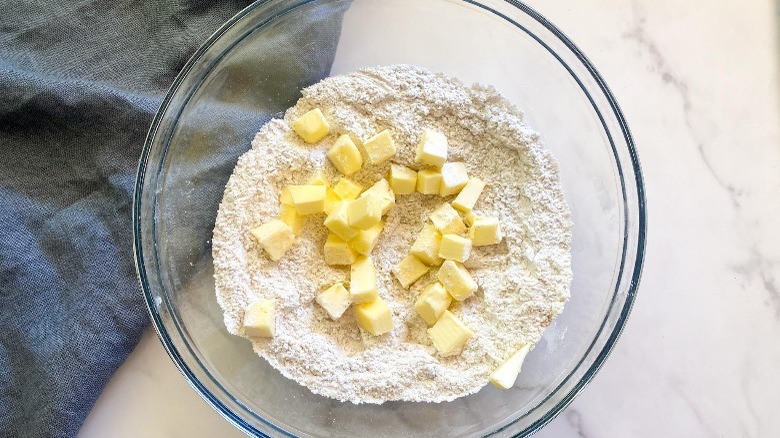 Miriam Hahn/Mashed
First off, preheat the oven to 450 F. In a large bowl, add the flour, brown sugar, cinnamon, nutmeg, and salt. Stir the ingredients together until they are well combined. 
Cube the butter into ½-inch pieces, then use your hands to combine it into the dry mixture. Finish off by using a whisk to break down the mixture even more until it is in small crumbs. This will take around 10 minutes, but ultimately you want the mixture to be dry and crumbly.
Make the pie filling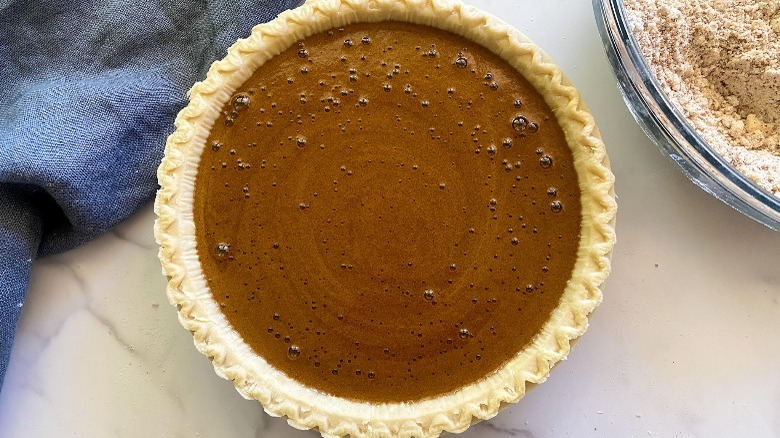 Miriam Hahn/Mashed
Now, in a medium bowl add the hot water and the molasses, stirring until they are fully incorporated. Then, add in ¾ cup of the crumb mixture you just made. Mix these ingredients well and pour them into the frozen pie crust.
Top with crumb mixture and bake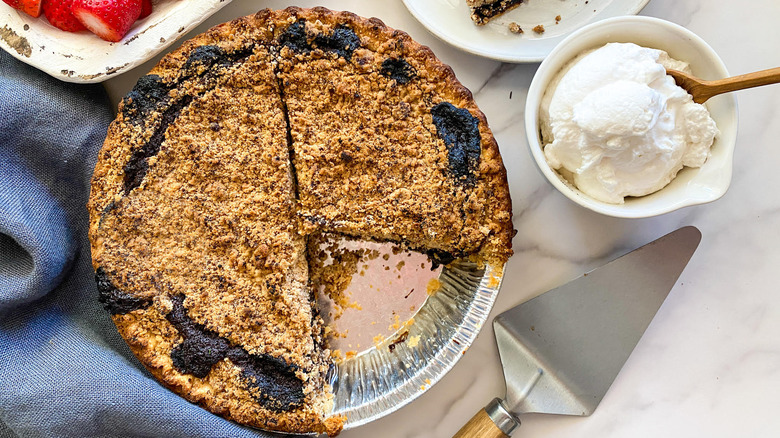 Miriam Hahn/Mashed
Then, add the remaining crumb mixture over the surface of the pie. Bake it in the preheated oven for 15 minutes. Then, reduce the heat to 350 F and bake the pie for an additional 25 minutes. Hahn warns that the molasses may start to ooze out, which is normal. Allow the pie to cool for a full hour before slicing into it. Although it's tempting to skip the wait, trust us it will be worth it. 
As far as toppings, Hahn recommends "whipped cream and cinnamon or a big scoop of vanilla ice cream." If you have leftovers, reheat them before digging in as our recipe developer comments, "I think it is best served warm."
Shortcut Shoofly Pie Recipe
Skip the lengthy pie crust preparation and whip up this shortcut shoofly pie recipe in no time. Richly spiced molasses make this a decadent treat.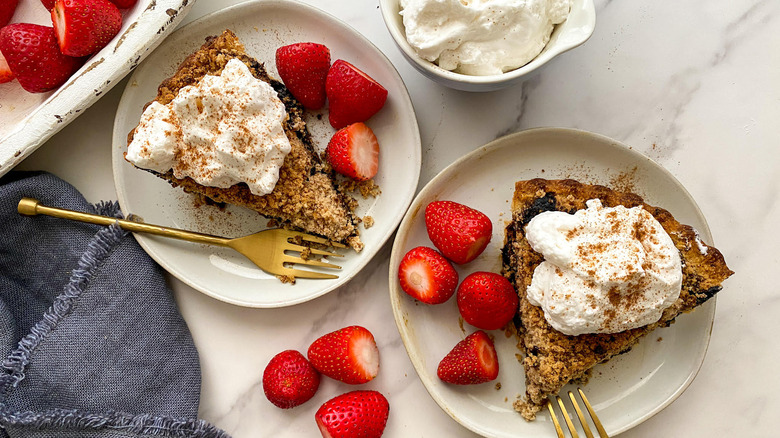 Ingredients
1 ½ cups all-purpose flour
½ cup brown sugar
1 teaspoon cinnamon
½ teaspoon nutmeg
¼ teaspoon salt
½ cup unsalted butter
¾ cup molasses
¾ cup hot water
½ teaspoon baking soda
1 9-inch pie shell, frozen
Directions
Preheat the oven to 450 F.
Combine the flour, brown sugar, cinnamon, nutmeg, and salt in a large bowl.
Cube the butter into ½-inch pieces and add it to the bowl.
With your hands, break down the butter into the dry ingredients, then use a whisk until the mixture looks like small crumbs. It will take at least 10 minutes to reach the right texture.
In a medium bowl, combine the molasses and hot water.
Add ¾ cup of the crumb mixture and mix well.
Pour the contents into the frozen pie shell and top with the rest of the crumb mixture.
Bake the pie for 15 minutes, then reduce the heat to 350 F and bake it for 25 minutes more. It's fine if some of the molasses ooze through the crumb top.
Let the pie cool for 1 hour before slicing.
Serve the pie warm and topped with whipped cream and cinnamon if desired.
Nutrition
| | |
| --- | --- |
| Calories per Serving | 442 |
| Total Fat | 19.1 g |
| Saturated Fat | 10.1 g |
| Trans Fat | 0.5 g |
| Cholesterol | 30.5 mg |
| | |
| --- | --- |
| Total Carbohydrates | 65.4 g |
| Dietary Fiber | 1.3 g |
| Total Sugars | 32.5 g |
| Sodium | 285.6 mg |
| Protein | 3.4 g |