Taco Bell Is Bringing Back This Beloved Side With A Saucy Twist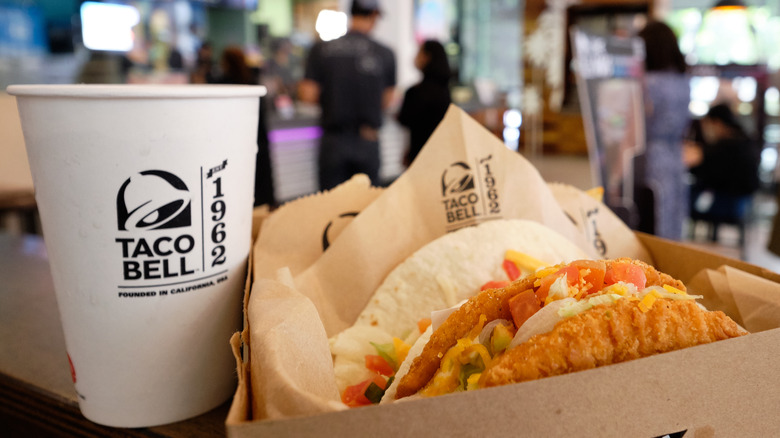 KULLAPONG PARCHERAT/Shutterstock
Taco Bell loves teasing the masses with its constant menu changes, including beloved items like the Mexican pizza and, of course, nacho fries. Yes, there is a strategy to it — hello, supply and demand — but it's seriously depressing when these favorites disappear. We are reduced to trying copycat recipes, like this one for triple-layer nachos, or just left to choose yet another fan-favorite that we hope won't be taken off the menu. 
Well, get ready for a food run because Taco Bell has officially announced the return of nacho fries (per PR Newswire). These deliciously golden fries are coated in bold Mexican spices and served with a side of warm nacho cheese sauce. And starting October 13, they are back à la carte for $1.79 or in a Nacho Fries Box for $5.49. Nacho fries will be on the menu for an "extended period of time," says Taco Bell. But, that's not all. 
What's new for Taco Bell?
While the original is totally tasty, Taco Bell is putting a brand new spin on these taters. The brand announced that after a successful test run, everyone will be able to enjoy Loaded TRUFF Nacho Fries for only two weeks (via PR Newswire). These fries feature TRUFF sauce atop a generous bed of boldly seasoned fries, topped with grilled marinated steak, shredded cheddar cheese, fresh diced tomatoes, warm nacho cheese sauce and reduced-fat sour cream.
And, that's not all. For all you fire sauce lovers out there, here's something new to add: Taco Bell and TRUFF have created an exclusive hot sauce. It's a unique take on TRUFF's Hotter Hot Sauce and it is available only at Taco Bell. According to both brands, the sauce features TRUFF's ultra-unique blend of real black truffles and red chili peppers with added creaminess to compliment the cheesiness of Taco Bell's menu. The best part? You can add this to any menu item for just $1 via the Taco Bell app. Get 'em while they're hot!