How To Get Taco Bell's Mexican Pizza Before The Next Relaunch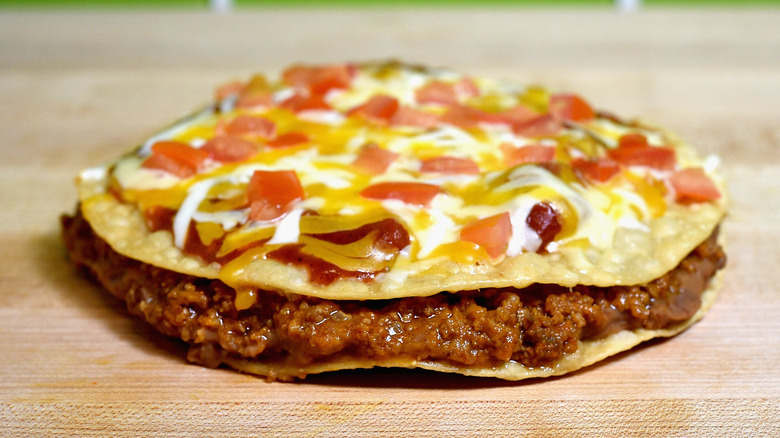 Joshua Blanchard/Getty Images
Limited time products are usually released in the hopes that fans will flock to the buzzy item to get it while it lasts. In the case of Taco Bell's Mexican Pizza, that hope certainly paid off. For those unfamiliar, Taco Bell's Mexican Pizza is a take on the classic Italian favorite that comes with "seasoned beef and refried beans between two Mexican Pizza shells with Mexican Pizza sauce, three-cheese blend, and tomatoes on top" (per Taco Bell).
When it first left Taco Bell's menus back in 2020, the move prompted hate mail towards the chain, but it had fans raving when it returned in 2022. After a while, the menu item became so popular that it inspired a song in a TikTok musical tied to Dolly Parton. And with its second official comeback of 2022 looming, Taco Bell is sharing how fans can get their hands on it before it officially comes back to stores this week.
Pizza presale
The early opportunity for a taste of Taco Bell's Mexican Pizza first came about in spring, when Taco Bell offered rewards members a chance to order it two days before it was released to the public. And while that move may have contributed to a shortage, it hasn't stopped the company from offering a deal to rewards members for this fall's rollout — perhaps Taco Bell feels prepared to meet the demand this time around.
Monday, Taco Bell announced an early rollout on Twitter for fans who are enrolled in its rewards program on Tuesday, September 13. As Axios explained in the spring, on the Tuesday and Wednesday of the week it was offered, Loyalty Members ordering the Mexican Pizza on the mobile app for in-store or drive-thru pick up were able to place the very first orders of the beloved meal. While details haven't been revealed if this process will be the same, if you're a fan of Taco Bell's Mexican Pizza, you may want to sign up for the fast-food chain's app for the chance to grab one quickly. Of course, you can also construct one yourself with this Mexican Pizza copycat recipe.