This Traditional Irish Staple Is Always Eaten On Halloween Night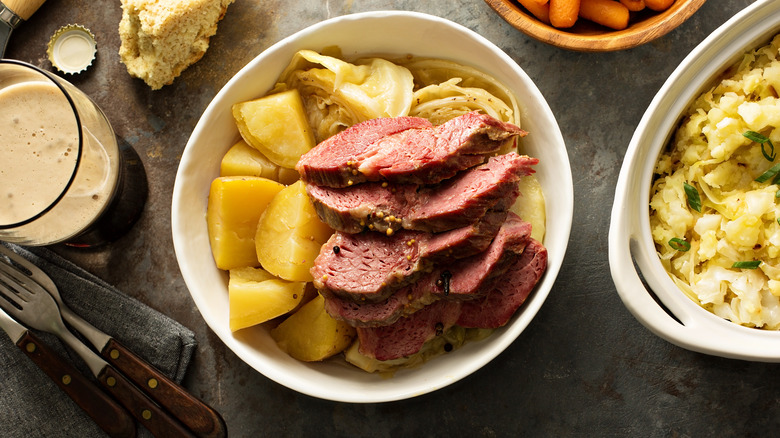 Elena Veselova/Shutterstock
Between trick-or-treating, pumpkin carving, horror movies, and lots of spooky scares, who wouldn't love Halloween? Still, there's much more to the holiday than fun activities. For those of us who love food more than anything, the Halloween season is undoubtedly a reason for excitement as different cuisines across the globe dish out traditional recipes for Halloween, All Saints' Day, or All Souls' Day. 
Busuu made a list of some of the world's favorite Halloween specialties. In Portugal, there's soul cake (locally called pães-de-Deus), little treats flavored with coconut, rum, lemon, and vanilla. Italy has its own specialty that's eaten on November 2: fave dei morti or beans of the dead, which are actually oval-shaped cookies made with pine nuts, cinnamon, almonds, and lemon zest. 
In the U.S., things look a little bit different. You can indulge in ultra-sweet snacks like candy and caramel apples, candy corn, or iced pumpkin loaf, to name a few. The flavors of fall are usually sugary on this side of the world, but across the pond in Ireland, locals have a savory specialty that's always eaten on Halloween night.
Colcannon is a buttery dish of mashed potatoes and greens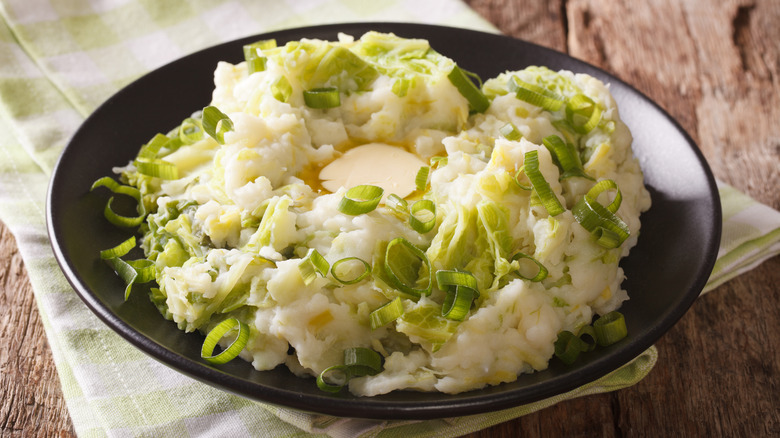 Sergii Koval/Shutterstock
IrishCentral reports that in Ireland, Halloween is called Oíche Shamhna. Traditionally, October 31 marks a festival called Samhain, during which the Irish would feast and light bonfires to protect their loved ones from "evil spirits." A proper Samhain meal called for foods that were seen to have symbolic properties for "fortune-telling rituals," such as apples and hazelnuts. One favorite that is still eaten on Halloween night to this day is an Irish culinary staple called colcannon.
Colcannon typically consists of potatoes, kale or cabbage, leeks, scallions, bacon, butter, heavy cream, and seasonings, per CIE Tours — as well as a non-edible ingredient used to predict one's future. Historically, the Irish tucked little surprises into colcannon for diners to find at random, such as a ring to foresee a future engagement or a coin to forecast great wealth. So if you're eating these lucky spuds and greens, pay close attention — you just might find a prize in your meal. 
Colcannon is also sometimes eaten on St. Patrick's Day, and each Irish region offers its own twists on the recipe. This Halloween, why not make colcannon in your own kitchen? Be sure to hide some prizes in the dish, and your friends and family will be just as delighted as candy-receiving trick-or-treaters.