How Tabitha Brown Really Feels About Her Food Network Timeslot Change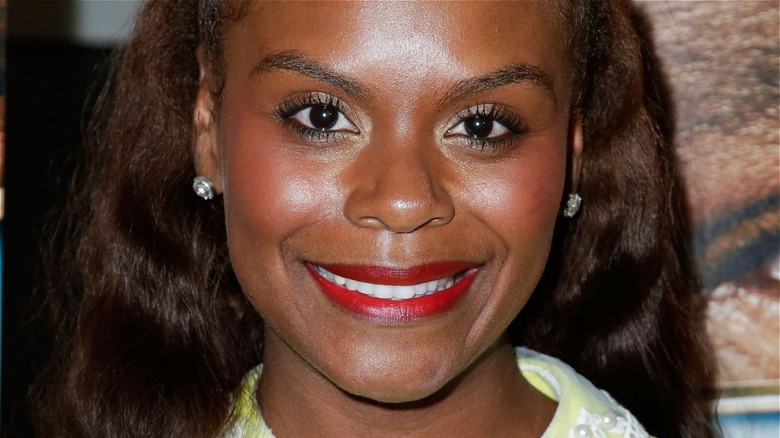 Vincent Sandoval/Getty
If you're into learning about plant-based meals with the added spices of positivity and love, you might be following Tabitha Brown. The vegan food influencer and actress rose to fame during the pandemic as she posted plant-based recipes, food reviews, and cooking tips, quickly earning a fanbase of nearly 5 million followers on TikTok. While her videos made an impact in the food and wellness communities, Brown also won a lot of people over with her infectious personality. Speaking in her signature upbeat Southern accent, Brown teaches people not only how to easily incorporate plant-based meals into their diet, but also inspires and encourages her viewers through positive affirmations and messages as she cooks.
Just two years after entering the spotlight, Brown announced her Food Network show, "It's CompliPlated," which premiered this past August. This was great news indeed for the millions of fans who would flock to TikTok to get their vegan food fill from the new star, as they could now watch her on primetime TV every Thursday at 9 p.m. Unfortunately, not all good things last, and after two airings, the show got bumped to an earlier timeslot with a smaller audience.
Tabitha Brown is sticking to who she is
While some TV hosts might feel slighted if Food Network downgraded their show's timeslot, Tabitha Brown is brushing it off of her shoulders. After the vegan food star was notified in August that her new show "It's CompliPlated" was being moved from Thursdays at 9 p.m. to Tuesdays at 1 p.m., per People, she took to Instagram to give her honest response to the decision.
In a long, heartfelt caption, Brown first addressed her fans, "There is not a company, there is not a network, there is not a person, place, or thing that is going to change who I am." In her video, she looked genuinely happy and at peace with the decision, and she further explained, "I've had to break down a lot of walls and barriers to get to my freedom! To walk proudly and confident in my truth is still an everyday pursuit!! I'm not going to change!"
Brown expressed no ill will toward the network, but she did offer this pointed remark: "Thank you to all the partners that I work with that truly see me for me, I appreciate you! To those that don't see me for me but see me only for their benefit, I SEE YOU!" Fellow chefs, TV stars, and fans alike expressed their admiration of Brown's positive attitude, with "Euphoria" star Nika King summing their feelings up, "You didn't get here by not being yourself!!! Keep doing Tab. We love you!!"