Everything We Know About Bobby Flay In Food Network's One Delicious Christmas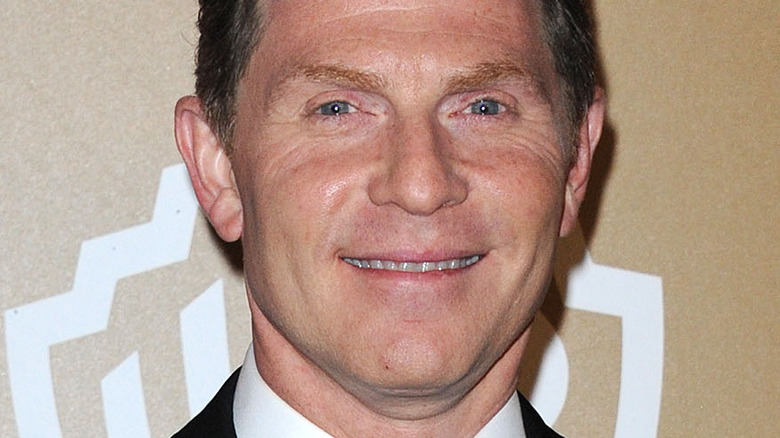 DFree/Shutterstock
A movie can change someone's life. Consider Harrison Ford, the man who would be Han Solo and Indiana Jones. Before he became the smuggler who shot Greedo, Ford was a carpenter, says Business Insider. He merely stood in for screen tests before being offered the role. Certainly, becoming a box-office success altered the course of his life.
The Food Network is hoping to change some other lives as it dips its toe into the film industry. Though the network has made itself famous with mostly unscripted or marginally scripted cooking shows and competitions, Variety reports that it's now accepted an offer from Discovery+ to create four Christmas-themed, feature-length films. The hope is that they will be as successful as the 2021 romance film "Candy Coated Christmas," which starred the Pioneer Woman herself, Ree Drummond.
One of the films slated for release is called "One Delicious Christmas." Unsurprisingly, it looks to be another film about romance and food, but this time with chef Bobby Flay making an appearance. Here's what we know so far.
Bobby Flay will be a food critic, but will he be Prue Leith or Gordon Ramsay?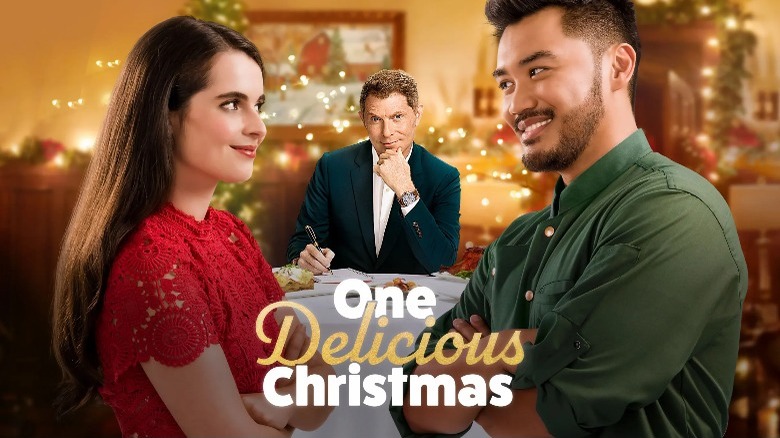 Discovery+
According to the plot synopsis provided by Discovery+, "One Delicious Christmas" will star Vanessa Marano as she tries to run an inn and restaurant. Unfortunately, her chef is about to abandon her to go to London, probably to become a soccer hooligan, and she must form a partnership with Kathy Maloney's character to stay afloat. There's just one problem: Maloney is going to send a critic to review the menu of the restaurant. That critic will be none other than the smiling, affable Bobby Flay.
Thus far, Discovery+ and the Food Network have been very cagey about explaining Bobby's character, who is named Tom Kingsley. While it's known he's a critic, it's unclear whether or not he'll be brutal, encouraging, or a mixture of both. It's unlikely that Flay will be too vicious, as the film summary says he arrives to help the business, though it would be fun to see him throw a few tantrums, à la "Kitchen Nightmares." One thing we know is that he views the menu as "too traditional," which means Flay should have the chance to suggest some off-the-wall modern foods, like a floating island dessert or maybe pancake spaghetti.
"One Delicious Christmas" is slated to air on November 11, only on Discovery+. The film will join the rest of the Christmas films the Food Network has provided, each of which will feature different HGTV and Food Network stars, such as Duff Goldman, aka the Ace of Cakes.