The Best Spiralizers Of 2022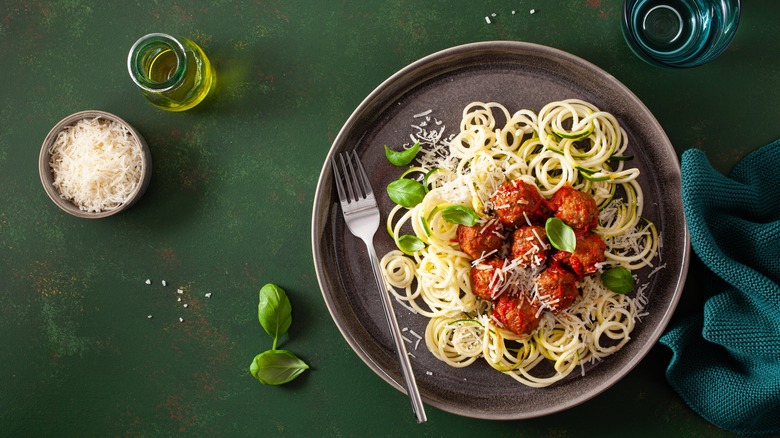 Olga Miltsova/Shutterstock
We may receive a commission on purchases made from links.
Looking for an easy way to eat a wider variety of fresher food? A spiralizer might be just what you're looking for. Let's face it: We all want to improve our diets, but preparing fresh fruits and whole vegetables on a regular basis often requires a lot of tedious knife work that can be quite time-consuming. A high-quality spiralizer dramatically simplifies the process by making the preparation of fresh produce a breeze. Using different blade attachments, a spiralizer can easily slice your fruits and vegetables into a variety of noodle-like shapes in just a matter of moments.
Spiralizers are commonly used to make zoodles, which are spiral-like "noodles" that are thinly cut from whole pieces of zucchini. Not only are zoodles a lighter alternative to pasta and a great way to cut back on carbs, but they're also seriously nutritious, high in antioxidants, and can even improve your heart health (via Health Digest). 
Of course, spiralizers aren't limited to only making zoodles. This kitchen gadget can also be used to make components of fresh salads, beautiful garnishes, and other appetizing fare. For instance, you could spiralize some potatoes into homemade curly fries, shred a pile of cabbage for a fresh batch of coleslaw, or whip up some onion strings as a crispy topping for the perfect cheeseburger. With your new spiralizer in hand, endless ribbons of all your favorite fruits and vegetables await you.
How we selected products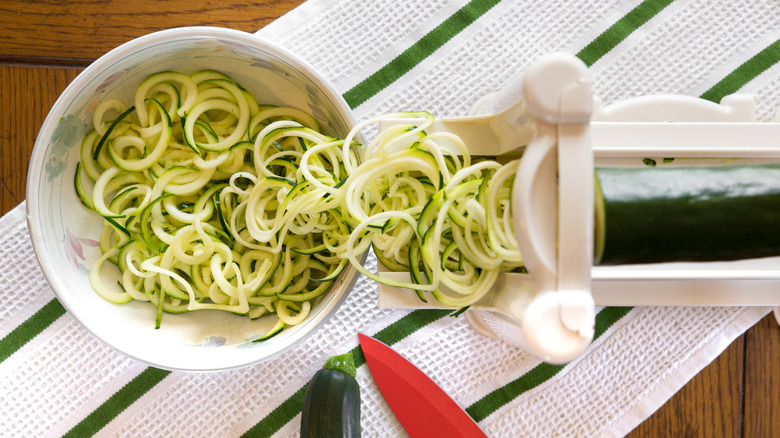 littlenySTOCK/Shutterstock
Several factors were considered during the selection process for this list of top-notch spiralizers. In order to gain honest insights into each product's true value, we combed through user feedback with verified purchases, since we believe that customer reviews are one of the best tools we have to get trustworthy ratings. By taking note of each product's particular strengths and weaknesses, we further whittled down our selections.
For the sake of variation, we also made sure to select a wide range of different spiralizers with unique features. On this list, you'll find a variety of these tools, from the most versatile spiralizers on the market to the best deals on manual and electric models. We also factored in affordability and made sure to provide spiralizers for every budget to be as financially inclusive as possible. No matter your experience in the kitchen or the size of your budget, you'll find a high-quality spiralizer on this list that will suit your needs. Read on for the best spiralizers of 2022.
Best overall spiralizer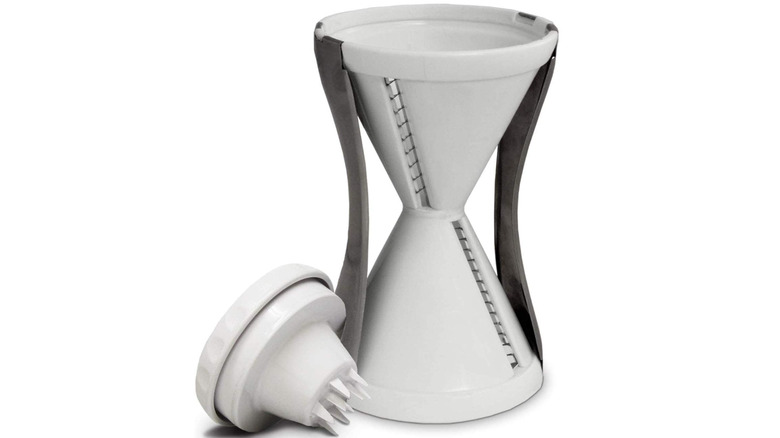 Ontel
There's a lot to love about this spiralizer from Ontel. For starters, it has a very simple design that's safe and easy to use, featuring dual stainless steel blades. With just a simple twist, this spiralizer can easily transform vegetables into beautifully shredded piles of nutritious ingredients ready to go. The blades can also be adjusted to produce thick or thin slices, providing plenty of flexibility for customization. 
It's easy to see why this spiralizer has earned a nearly perfect rating on Amazon after more than 13,000 reviews. Small yet efficient, this dishwasher-safe spiralizer is the perfect tool to make some seriously impressive veggie spaghetti, salads, and garnishes with no need to get bogged down in time-consuming knife work. Your purchase also comes with a gourmet recipe guide to get you started. All things considered, this spiralizer from Ontel is one of the most well-rounded models out there. It's bound to take your veggie game to the next level.
You can buy the Ontel vegetable spiralizer from Amazon for $15.54.
Best budget spiralizer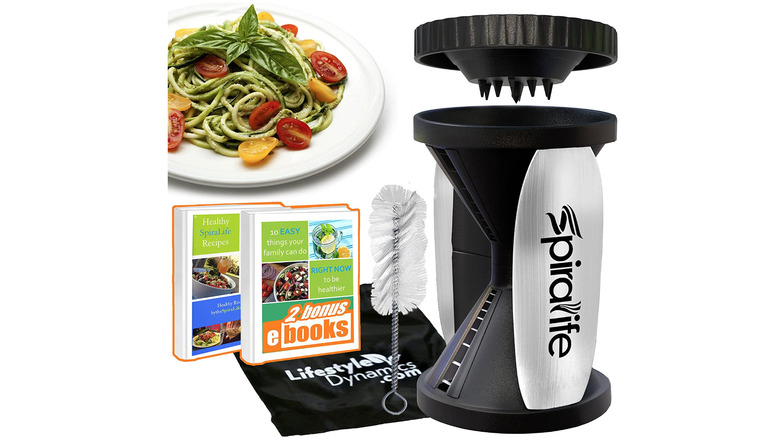 Lifestyle Dynamics
If you're looking for a budget-friendly spiralizer that has it all, look no further than this model from Lifestyle Dynamics. Not only does this spiralizer have a solid four-star rating after more than 6,400 reviews on Amazon, but it's also a total bargain. But don't mistake the cheap price tag for inferior quality. This spiralizer has special blades that are designed to carve out more volume, which results in better quality cuts and less waste.
The great features don't stop there. This spiralizer is made with premium stainless steel and BPA-free plastic comes equipped with a protective finger guard and is small enough for easy portability and storage. Did we mention that this deal also comes with two complimentary digital cookbooks and a video series with extra tips and guidance? Combine that with a cleaning brush and a storage pouch and there's no denying this is one of the best spiralizer deals on the market right now.
Purchase the Lifestyle Dynamics spiralizer on Amazon for only $12.97.
Best spiralizer for zoodles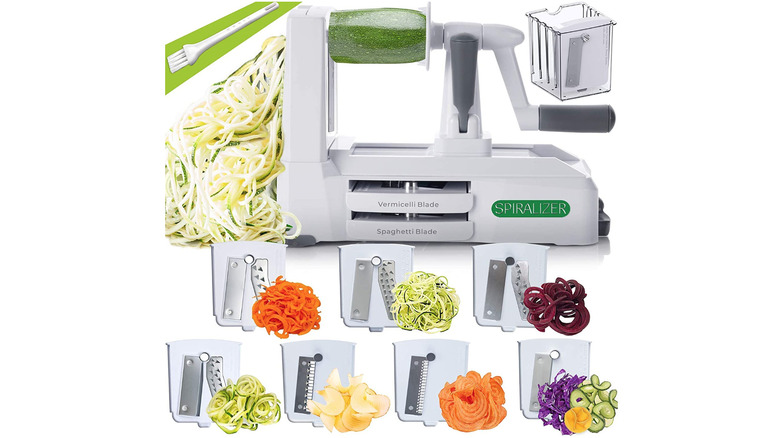 Spiralizer
Spiralizers are widely praised for their ability to turn chunks of zucchini into zoodles. That said, some spiralizers are better at producing zoodles than others. There are a few features that make this model exceptional, like its rotary design, which allows you to load up just about any vegetable for spiralizing, regardless of its size. This is a vast improvement over the chute design of other models, which can limit the size and type of vegetables you can use.
Another great feature of this deal is the generous number of blade attachments that it comes with. With seven different blades to choose from, there are plenty of different shapes and sizes that this spiralizer can produce. Made with high-carbon, cutlery-grade stainless steel, the blades on this spiralizer are built to last. This also means that they can handle harder root vegetables, like sweet potatoes, that might defeat other spiralizers. Between its versatility and the 4.5 stars it's earned after more than 25,000 positive reviews on Amazon, it's clear that this deal is worth every penny.
You can buy the Spiralizer 7-blade vegetable slicer on Amazon for $26.97
Best spiralizer for salads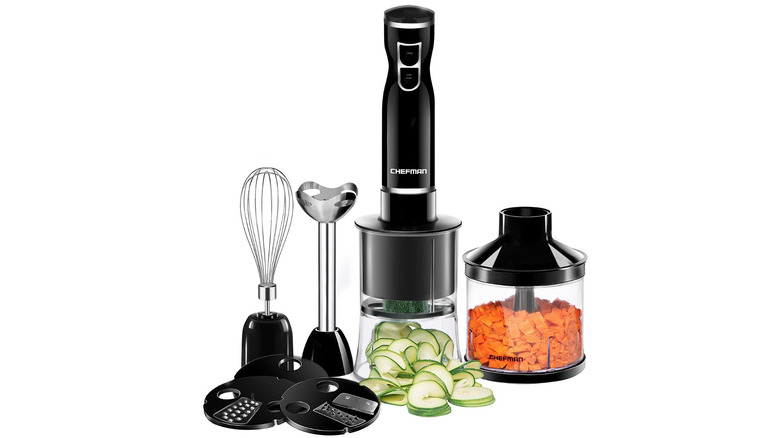 Chefman
Since you clearly dig the concept of thinly-shredded vegetables so much, we'll go out on a limb and guess that you're also a fan of salads. Adding more fresh salads to your diet is a delicious way to live a healthier lifestyle. According to WebMD, salad greens are rich in vitamins and antioxidants that can prevent a variety of chronic diseases. Making a fresh salad regularly may sound like a whole lot of work, but if you drop the knife and pick up a spiralizer, you'll see just how easy it can be when you have the right tools at hand. This electric model from Chefman makes shedding those vegetables as effortless as possible.
This electric spiralizer is equipped with three different spiralizing blades and also comes with an immersion blender and whisk attachments. The immersion blender and whisk make this package ideal for constructing fresh salads, given that they can help you whip up a batch of homemade salad dressing in no time. You'll be hard-pressed to find a better spiralizer deal out there that includes everything you need to get those greens in.
Purchase the Chefman electric spiralizer on Amazon for $45.23
Best spiralizer attachment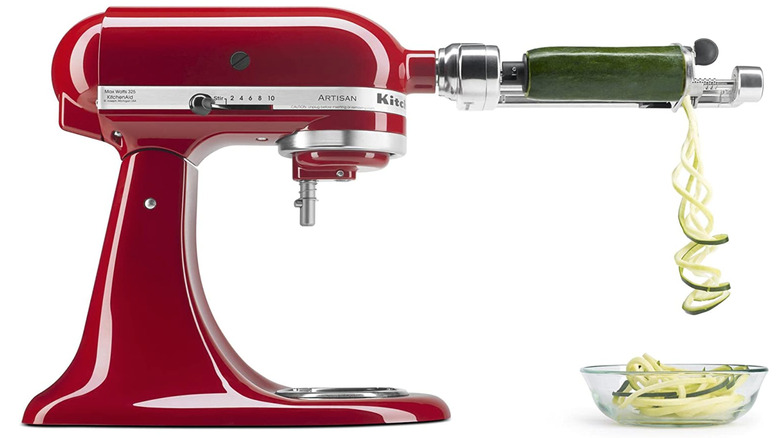 KitchenAid
If you already have a KitchenAid stand mixer, then we have some good news for you: this spiralizer attachment can easily make all of your wildest zoodle dreams come true with just a few extra minutes. This spiralizer attaches directly to the power hub of your KitchenAid mixer, quickly transforming the device into a powerhouse that can pump out piles of coiled vegetable slices with astonishing ease. This deal comes equipped with a total of seven blades — three for spiralizing, three for slicing, and one for peeling.
Given the reputation of KitchenAid, it's little wonder that more than 8,700 satisfied Amazon customers have given this spiralizer a nearly perfect rating. It's pretty versatile, too. The slicing and spiralizing blade attachments for this device come with different designs to produce a variety of cuts and thicknesses, ensuring that you can achieve the right slice style for each dish that you prepare. All of the blades in this package are easy to change and dishwasher safe. What more could you ask for?
You can buy the KitchenAid spiralizer attachment on Amazon for $99.95.
Best handheld spiralizer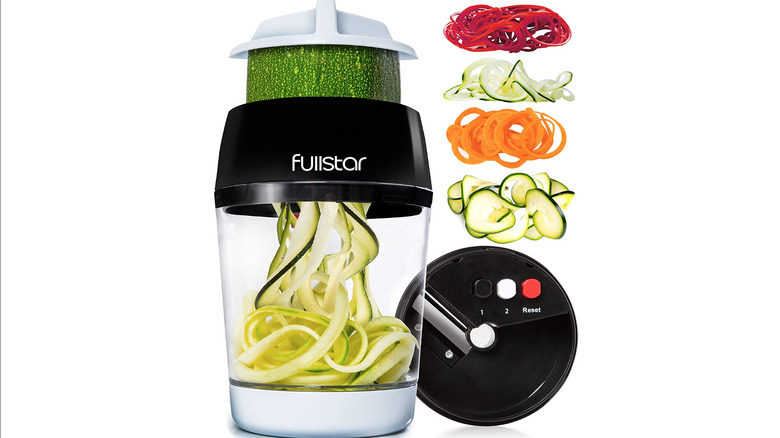 Fullstar
If you're looking for a high-quality handheld spiralizer, then we have a great match for you. This spiralizer from Fullstar has a clever design that packs a serious punch for such a sleek model. This deal comes with a multi-pronged finger protector that can be used at the top of the device to help grip your ingredients and safeguard your hands. You can also change lade thickness with the simple push of a button to produce four different styles of cuts.
Weighing only half a pound, this handheld spiralizer is lightweight and easy to handle. Another useful feature of this model is the plastic container: if you need to store your sliced vegetables after using your spiralizer, all you have to do is pop the lid on top and slide it into the refrigerator. With well over 24,000 glowing Amazon reviews and a solid four-star rating, this spiralizer is obviously popular. Score one for yourself and see what you've been missing.
Purchase the Fullstar vegetable slicer on Amazon for $14.98.
Best electric spiralizer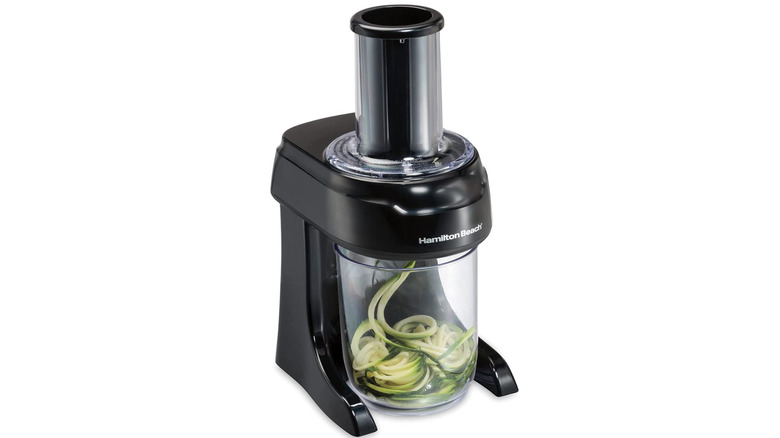 Hamilton Beach
Electric spiralizers take a lot of the work out for you. Instead of having to manually twist ingredients through the blades, electric models shred through vegetables with a simple push. This particular model from Hamilton Beach comes with a large food chute that can accommodate any vegetable pieces up to 2.5 inches wide, which should cover some of the most common spiralizer ingredients like cucumbers, carrots, and zucchini.
This spiralizer also comes with a large bowl, which can hold up to six cups of food — more than enough to feed a small group. This model is equipped with three different blades that can produce spaghetti, linguine, and ribbons from all your favorite picks of produce. The food pusher in this deal comes with a metal food grip to prevent slippage. All of this spiralizer's removable parts are dishwasher-safe, making it a breeze to clean. With 4.5 stars after nearly 2,000 positive verified reviews on Amazon, this spiralizer is one of the best electric models on the market right now.
You can buy the Hamilton Beach electric spiralizer on Amazon for $49.99
Best versatile spiralizer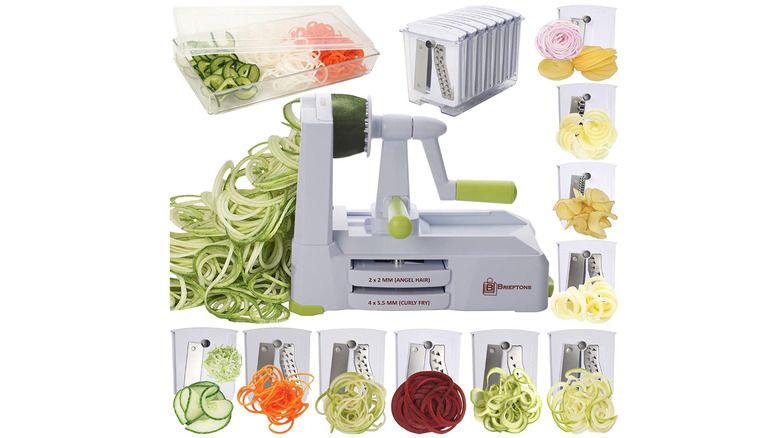 Brieftons
If you want versatility in your spiralizer, then a plethora of different blades is the name of the game. This model from Brieftons comes with 10 different blade attachments, making it one of the most versatile models of all. Having the ability to cut a few simple shapes with a spiralizer is great, but this model is a great pick for anyone who loves having variety at their fingertips. Crinkle chips, pappardelle, angel hair, lasagna — this spiralizer will empower you to make a wide range of different vegetable-based dishes.
With just a gentle turn, this rotary spiralizer can transform your produce into heaps of healthy vegetable strands. This model's blades are made from ultra-sharp stainless steel, ensuring precision and durability. They also come with a storage case for safekeeping. 
As if all these wonderful features weren't enough, this deal also comes with four downloadable e-books that include recipes for salads, sauces, and the benefits of eating raw foods. Still not convinced? You might want to take a peek at the more than 21,000 Amazon reviews that earned this model a nearly perfect rating. Take advantage of this deal while it lasts.
Purchase the Brieftons 10-blade spiralizer from Amazon for $30.99
Best countertop spiralizer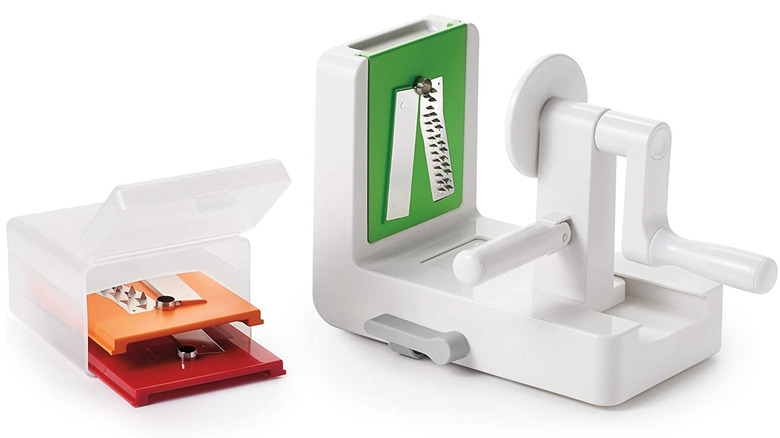 OXO
If you need a spiralizer that can stay perched on the countertop, then we have a great model lined up for you. This spiralizer from OXO comes equipped with suction cups on the base for extra stability so that you don't have to worry about wobbling or accidental slippage during use. It comes with three durable stainless steel blades that can produce vegetable noodles in the shapes of ribbons, spaghetti, and fettucini.
The three blades in this package come in s storage box that attaches to the spiralizer for serious convenience. The rotating handle on this model is remarkably fluid and easy to turn. This deal also comes with a food holder that helps to keep a firm grip on ingredients during the spiralizing process. Big enough to give you ample room to work, yet compact enough not to be a clunky eyesore, this spiralizer is just right. It's also pretty cool knowing that OXO commits 1% of its annual sales to supporting the environment.
You can buy the OXO good grips spiralizer on Amazon for $47.90.
Best compact spiralizer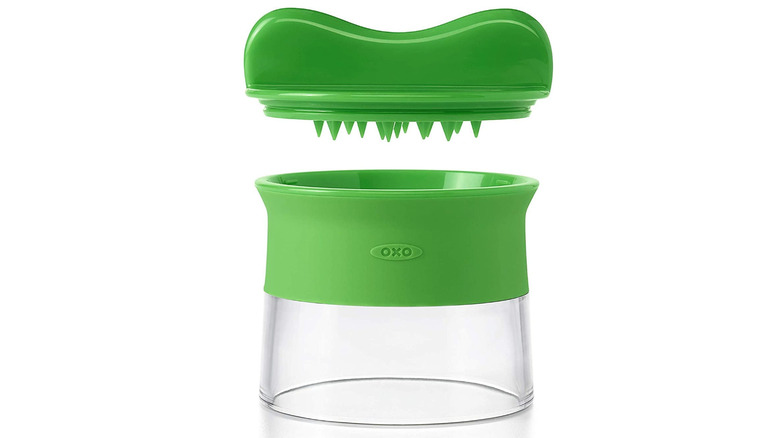 OXO
Compact appliances are a great way to maximize your counter space if you're living in close quarters. It doesn't get much more compact than this handheld spiralizer from OXO. This model may have a simple design but don't let that fool you into thinking its performance is inferior. Lightweight and easy to use, this spiralizer comes with a food holder to safeguard your fingers. All you need to do is insert the ingredients and give the machine a gentle twist to produce beautiful shreds of fresh vegetables.
This spiralizer is dishwasher-safe and comes with an open blade design that caters to many different kinds of vegetables, making it capable of yielding uniform ingredients that will make your dishes look exceptionally appetizing and professional. If you want a simple and affordable spiralizer that can fit in the palm of your hand, stop right here.
Purchase the OXO handheld spiralizer from Amazon for $17.95.
Best durable spiralizer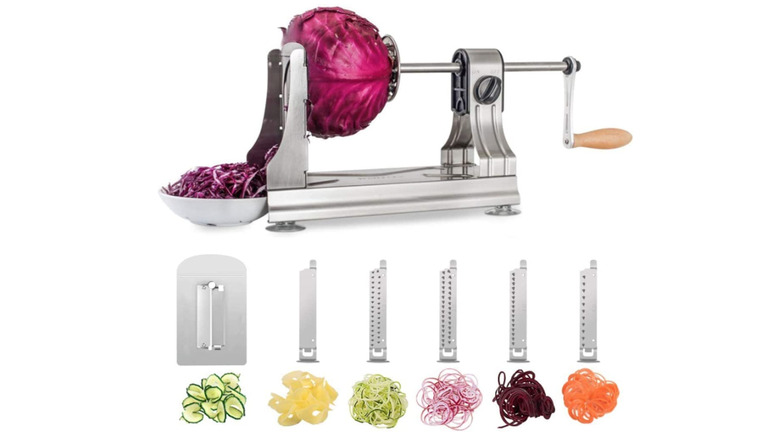 WellToBe
Of course, we want all of our appliances to withstand the test of time. A product's shelf life often comes down to the quality of its material and construction. This model from WellToBe is mostly made from superior quality stainless, including not just the blades, but the body of the spiralizer itself. Stainless steel is an especially great choice for any kitchen tool or appliance because it's strong and corrosion-resistant (via Mead Metals).
This deal comes with a total of six blades with varying thicknesses and styles, so you have plenty of options to choose from to properly compliment your dish. When any of your other favorite vegetables go for a spin on this spiralizer, they'll be quickly converted into gorgeous strands of fresh ingredients. The crank handle on this model is made from wood and feels soft on the hands for easy operation. At the end of the day, this spiralizer's design makes it not only highly useful but also exceptionally durable.
You can buy the WellToBe stainless steel spiralizer on Amazon for $34.99.
Best high-end spiralizer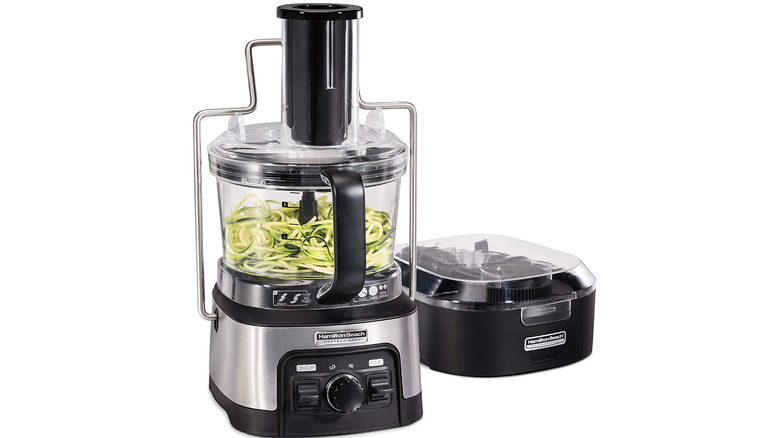 Hamilton Beach
For those with a bigger budget looking for a truly top-notch model, this electric spiralizer from Hamilton Beach should do the trick. It's a great choice for anyone who often cooks in big batches since its sealed bowl has a capacity for a whopping 12 cups of food. It also features an extra-wide food chute, comes with six different blade attachments, and can function like a food processor.
The 12-cup storage bowl on this model has a pouring spout for those times when you're using the food processor function. It features a powerful 450-watt motor so that it can easily slice and shred your produce. For all the pizza lovers out there, one of the attachments in this package is designed to knead dough, meaning this deal gives you just about everything you need to make pizza from scratch, apart from the ingredients. This spiralizer is easy to set up and features metal arms to securely lock the lid onto the leak-free bowl. Powerful, beautifully designed, and easy to use, this electric spiralizer is the crème de la crème of spiralizers.
Purchase the Hamilton Beach professional spiralizer on Amazon for $154.99