How Is Summer House's Mya Allen's Cookie Business Doing Today?
When the charming newcomer of "Summer House" Season 6, Mya Allen, made her reality TV debut, she steadily won over fans and her cast members. Veteran Lindsay Hubbard said she loved her neutral vibe from the start (via In The Know), but Allen's real life is anything but neutral. Born in Boston, Massachusetts, per WoodSpoon, the lively Manhattan dweller is a seasoned cook who graduated "at the top of [her] class" from New York's International Culinary Center.
Allen has made it her mission to spread love through cooking, and it comes in bite-sized delights. The "Summer House" cast members found her culinary prowess thoroughly impressive, according to Bravo TV. Allen loves to bake and she has a sweet side hustle to channel her passion. "I'm a restaurant consultant by day, but my passion is my e-commerce cookie business called The Knead," she said in 2022.
Since starting her cookie business amid the coronavirus pandemic, Allen has faced her share of challenges. During a March 31, 2022 episode of "We Should Talk" podcast, she talked about how her appearance on "Summer House" impacted her business, saying. About 31 minutes into the episode she said, "I thought I was prepared; I was not prepared. But, I always wanted to do a business where I would just drop cookies similar to a Beyoncé album drop, and now I have the platform to do that." In case you were wondering whether Allen's cookies were a recipe for success, here's what we know.
Mya Allen's cookie business has gone quiet on Instagram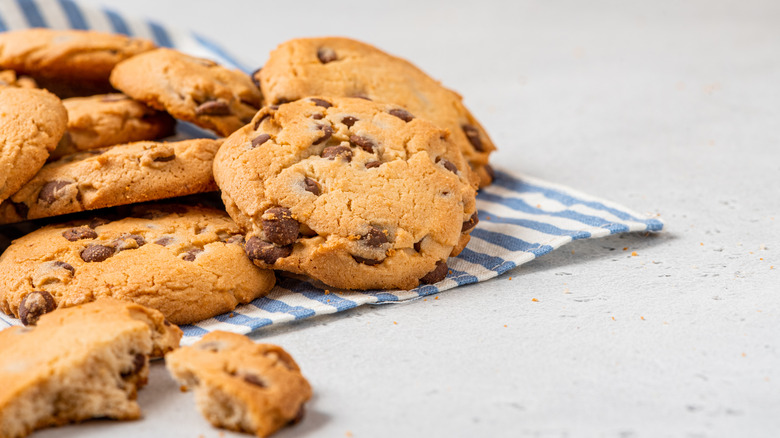 Svetlana Monyakova/Shutterstock
Mya Allen knew what she was talking about when she chose the tagline "life happens, cookies help" for The Knead. "Starting this business has been the hardest and most rewarding task I've taken on. I can't wait to keep baking for your kneads!" she shared on Instagram in February 2021. She had some happy customers, too. In March 2022, user teeetles chirped on Instagram, "Dying! I received my order of cookies on Saturday. So delicious omg. I am a cookie connoisseur and these are some of the best cookies I have EVER had! Nom nom!"
Things weren't always as smooth as butter. Several customers were displeased with The Kneads' delivery service and expressed frustration on Instagram. "I ordered a week ago and they still haven't shipped," said beaupeep99. User bordeauxyo wrote in April, "Omg [Mya] PLEASE send [user] his cookies already! My favorite podcast host ... ordered months ago and seeing you sent prom cookies so quick." Allen has limited the comments on the page.
Allen told Bravo TV in February that The Knead was "a part-time gig" and passion project, though she dreamed of making it a "full-time job." Its Instagram posts have generally been sparse, and Allen hasn't shared an update since May 2022 at the time of writing. The same month, she collaborated with a pet supply brand called Diggs Pet and showed her fans how she bakes cookies for her cute dogs, Garlic "Clove" Aioli and Bucatini, using the company's treat spread.