What A Typical Breakfast Looks Like In New Orleans
Anyone who likes a great party atmosphere is welcome in New Orleans, located on the Mississippi River and often called Crescent City due to the shape of its center. This big city is famous for its Mardi Gras parties, jazz music, voodoo, and even some spooky ghost sightings. The French, African, and Spanish influence on New Orleans can be seen in the city's delicious Creole cuisine, and many people visit New Orleans just to taste some of the specialties the Crescent City offers (per Hey Explorer). 
There's gumbo, a thick stew that's often made with okra, chicken, sausages, or seafood, and then served over rice. Jambalaya is also a great option, consisting of seafood, chicken, sausage, vegetables, spices, and rice. On Mondays, you can indulge in red beans and rice, a dish that's commonly enriched with protein, such as ham hock, pickled pork, or sausages (per New Orleans). 
And if the main dishes are too hearty for your taste, you can always eat typical New Orleanian breakfast foods. There are many options to choose from, all equally tempting.
A typical breakfast in New Orleans includes grits, beignets, pain perdu, and eggs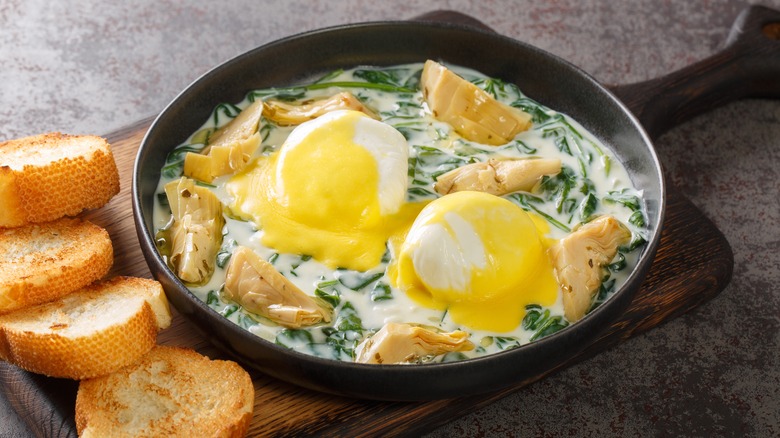 Sergii Koval/Shutterstock
The culture, traditions, and history of New Orleans are diverse, and New Orleanian breakfast foods are the same. From Creole specialties to Southern treats to classic American breakfast foods, the city has it all. And it might be a challenge to choose just a few of these breakfast foods instead of trying them all. 
Food For Net made a sizeable list of typical breakfast foods in New Orleans, and it starts with eggs. New Orleans has two variations on eggs Benedict. One is called eggs Hussarde, consisting of rusks or English muffins, eggs, hollandaise sauce, and bacon; the other is eggs Sardou, made with poached eggs, hollandaise, spinach, and artichokes. 
That's more than enough for breakfast, but if you want more, don't worry. Grits are also a popular breakfast item in the city, and they can be enriched with shrimp or steak in tomato sauce. And don't leave New Orleans if you haven't tried beignets, those delicious fried dough squares sprinkled with powdered sugar. If you want something more simple, waffles, croissants, pain perdu (French toast), and cereal await the hungry patrons in many cafés and morning eateries as well. MyRecipes recommends washing it all down with a decadent Bloody Mary or a creamy Caribbean milk punch in the French Quarter.