Instagram Is Split Over Trader Joe's Festive Turkey Sausage Stuffing Fried Rice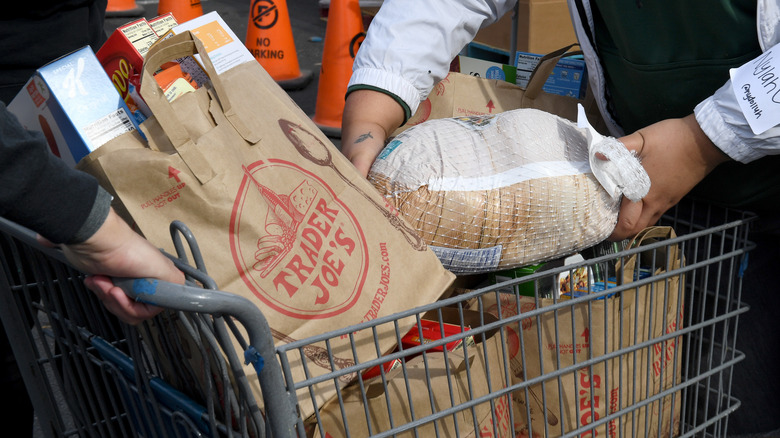 Ethan Miller/Getty Images
Thanksgiving is a time for tradition. We eat turkey, we deal with family drama, and we debate friends and family about various controversial Thanksgiving side dishes: Sweet potato casserole or green bean casserole, cornbread dressing or stuffing — these topics have been discussed for years. But now, there's a new side dish in town, and it might even prompt more debates than those classics.
Trader Joe's is known for its fall items, and the grocery chain is no stranger to putting unconventional spins on classic holiday dishes. They sell a lot of Thanksgiving foods for people who don't cook, like heat-and-eat Green Bean Casserole Bites and Thanksgiving Pie Chocolate Truffles. But there's one heat-and-serve Thanksgiving side dish at Trader Joe's that has fans divided: the returning Turkey Sausage Stuffing Fried Rice. 
There are a lot of popular items that completely vanish from Trader Joe's, but it seems like a safe assumption that those products that return are popular enough to justify the shelf space. But Trader Joe's fans seem decidedly mixed in their opinions of the returning fried rice.
Love and hate for Trader Joe's fried rice
An Instagram post about the returning Turkey Sausage Stuffing Fried Rice from Trader Joe's fan account, Trader Joe's Aficionado, prompted some comments in defense of the seasonal item. "I'm so glad it's back. This was surprisingly really good," said one customer. Other folks on Reddit agreed. "I liked this a lot! Have purchased it 2 more times since to have in the freezer," shared one reviewer.
But others found the dish to be "meh" on Instagram. "If you want an invite to next years Friendsgiving, I wouldn't bring it," cautioned one reviewer. "Wouldn't buy again," said another commenter, who "thought it was just okay." Another skeptical person pointed out the sodium content of the dish, which is 510 milligrams per serving, or 22% of the recommended daily intake. Still, for those who don't like to cook from scratch, but who are craving an easy meal that is reminiscent of classic Thanksgiving flavors, Trader Joe's Turkey Sausage Stuffing Fried Rice just might do the trick. "It was great as a serving with a fried egg on top and veggies on the side," shared one satisfied customer.