How To Use Your Oven's Residual Heat To Save Energy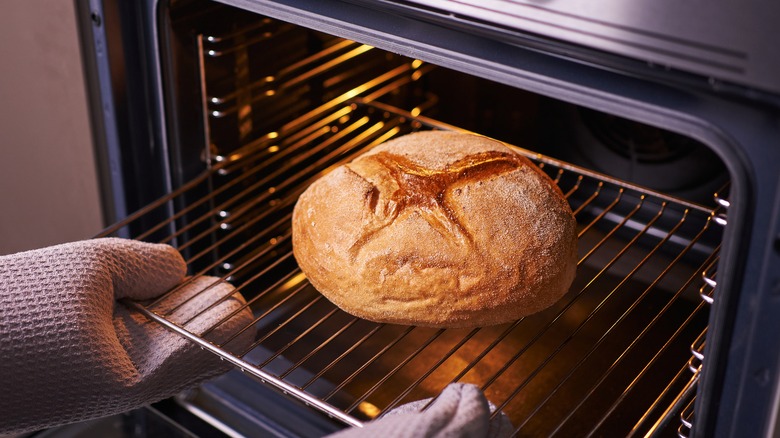 Elena_Nik/Shutterstock
Most water cooler conversations these days involve the state of disarray the world is in. Take your pick. Inflation, the pandemic, war, social norms, and the energy supply crisis are just among many challenges of the decade. In this globalized world, the systems responsible for providing us with energy and food have become too concentrated, making them highly susceptible to outside interference (per Relief Web). And Time reports that the energy crisis will worsen, with an accent on Europe. It seems like the foodie world will be in a bit more trouble soon. 
So you may be wondering how to save energy so we can continue to cook our favorite meals such as pizza, casseroles, and sourdough bread in the confines of our kitchens. Luckily, Wales Online offers a few pointers to keep in mind if you want to cut down on costs this winter. The list includes boiling only as much water as needed, getting familiar with batch cooking, and using microwave ovens more often than usual. But there's another tip that will save you some time and energy, and it's related to one of the most-used kitchen appliances — the oven.
Save time and money using the ovens residual heat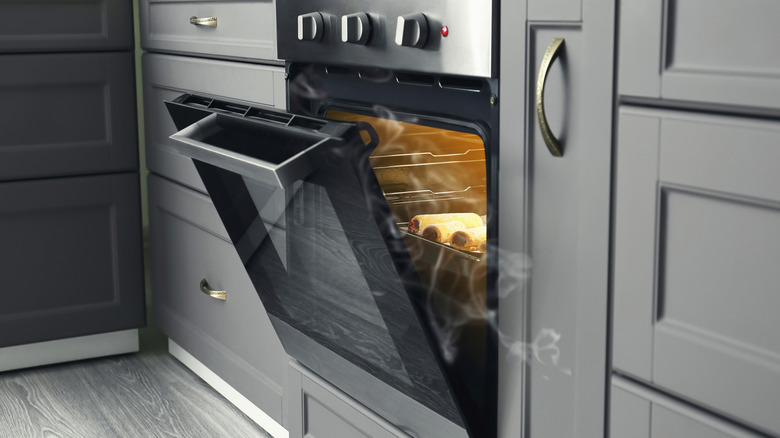 Pixel-Shot/Shutterstock
Cooks at The Guardian offered their responses to questions regarding wasting residual heat from the oven. Chefs were quick to answer one question, "What can I cook in a hot oven as it cools?" Suggestions include drying aromatic herbs in the oven to be used as part of the stuffing for roasted chicken. Another tip includes cutting tomatoes in half, seasoning them with salt, drizzling them with olive oil, and placing them in the hot oven as it cools down. Later on, the oven-dried tomatoes can be added to anything from sauces and soups to ramen and salads. 
If you have some bread, put it in the cooling oven to dry, and then make breadcrumbs. And let's not forget about seeds and nuts, which release their aromas and essential oil once they've been toasted in the oven.
Sam Grainger, the chef and owner of Liverpool's Belzan, says "Put all your slow cooks in at the same time and get a week's worth done at once." Grainger claims that this method requires some planning in advance, but if you get yourself familiar with batch-cooking and frozen dishes, you'll be good to go, because "becoming best friends with your freezer is the game to play right now."
With careful planning residual oven heat can be a big help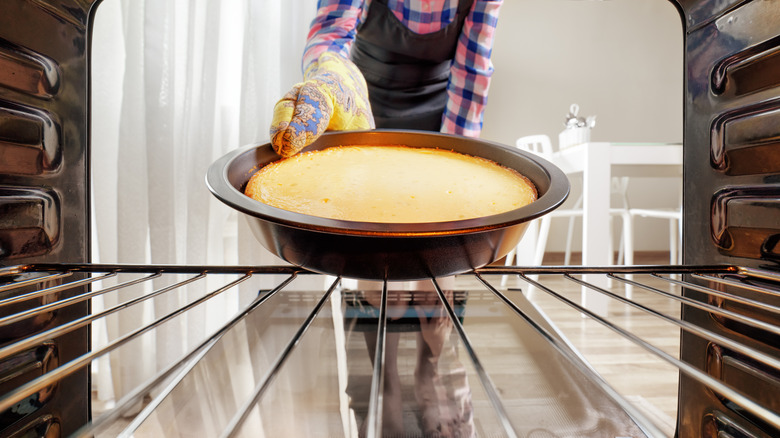 Efired/Shutterstock
Lifehacker brings even more ideas to the table (or to the oven, in this case). You can use the residual heat to soften your hard butter or to warm up the plates and bowls for your next meal. And Rahul Mandal, a former contestant in "The Great British Bake Off" suggests drying Pyrex glassware and metal sieves in the oven's residual heat. On the other hand, Adriann Ramirez, a pastry chef from London, says that when serving a sauce, it's a good idea to put in "a ceramic bowl once the oven is off," and then serve sauces in the warmed bowls (via The Guardian). 
Kitchen Snitches reports that although it might seem easy, residual heat cooking "takes knowledge, finesse, and attention." For example, you can easily keep food warm or help your bread to rise in the oven's residual heat, but when cooking side dishes such as vegetables, they can easily get too dry and overcooked if you're not paying attention, so it's best to keep your eyes on that oven once it's off. It seems there are many ways to make use of residual heat and save some energy. You may want to test some of these tips the next time you're baking.