Here's What A Common Breakfast Looks Like In Switzerland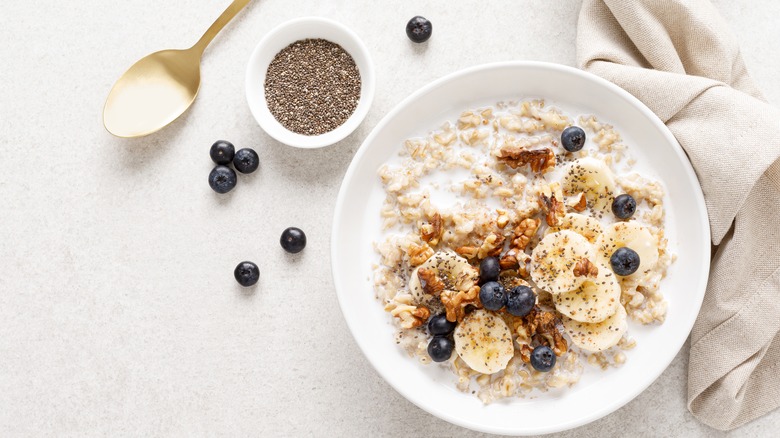 Sea Wave/Shutterstock
There is more to Swiss cuisine than fondue and Swiss chocolate. The culture's food shares influences with cuisine from Germany, France, and Italy (per My Switzerland). Some signature breakfast dishes were seen as medicine as well as nourishment.
On weekdays, many Swiss enjoy a quick bowl of muesli served with yogurt. You could think of muesli as the OG overnight oats or as raw granola. Muesli, or birchermüesli, is not just cereal, the dish has its own mythology. Around 1900, Swiss doctor Maximilian Bircher-Benner created birchermüesli for his Zurich sanatorium patients to add more fruit to their diets. He originally combined raw oats, apples, and nuts soaked overnight in a blend of water, lemon juice, and condensed milk. Bircher-Benner didn't intend for muesli to be just for breakfast, he wanted people to eat it at every meal (per BBC). Today muesli is served worldwide with variations including dry fruit, seeds, or any kind of nut. Instead of soaking the oats in condensed milk, many opt for apple juice, water, yogurt, or milk (per Guardian).
In addition to Muesli, a typical weekday breakfast might include yogurt and coffee (via CNN). The breakfast drink Ovomaltine, or Ovaltine, was invented in Switzerland to nourish nursing mothers and others, according to the Swiss National Museum. Made from milk, egg, yeast, and cocoa it was sold in pharmacies as an elixir tailored to each patient's needs.
While Switzerland's common weekday breakfasts were rooted in historic health culture, weekend brunch takes another approach.
A more extravagant weekend brunch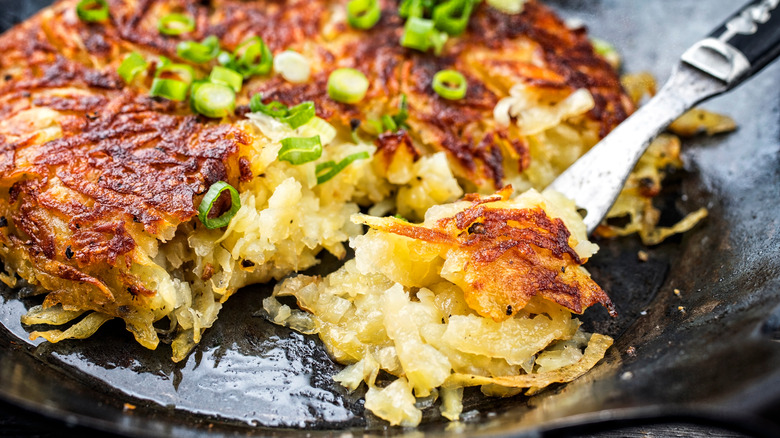 hlphoto/Shutterstock
Classic Swiss dishes are often high in calories to fuel a day of work or hiking in the Alps, according to Frommers. On the weekend when there is more time to relax and socialize, brunch is popular in Switzerland (via CNN). Signature brunch dishes vary and may include baked goods, cheeses, and even Swiss chocolate.
Popular brunch dishes include the Swiss version of a potato pancake called Rösti which is a popular side dish for eggs, cheese, smoked salmon, or other meats, according to The New York Times. Brunch may also include an assortment of cheese and cold cuts similar to what you find at a common German breakfast. Just don't expect American Swiss cheese, you are most likely to find rich Emmentaler, Gruyère, and other cheeses according to Frommers.
A braided egg bread known as Zopf is a brunch classic, which according to Wordly Treat is similar to Challah and typically served with cream cheese, butter, or jam (via CNN). Hot Swiss chocolate, tea, or coffee typically tops off brunch (per Upthirst). A Swiss brunch can easily keep you satisfied throughout an active day before you settle down for a dinner of raclette or fondue and white wine with friends.