The Pioneer Woman Fall Kitchen Goodies That Came To Walmart
Ree Drummond, a.k.a. The Pioneer Woman, has an extensive line of goods sold at Walmart, including clothing, bath goods, bedding, and decor. But ever since she released her line of kitchen goods in September 2015, they've been a hit with Walmart shoppers. With their whimsical, on-the-ranch-inspired, usually floral designs, the items ranging from Dutch ovens to cast iron pans to glassware are intended to make a colorful addition to home kitchens (via a press release).
Drummond has released additional products throughout the years, including – you guessed it – flower-covered tea kettles, toasters, and hand mixers (via She Knows) and Instant Pots in 2018, the latter of which was an appliance she was initially reluctant to try herself. Once trying one out at the recommendation of a friend, she was all about using it in her own kitchen and adding it to The Pioneer Woman line at Walmart. "Of course once it kind of clicked and I saw what this machine was capable of. I was totally hooked," Drummond reportedly told People (via She Knows).
But Ree Drummond isn't done expanding her offerings at Walmart just yet. The Pioneer Woman line just released two new dish patterns for the fall season.
Pumpkin platters and playful plates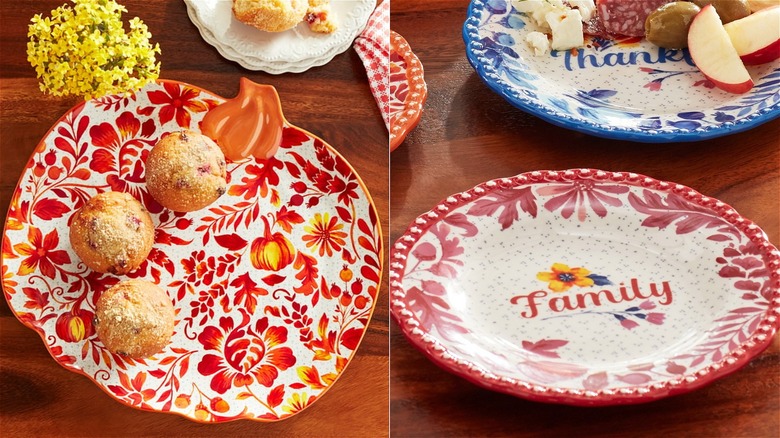 The Pioneer Woman
The first product in the falls line is the Woodland Whimsy Appetizer Plate Set, six small plates sold as a set in orange, red, and blue floral patterns with various words in the center including "thankful," "kindness," and "family." The second item is the Woodland Whimsy Stoneware Pumpkin Platter, a large platter shaped like a pumpkin that comes in blue and orange and is suitable for plating appetizers or desserts.
"I love adding pops of fall to my home with deep, beautiful tones and festive patterns," said Drummond (via She Knows). Fans have taken to Facebook to share their excitement about the release of the kitchen goodies at Walmart, with users posting comments like "They look so pretty," "Beautiful," and "Love it! So pretty!" Customer reviews have also been largely positive. The six-piece place set has earned a rating of 4.9 out of 5 stars from 25 users, some of whom gushed about the colors, found the size idea for serving guests, or just found them just plain "adorable." The pumpkin platter received a perfect 5 out of 5 from 54 users.