Leslie Jordan's Favorite Savannah Restaurant Was The Olde Pink House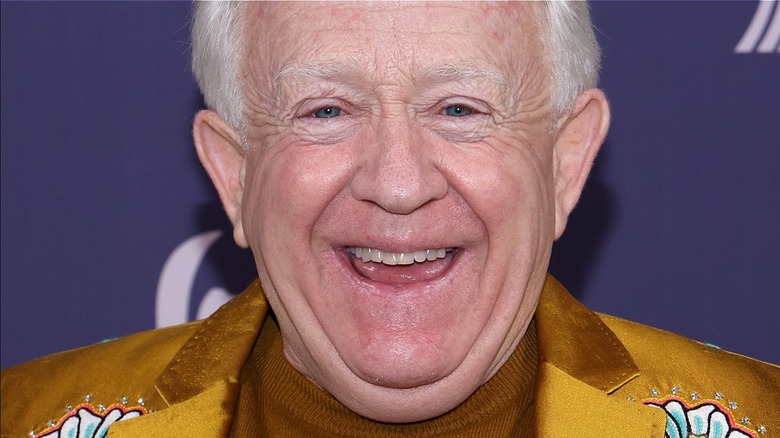 John Shearer/acma2021/Getty
Beloved actor and comedian Leslie Jordan passed away today after a car crash in Hollywood, California (via Los Angeles Times). The Emmy Award-winning actor was well known for his many roles in a variety of television series, including "Will and Grace," "American Horror Story," and "Boston Legal."
In recent years, the 67-year-old comedian also found new fame as an Instagram sensation, racking up 5.8 million followers with his funny posts about life during the COVID-19 pandemic. Jordan's final post came only a day before his tragic passing. The video, which portrays the late actor singing, was captioned, "Sunday Mornin' Hymn Singin.'" In a reply to the video, former NSYNC bass singer Lance Bass commented, "Now that's how you say goodbye. Soar high my friend." In the time since that comment was posted, it has garnered over 4,000 likes.
Jordan was a bona fide southern gentleman with a thick southern accent. He may have hailed from Chattanooga, Tennessee, but one of his favorite cities in the south was Savannah, Georgia, which Yelp listed as one of its top foodie cities in the country. "I'm as Southern as they come, and let me tell you: That is the Southern town right there," Jordan once told Atlanta Magazine. 
Notably, Jordan also wasn't shy about sharing his favorite restaurant in the city.
Leslie Jordan loved shrimp and grits ... despite his allergy
According to Atlanta Magazine, while filming the 2017 BBC series "Living the Dream" in Savannah, Leslie Jordan got to have a taste of the various cuisines in the many restaurants across the city. As anyone who has traveled to Savannah will know, the city has more than a few notable restaurants. However, Jordan's favorite was a restaurant and tavern known as the Olde Pink House.
The restaurant is housed in a — you guessed it — large, pink house. Notably, although the restaurant was only established in 1971, the actual building dates all the way back to the late 18th century (via SavannahTerrors). Given the restaurant's close ties to the history of the area, it shouldn't come as much of a surprise that its offerings specialize in classic southern cuisine and, of course, pink lady cocktails (via Instagram). 
The restaurant has 4.8 stars based on over 4,000 reviews on Facebook, so it appears as if Jordan, who particularly enjoyed the shrimp and grits, wasn't its only fan. The Olde Pink House features a photo of its shrimp and grits on its website, describing the dish as "sauteed local shrimp, country ham gravy, [and] cheddar cheese grits cake."
"Even though I have a terrible shrimp and crab allergy, I will eat and eat and eat, and when my throat's about to close, I'll swallow a Benadryl. I'm not about to give up on shrimp and grits!" Jordan said.