Whole Foods 365 Is Upgrading Pumpkin Spice With A Unique Addition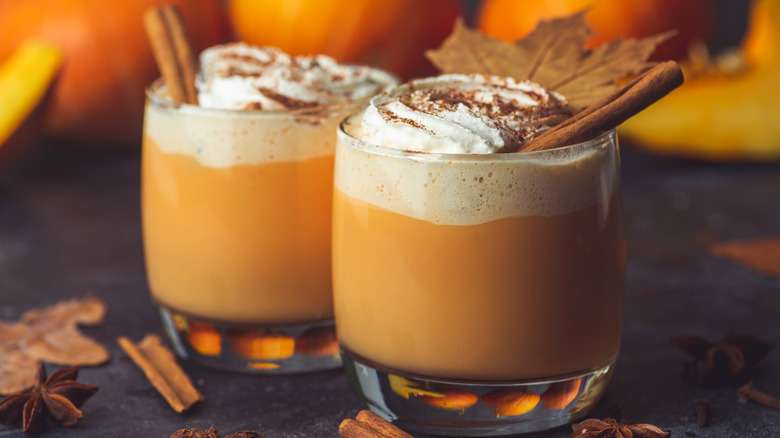 vovidzha/Shutterstock
If there's one single flavor that's associated with fall, it's undoubtedly pumpkin spice. This quintessential autumnal flavor is featured in everything from lattes to muffins and other pastries, and now it's being introduced into an unexpected new product courtesy of 365 by Whole Foods Market.
No matter where you stand on the pumpkin spice craze, there's no denying that it has become a staple of the fall season. What's better than a crisp, cool autumn morning, with the spicy aroma of pumpkin spice emanating from your latte? There's no more appropriate way to welcome in the fall than by whipping up your favorite pumpkin spice treat — or by purchasing one of the many varieties of pumpkin spice products that become available at your local grocery store this time of year.
Some unexpected and unique pumpkin spice products have included things like pumpkin spice cream cheese, pumpkin spice Cheerios, and even a pumpkin spice protein powder. Now, though, Whole Foods' signature brand may have made pumpkin spice even more desirable.
Pumpkin Spice Cheesecake Sandwich Creme cookies
Limited Edition Pumpkin Spice Cheesecake Sandwich Creme cookies from 365 by Whole Foods Market are the latest perfect way to enjoy all your favorite flavors of autumn in one bite.
These Pumpkin Spice Cheesecake Sandwich Cremes are made with all-organic ingredients including organic pumpkin seed powder, cream cheese powder, and yogurt powder, along with all of the spices that make pumpkin spice such a beloved seasonal flavor, such as ginger, nutmeg, and cinnamon. Similar in cookie design to that of an Oreo (which has its own seasonal pumpkin spice flavor), the Sandwich Cremes seem to hone in on the cheesecake element, making them a perfect fall treat that's both decadent and delicious.
Of course, pumpkin spice cheesecake recipes aren't new, but how much more convenient could it be to indulge in your seasonal craving than to purchase a pre-made, individually wrapped cookie that's ready to be enjoyed on the go? And at a price point of only $4.99, these Pumpkin Spice Cheesecake Sandwich Cremes are easily accessible for anyone looking to get their pumpkin spice fix.
And don't worry, we won't judge you for scarfing down the entire box in one sitting because we'll be doing it, too.