What A Typical Breakfast Looks Like In Bosnia And Herzegovina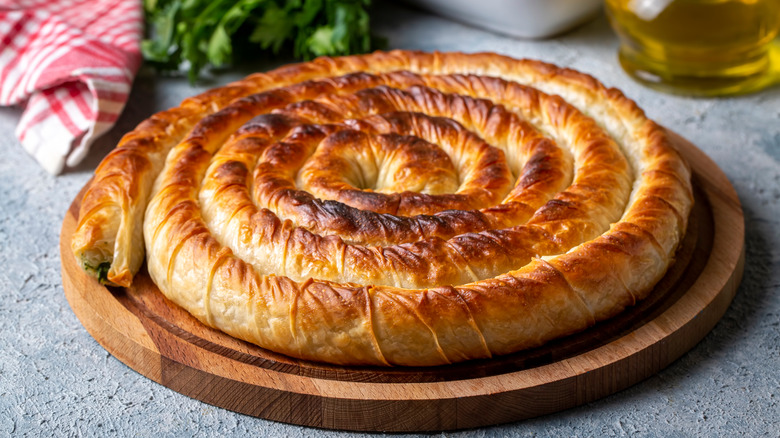 Esin Deniz/Shutterstock
Those of us who love to eat and travel may have already visited some European countries that are famous for their cultural significance and traditional local cuisine. And although it has likely been overshadowed in popularity by its neighboring country, Croatia, Bosnia and Herzegovina also has many things that make the country worth visiting. Hey Explorer reports that the capital city, Sarajevo, is a popular tourist spot due to its "religious and cultural diversity." The city is also famous for its trams, which were introduced in 1885 (per The Culture Trip). 
For fans of sport and adventurers, there's the bobsleigh and luge track, a reminder of simpler times and the 1984 Winter Olympics, which were held in Sarajevo. 
And if you love eating tasty food, Bosnia and Herzegovina has much to offer. The national dish is called bosanski lonac, a stew consisting of vegetables and large chunks of meat, such as lamb, veal, and beef. However, the most popular dish in the country is called ćevapi, consisting of a split flatbread and grilled ground meat sausages that are traditionally served with chopped onions on the side (per Will Fly For Food). But let's move to something lighter and see what the locals eat in the morning.
A typical Bosnian breakfast includes pies, pastries, and cornmeal porridge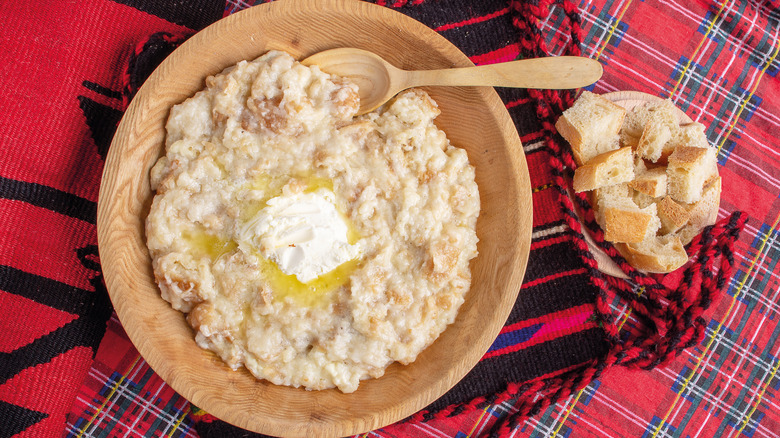 Green Mountain Montenegro/Shutterstock
Backpack Adventures revealed some of the tastiest breakfast options in Bosnia and Herzegovina. A typical Bosnian breakfast often includes delicacies such as uštipci, consisting of fried dough that can be eaten with sweet or savory condiments such as fruit jam, Nutella, cheese, or a simple sprinkling of salt. A cousin of uštipci is called peksimeti, and the dough is made with yogurt instead of water, making the fried dough a bit more fluffy. For those who like something healthier, there's pura, a cornmeal porridge often paired with cheese or butter. 
TasteAtlas made a list of the most popular Bosnian breakfasts, and most of the foods on the list are traditional pies and pastries. Burek is in the top spot, another national dish of Bosnia and Herzegovina that consists of rolled phyllo dough stuffed with cottage cheese, spinach, potatoes, or ground beef. This warm, coiled pastry is especially popular on colder days and can also be eaten as a hangover cure. 
In the countryside, people like to eat popara for breakfast, a humble dish consisting of chunks of stale bread that are soaked in milk or water, and then mixed with butter or lard and seasoned with salt. And regardless of the food you choose for breakfast, one thing is certain — in Bosnia, mornings will always start or end with a cup of strong Bosnian or Turkish coffee prepared in a traditional copper pot called džezva.