Pan-Seared Halloumi Recipe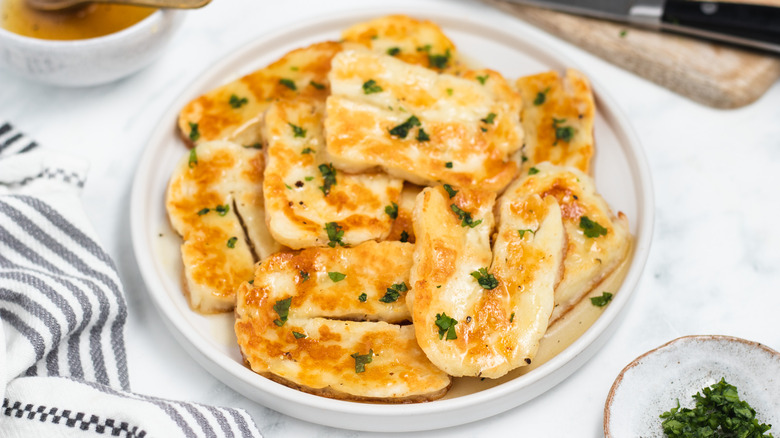 Catherine Brookes/Mashed
Is there any such thing as too much cheese? Here at Mashed, we are cheese lovers through and through, and it's always fun to think outside the box and cook with a variety of cheese. Halloumi is unlike many other kinds of cheese (like cheddar and mozzarella, to name a few) in that it doesn't melt, so when you fry it up, it stays intact. This means that you get a generous serving of cheese with each and every bite and you don't need to scrape your plate to collect all the halloumi. 
Recipe developer Catherine Brookes of Blue Sky Eating came up with this fantastic recipe for pan-seared halloumi, and the cheese is one of the best to fry. "Halloumi has such a unique flavor and texture than makes it so perfect for frying! I love the crisp golden outside and soft, melty middle," Brookes raves. We should also mention that the recipe comes complete with a sauce that makes the halloumi burst with even more flavor. "Halloumi is savory, salty, and creamy, and the dressing is sweet with a hint of tanginess from the mustard and vinegar," Brookes adds.
Gather the ingredients for this pan-seared halloumi recipe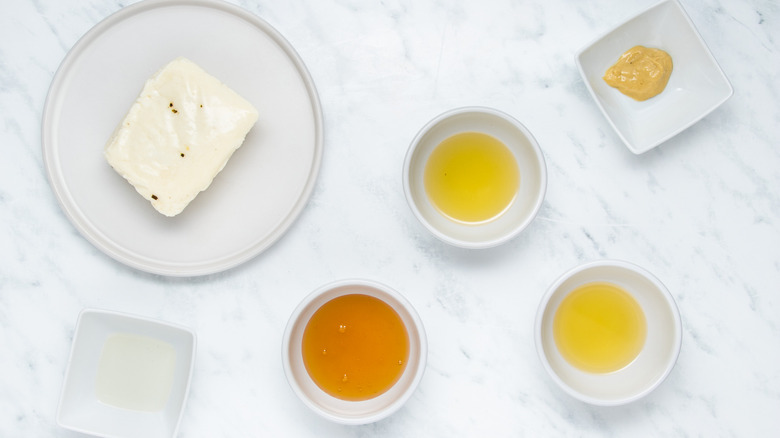 Catherine Brookes/Mashed
For this recipe, you will only need a handful of items. Be sure to get halloumi cheese, olive oil, honey, Dijon mustard, and apple cider vinegar.
Slice the halloumi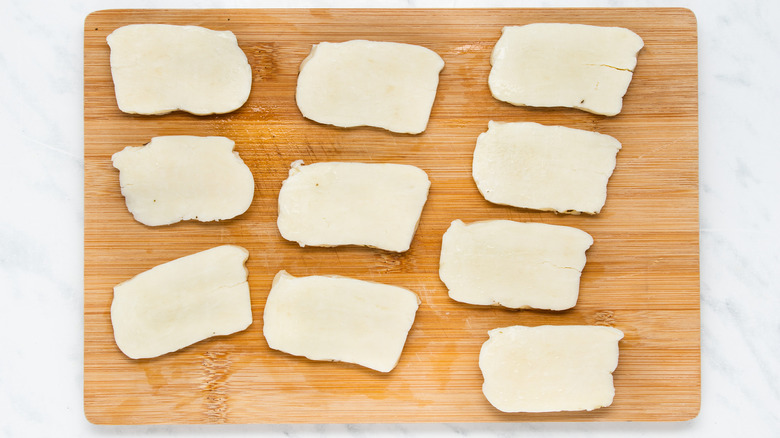 Catherine Brookes/Mashed
The first step is pretty simple. Just get out a cutting board and a sharp knife. Place the halloumi on the cutting board and slice it into ¼-inch thick pieces.
Mix the sauce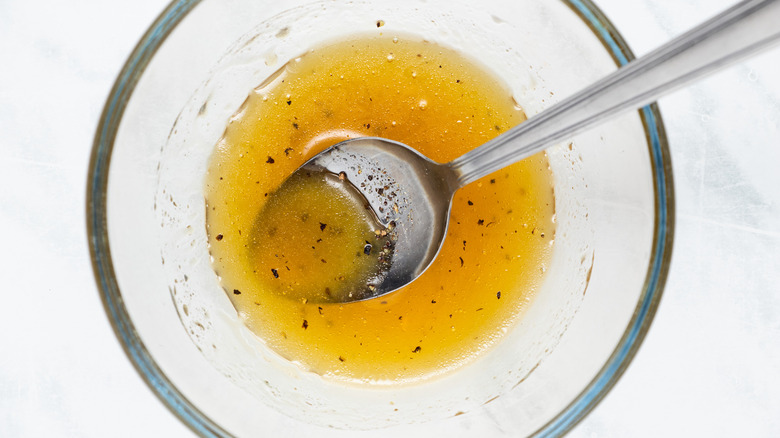 Catherine Brookes/Mashed
In a small or medium-sized bowl, mix together a tablespoon of olive oil, honey mustard, vinegar, and some salt and pepper to taste. This is the sauce that goes over the halloumi.
"The addition of the simple honey dressing adds a sweetness that balances the saltiness of the cheese perfectly," Brookes notes. Set it to the side since you won't need it quite yet. 
Fry the halloumi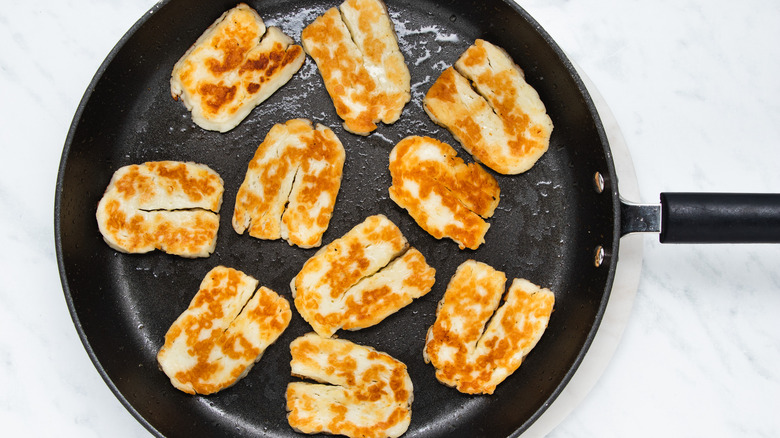 Catherine Brookes/Mashed
Place a large frying pan on the stove and turn the heat to medium-high. Add the remaining tablespoon of olive oil and wait for the pan to get nice and hot.
Once hot, add the halloumi slices to the pan. Fry for about 3 minutes on the first side, until golden brown. Then, flip over the halloumi and cook on the other side for a few more minutes, until the other side turns golden brown. "Be careful not to burn the halloumi as it can start to brown fairly quickly," Brookes warns. "You can check the color underneath by lifting pieces up slightly."
Drizzle with dressing and serve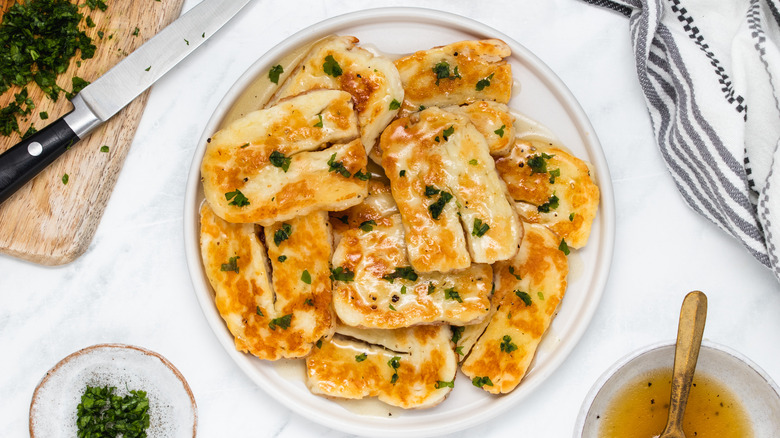 Catherine Brookes/Mashed
After removing the halloumi from the pan, drizzle over the dressing immediately. Then, top with chopped parsley (if you wish), and it's good to go! "I would serve this as a side. It's also a great addition to a burger, sandwich, or salad," Brookes notes.
It's also best to enjoy fresh out of the pan. "Fried halloumi is definitely best served right away. Leftovers may become a little tough in texture," Brookes shares. We hope this changes the way that you cook with cheese. 
Pan-Seared Halloumi Recipe
This pan-fried halloumi cheese recipe makes for a cheesy, savory side dish or garnish for a burger.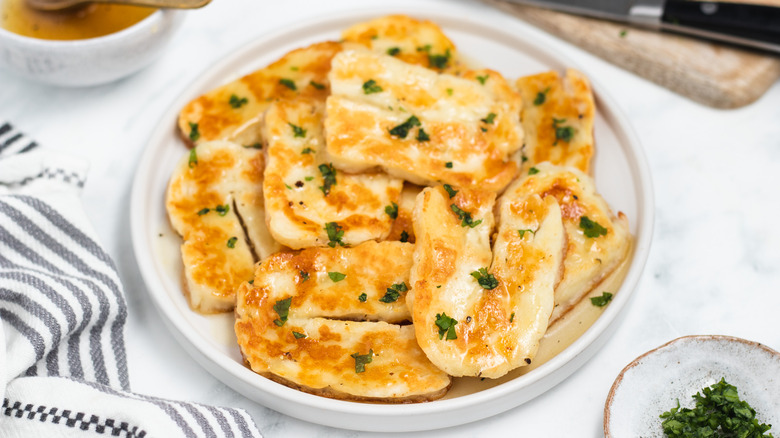 Ingredients
1 (8-ounce) block halloumi cheese
2 tablespoons olive oil, divided
2 tablespoons honey
1 teaspoon Dijon mustard
1 teaspoon apple cider vinegar
salt, to taste
pepper, to taste
Optional Ingredients
fresh parsley, for garnish
Directions
Slice the halloumi into ¼-inch thick pieces.
Mix together 1 tablespoon of the olive oil, the honey, mustard, and vinegar with some salt and pepper to taste.
Add the remaining tablespoon of olive oil to a large frying pan and heat on a medium-high setting.
Once the pan is hot, add the halloumi slices. Fry for about 3 minutes until golden brown on the bottom, then flip and fry for another 2-3 minutes.
Remove from the pan and drizzle over the dressing. Top with some fresh chopped parsley if desired.
Nutrition
| | |
| --- | --- |
| Calories per Serving | 324 |
| Total Fat | 25.2 g |
| Saturated Fat | 12.5 g |
| Trans Fat | 0.0 g |
| Cholesterol | 67.3 mg |
| | |
| --- | --- |
| Total Carbohydrates | 14.9 g |
| Dietary Fiber | 0.2 g |
| Total Sugars | 14.6 g |
| Sodium | 712.5 mg |
| Protein | 10.9 g |