Here's What Happened To From Across The Pond After Restaurant: Impossible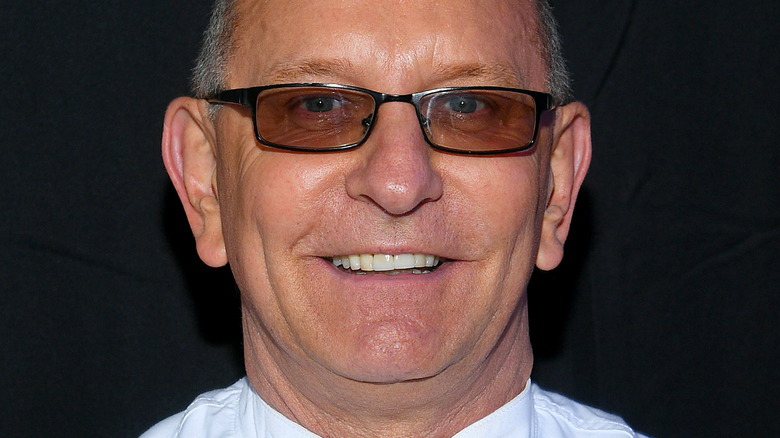 Dave Kotinsky/Getty Images
The "Restaurant: Impossible" episode "Extreme British Makeover" featured From Across the Pond, which is a British-style restaurant in Colleyville, Texas. The struggling family-owned business belonged to Lee Herdman and Jodie Sellers.
Herdman and his family moved to Texas from the U.K. and purchased a pizza restaurant they gradually transformed into a British restaurant (per Community Impact). Since Herdman suffers from celiac disease, offering gluten-free items was a priority. "It brings people back again and again because they can eat safely," Herdman said. Reviews were mixed, some customers loved the gluten-free menu, while others were more critical. One Yelp review stated, "Strengths are: free beer. Weaknesses: food very spare, ambiance very generic, cheap feel all around. Nothing really terrible about it, just nothing to impress."
The business was especially hard by COVID-19. In June 2020, Herdman ran a Go Fund Me campaign to raise funds to cover the rent to remain in their premises, which only reached $7,860 of its $50,000 goal.
A second chance came in May 2021 when the show reached out to Herdman, per Community Impact. In classic "Restaurant: Impossible" style, Chef Robert Irvine and his team worked with the owners to upgrade the restaurant and even recruited volunteers to help with some of the painting and redecorating labor. After a two-day flurry of activity, they hosted a grand reopening on June 5, 2021 to reveal an improved menu and ambiance, per Facebook. Were local customers impressed with the makeover?
Finding success with a second chance
Shortly after the episode aired In August 2021, the team at From Across the Pond wrote, "Restaurant Impossible was very much possible. A beautiful experience with amazing people that truly cared for us. What's next Is not guaranteed. What IS guaranteed is my love, effort and passion for the business. Belief and hope and a will to serve" (via Facebook). Business Insider reported that "Restaurant: Impossible" specifically selects restaurants they believe are nearly 100% likely to fail. Episodes air within a couple of months of filming attracting new customers, but did it lead to success for From Across the Pond?
One customer commented on Facebook, "That episode is the reason we sought out your restaurant. We're huge supporters of local business and there is nothing better than a good comeback story. It was a huge bonus that when we tried your food for the first time, it was *Chef's kiss* amazing. You have a lifetime customer in us!"
Later in 2021, From Across the Pond won a local award for "Best All-Round Restaurant" from The Dallas Morning News. The restaurant is still open with the decor and menu items the show helped them develop. From Across the Pond said in a Facebook post, "Thank you Chef Robert Irvine, thank you Restaurant: Impossible and Food Network for making our dreams come true."