Egg Nog Cold Foam Is Coming To Caribou Coffee
Long before there was a craze for whatever pumpkin spice is, there was an original holiday flavor that helped bring cheer, and often rum, to people as winter approached. This forgotten treasure is known as egg nog, aka the nog, aka the thing to keep away from Uncle Herbert because he gets a little "stumbly." It's been around in some variation since about the 13th century, according to Time, but really didn't catch on with the general public until it became popular in colonial America.
Though the reprisal of egg nog each year isn't always celebrated as the McRib's inevitable return, more companies are turning back to the nog with the hope of breathing new life into this creamy tradition. Starbucks can be thanked, or blamed, for the pumpkin spice latte even trying an egg nog variation, which many people begged the company to bring back. This popularity has galvanized other coffee makers to incorporate a bit more nog into their holiday menus.
One of the latest companies to jump on the egg nog bandwagon is a premium bean juice retailer called Caribou Coffee. Rather than merely having an egg nog drink, Caribou is offering cold foam with the taste of egg nog. This can be added to any iced drink, so no matter what you enjoy, it can be upgraded with winter delight.
Iced drinks now have their own holiday foam flavor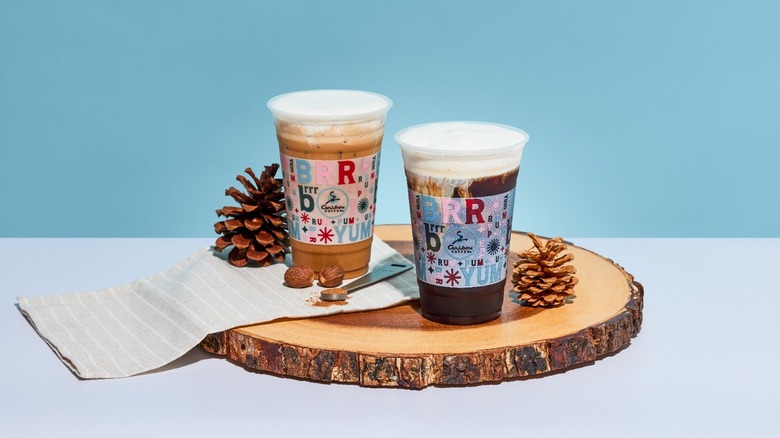 Caribou Coffee
Caribou Coffee is a smaller, more boutique java hut that was only founded in 1992, making it about 20 years younger than Starbucks and more than 40 years younger than Dunkin' Donuts. It was founded by John and Kim Puckett, according to its website, and the goal of the establishment has long been to serve people on as personal a level as possible.
Part of personal service is providing new options for Caribou customers. Each year, the company puts out a special holiday menu. According to a statement from the company, this menu of seasonal flavors is intended to welcome Caribou's customers to remember the many joys of the holiday season, including tasty treats like Caribou Coffee products (via PR Newswire). The newest item to spark that joy for 2022 is the egg nog cold foam.
For those who haven't yet been introduced to the world of cold foam, PureWow explains that it's similar to the foam that sits atop a cappuccino or latte, but is made for frosty drinks, such as iced coffee or cold brew. It's a simple item that requires little more than milk and coffee to make, but when laden with the right syrup, it can deliver a visually appealing and delectable addition to a beverage. It promises to be a welcome new taste for those who prefer to sip cold drinks, even when winter strikes.